What Is the Spielbergiest Spielberg Movie?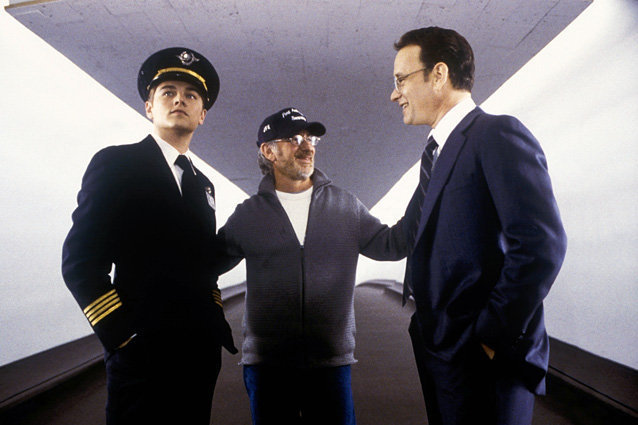 DreamWorks via Everett Collection
Steven Spielberg seems to be revisiting his old stomping grounds. The legendary filmmaker is once again teaming up with Tom Hanks for another period piece about the Cold War. This time, Hanks will play an attorney who needs to go behind enemy lines to negotiate the freedom of a captured spy. If you're getting a creeping feeling of deja vu, dont worry, you're not alone. Everything about this upcoming project feels like a combination of every single Steven Spielberg cliche we can think of. We've decided to look through Spielberg's dense filmography and pick out which one of his films that is most stereotypically Spielberg.
Duel
Is it a period piece? No
Is Tom Hanks in it? No
Does it have magic or sci-fi? No
Is it whimsical? No
Does it have a John Williams score? No
Does it have a happy ending? Yes
= 1 Spielberg point
The Sugarland Express
Is it a period piece? No
Is Tom Hanks in it? No
Does it have magic or sci-fi? No
Is it whimsical? No
Does it have a John Williams score? Yes
Does it have a happy ending? No
= 1 Spielberg point
Jaws
Is it a period piece? No
Is Tom Hanks in it? No
Does it have magic or sci-fi? No
Is it whimsical? No
Does it have a John Williams score? Yes
Does it have a happy ending? Yes
= 2 Spielberg points
Close Encounters of the Third Kind
Is it a period piece? No
Is Tom Hanks in it? No
Does it have magic or sci-fi? Yes
Is it whimsical? Yes
Does it have a John Williams score? Yes
Does it have a happy ending? Yes, if you can forget the lasting impact the childhood traumas and martial strains will have on the characters.
= 3 1/2 Spielberg points

1941
Is it a period piece? Yes
Is Tom Hanks in it? No
Does it have magic or sci-fi? No
Is it whimsical? Yes
Does it have a John Williams score? Yes
Does it have a happy ending? Yes
= 2 Spielberg points
Raiders of the Lost Ark
Is it a period piece? Yes
Is Tom Hanks in it? No
Does it have magic or sci-fi? Yes
Is it whimsical? Yes
Does it have a John Williams score? Yes
Does it have a happy ending? Yes
= 5 Spielberg points
E.T. the Extra-Terrestrial
Is it a period piece? No
Is Tom Hanks in it? No
Does it have magic or sci-fi? Yes
Is it whimsical? Yes
Does it have a John Williams score? Yes
Does it have a happy ending? Yes
= 4 Spielberg points
Indiana Jones and the Temple of Doom
Is it a period piece? Yes
Is Tom Hanks in it? No
Does it have magic or sci-fi? Yes
Is it whimsical? Yes
Does it have a John Williams score? Yes
Does it have a happy ending? Yes
= 5 Spielberg points
The Color Purple
Is it a period piece? Yes
Is Tom Hanks in it? No
Does it have magic or sci-fi? No
Is it whimsical? No
Does it have a John Williams score? No
Does it have a happy ending? Yes
= 2 Spielberg points
Empire of the Sun
Is it a period piece? Yes
Is Tom Hanks in it? No
Does it have magic or sci-fi? No
Is it whimsical? No
Does it have a John Williams score? No
Does it have a happy ending? No
= 1 Spielberg point
Always
Is it a period piece? No
Is Tom Hanks in it? No
Does it have magic or sci-fi? Yes
Is it whimsical? Yes
Does it have a John Williams score? Yes
Does it have a happy ending? Yes
= 4 Spielberg points
Indiana Jones and the Last Crusade
Is it a period piece? Yes
Is Tom Hanks in it? No
Does it have magic or sci-fi? Yes
Is it whimsical? Yes
Does it have a John Williams score? Yes
Does it have a happy ending? Yes
= 5 Spielberg points
Hook
Is it a period piece? No
Is Tom Hanks in it? No
Does it have magic or sci-fi? Yes
Is it whimsical? Yes
Does it have a John Williams score? Yes
Does it have a happy ending? Yes
= 4 Spielberg points
Jurassic Park
Is it a period piece? No
Is Tom Hanks in it? No
Does it have magic or sci-fi? Yes
Is it whimsical? Yes
Does it have a John Williams score? Yes!
Does it have a happy ending? Yes
= 4 Spielberg points
Schindler's List
Is it a period piece? Yes
Is Tom Hanks in it? No
Does it have magic or sci-fi? No
Is it whimsical? No
Does it have a John Williams score? Yes
Does it have a happy ending? No
= 2 Spielberg points
The Lost World: Jurassic Park
Is it a period piece? No
Is Tom Hanks in it? No
Does it have magic or sci-fi? Yes
Is it whimsical? Yes
Does it have a John Williams score? Yes
Does it have a happy ending? Yes
= 4 Spielberg points
Amistad
Is it a period piece? Yes
Is Tom Hanks in it? No
Does it have magic or sci-fi? No
Is it whimsical? No
Does it have a John Williams score? Yes
Does it have a happy ending? No
= 2 Spielberg points
Saving Private Ryan
Is it a period piece? Yes
Is Tom Hanks in it? Yes
Does it have magic or sci-fi? No
Is it whimsical? No
Does it have a John Williams score? Yes
Does it have a happy ending? No
= 3 Spielberg points
A.I. Artificial Intelligence
Is it a period piece? No
Is Tom Hanks in it? No
Does it have magic or sci-fi? Yes
Is it whimsical? Yes
Does it have a John Williams score? Yes
Does it have a happy ending? Sorta
= 3 1/2 Spielberg points
Minority Report
Is it a period piece? No
Is Tom Hanks in it? No
Does it have magic or sci-fi? Yes
Is it whimsical? No
Does it have a John Williams score? Yes
Does it have a happy ending? Yes
= 3 Spielberg points
Catch Me If You Can
Is it a period piece? Yes
Is Tom Hanks in it? No
Does it have magic or sci-fi? No
Is it whimsical? No
Does it have a John Williams score? Yes
Does it have a happy ending? Yes
= 3 Spielberg points
The Terminal
Is it a period piece? No
Is Tom Hanks in it? Yes
Does it have magic or sci-fi? No
Is it whimsical? Yes
Does it have a John Williams score? Yes
Does it have a happy ending? Yes
= 4 Spielberg points
War of the Worlds
Is it a period piece? No
Is Tom Hanks in it? No
Does it have magic or sci-fi? No
Is it whimsical? No
Does it have a John Williams score? Yes
Does it have a happy ending? Yes
= 2 Spielberg points
Munich
Is it a period piece? Yes
Is Tom Hanks in it? No
Does it have magic or sci-fi? No
Is it whimsical? No
Does it have a John Williams score? Yes
Does it have a happy ending? No
= 2 Spielberg points
Indiana Jones and the Kingdom of the Crystal Skull
Is it a period piece? Yes
Is Tom Hanks in it? No
Does it have magic or sci-fi? Yes
Is it whimsical? Yes
Does it have a John Williams score? Yes
Does it have a happy ending? Yes
= 5 Spielberg points
The Adventures of Tintin
Is it a period piece? Yes
Is Tom Hanks in it? No
Does it have magic or sci-fi? No
Is it whimsical? Yes
Does it have a John Williams score? Yes
Does it have a happy ending? Yes
= 4 Spielberg points
War Horse
Is it a period piece? Yes
Is Tom Hanks in it? No
Does it have magic or sci-fi? No
Is it whimsical? Yes
Does it have a John Williams score? Yes
Does it have a happy ending? Yes
= 4 Spielberg points
Lincoln
Is it a period piece? Yes
Is Tom Hanks in it? No
Does it have magic or sci-fi? No
Is it whimsical? No
Does it have a John Williams score? No
Does it have a happy ending? No
= 1 Spielberg point