Where Did 'August: Osage County' Fall Short?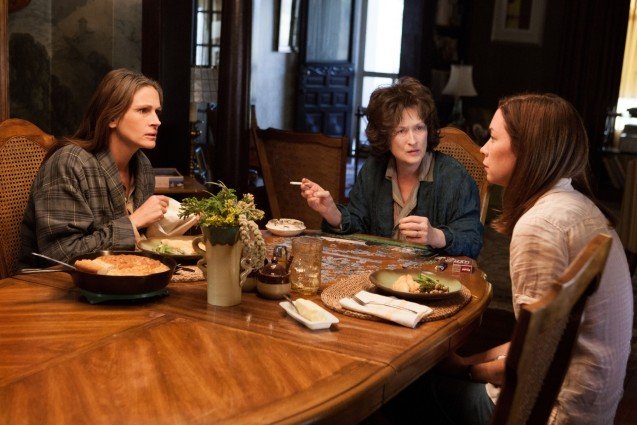 Weinstein Company via Everett Collection
I was really looking forward to August: Osage County. Really looking forward to it. The Pulitzer prize-winning, Tracy Letts-penned play was amazing on the stage, on the page – logic would dictate that it would be just as breathtaking on the big screen, especially with its all-star cast.
Performances that positively spewed hate were tempered by no sense of connection or love. In a family drama like this, love (no matter how masked or warped), is essential. Without this component, the film felt one-dimensional a good deal more of the time than it should have with its award-winning pedigree.
Even worse, the characters didn't even seem like they were inhabiting the same space; they didn't talk to each other; instead, they monologued their hearts out for the sake of the audience. Sounds oblique, but there was a certain sense of reality that was missing. Maybe everyone just had their shiny statuettes in their sights – it seemed like the focus was off.
Another key player that was almost completely non-existent? A sense of humor. Though the play is by no means light-hearted (with a suicide, infidelity, incest, cancer, pill-addictions, attempted statutory rape, and mother-daughter hate all-around, say hello to a little thing called black comedy), it was laugh-out-loud funny. The film? Not so much: in fact, it went so far in the other direction that it was pretty aggressively un-funny.
August: Osage County had "Oscar Bait" scrawled all over it in capital letters, and it's already garnering nominations like nobody's business, but does it deserve it? A few moments shine (the first scene in particular), but the film overall lacked the magic of the play.