Where To Find Seven of James Bond's Coolest Gizmos Today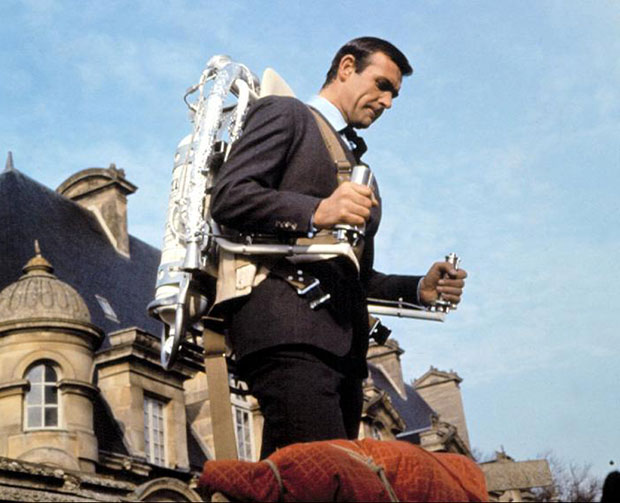 The Bond franchise may not place as much importance on gadgets these days. Ben Whishaw's Q put it best in Skyfall when he said that MI6 isn't really into "exploding pens" anymore. (Take that, GoldenEye!) But that doesn't mean that most Bond fanatics don't still love them.
Sure, many of them are completely fictional. We feel the best Bond gizmos, though, are those that are based more or less in reality, that are attainable fantasies. No invisible cars, thank you very much. Some have existed for real, and a number of them you can even buy, though maybe not with all the deadly options added by Q Branch. Here are seven key items in Bond's cinematic arsenal and where you can find them today.
Aston Martin DB5
First Appearance: Goldfinger (1964)
A fusion of form and function that's as elegant as Bond himself, 007's signature car is a dynamic piece of automotive art. First on the market in 1963 the DB5, the fifth in a series honoring Aston Martin head David Brown (hence the "DB"), was only produced for two years. Two DB5s were used when shooting Goldfinger, one of which was Aston Martin's original prototype. Special effects wiz John Stears, who'd later win Oscars for his work on Thunderball and Star Wars, tricked them out with an ejector seat, front-mounted machine guns, a tire slasher, and a bullet-proof shield.
Where to Find It Today: Aston Martin only produced 1,023 DB5s. If you have a few hundred thousand dollars to spare, one of them could be yours! In the meantime, though, you can currently see one onscreen in Skyfall. As for the two DB5s used in Goldfinger, the original prototype was stolen in 1997 and hasn't been seen since. The other one sold at auction in 2010 for $4.1 million.
Walther PPK
First Appearance: Dr. No (1962)
Since it quickly became his favorite sidearm, it's hard to believe Bond needed some convincing to pack the Walther PPK in Dr. No. Previously he liked carrying a Beretta, until it jammed on him during a mission. So Q Branch recommended the Walther instead, and Bond never looked back. First manufactured in 1931, the German semi-automatic handgun (the "PP" stands for "police pistol") takes a seven-round clip of, traditionally, 7.65 mm ammo, for firepower that Q called "like a brick through plate glass." Popular with the Third Reich, it was also the gun that Adolf Hitler used to commit suicide in his Berlin bunker at the end of World War II.
Where to Find It Today: Still being produced, various-caliber versions of the PPK sell for around $800.
Jet Pack
First Appearance: Thunderball (1965)
Produced by Bell Aerodynamics in 1961, the "Rocket Belt," as it was called, was the first true jet pack. Weighing about 125 pounds, it would strap on the back of its pilot and was capable of achieving a speed of 60 miles per hour and an aerial height of about 30 feet. As there was never a possibility of a controlled crash in the event of an emergency, only a couple test pilots ever learned how to fly it. It's biggest limitation was that it could only stay in the air for 21 seconds. Further refinements in the five decades since its release have only managed to increase its sustained flight time to 30 seconds. For Thunderball, producers Albert Broccoli and Harry Saltzman wanted its pilot (and Bond's stunt double) to forego wearing a helmet. He refused.
Where To Find It Today: Only highly-trained test pilots have had access to later iterations of the Bell Rocket Belt, and it's still sometimes used in exhibitions, like the 2008 Tournament of Roses Parade.
Lotus Esprit S1
First Appearance: The Spy Who Loved Me (1977)
The sleek, angular Lotus Esprit became the Aston Martin of the Roger Moore era.
Where You Can Find It: The S1 was only produced until 1979, but Lotus kept producing subsequent generations of the Esprit until 2004, and they've now promised a new model for 2013. It won't transform into a submarine, but once you've bought it you can pop in Marvin Hamlisch's "Bond 77" theme and imagine you're skimming along the bottom of the Mediterranean. Please fantasize responsibly.
Fold-up Autogyro
First Appearance: You Only Live Twice (1967)
The Wallis WA-116 Agile autogiro was invented in 1961 by former RAF wing commander Ken Wallis. Capable of being packed in a relatively small box for transport, once unfolded and assembled the WA-116 is 11 feet long but weighs only 255 lbs and is capable of staying in the air for as long as two hours and thirty minutes.
Where You Can Find It: Wallis only produced five autogiros, all of which he or military test pilots have flown. Not for civilian use.
Rolex Submariner/Omega Seamaster Wristwatches
For most of Bond's cinematic life, he wore either Rolex or Seiko watches. The most famous of these was the Rolex Submariner that 007 wore in Live and Let Die. That little timepiece carried a magnet so powerful that it could deflect the path of a bullet. But for Pierce Brosnan's first turn in the tux in 1995's GoldenEye, the franchise partnered with Omega. In that film, Bond's Omega Seamaster watch has a built-in cutting laser, handy for getting out of trains that have been rigged to explode.
Where You Can Find Them: Well, they're not going to have magnets or lasers, but you can still find both of these watches easily enough. The Submariner, which has appeared in ten Bond films beyond Live and Let Die and was a favorite of Che Guevara's, is readily available for about $8,000. The Seamaster is a little bit more reasonable at a cool $3,200.
Ericsson Smartphones
First Appearance: Tomorrow Never Dies (1997)
Bond was way ahead of the curve when it came to smartphones. A concept phone designed by Ericsson was used in 1997. Though it included such fictional features as a built-in Taser and a fingerprint scanner, and could even function as a remote control to drive a BMW, its design was incorporated for real into the Ericsson R380 in 2000. That was the first cell phone ever to be called, and marketed as, a "smartphone."
Where You Can Find It: Um, anywhere. But if you want Bond's latest smartphone of choice, check out the Sony Xperia T, currently on display in Skyfall.
[Photo Credit: United Artists]
More:
Fifty Years of Bond Girls: The Best and Worst to Tangle With 007—Gallery
'Skyfall' Set For Best Bond Debut
The Price of Being a Bond Villain

Ariel Winter's Mom Claims She Found Daughter in Bed With 18-Year-Old Boyfriend, Police Report Reveals (EXCLUSIVE)
(Celebuzz)