A Who's Who of the Unknowns in 'Divergent'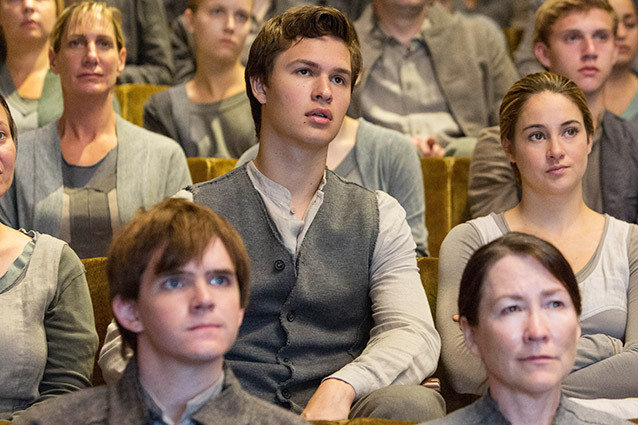 Summit Entertainment
Alongside Hollywood veterans Kate Winslet, Ashley Judd, and Tony Goldwyn and two young leads (Shailene Woodley, Theo James) who have already built up quite the impressive C.V., Divergent's ensemble cast also includes several virtual unknowns. Here's a brief guide to their careers so far.
Ansel Elgort (Caleb)
The son of fashion photographer Arthur Elgort, 19-year-old Elgort's career began on stage in Matt Charman's off-Broadway drama Regrets. After making his big screen debut as Chloe Moretz's prom date in last year's Carrie remake, the New Yorker landed the role of Tris' inquisitive brother Caleb Prior. Elgort will then make the switch from playing Woodley's sibling to her love interest when they both star in the adaptation of John Green's best-selling novel, The Fault In Our Stars, while he's also set to appear in Jason Reitman's star-studded comedy Men, Women and Children.
Amy C. Newbold (Molly)
Amy C. Newbold is no stranger to the Hollywood blockbuster, having worked as a casting assistant on Superman reboot Man Of Steel as well as on the likes of Contagion and Raising Hope. But as Tris' factionless enemy Molly Atwood, Divergent will see her move from behind to in front of the camera for her first major acting role, with bit parts in Boss and Chicago Fire the only other credits to her name.
Ben Lamb (Edward)
Cast as skilled fighter Edward, Ben Lamb made the move to post-apocalyptic Chicago from medieval England after playing The White Queen's brother Anthony in the BBC's hit historical drama. The 25-year-old, who'd previously studied at both RADA and Oxford University, cut his teeth appearing in various Shakespeare productions and made his onscreen debut as a posh toff in BBC legal drama Silks in 2012.
Christian Madsen (Al)
One of the more experienced "unknowns" in the cast, Christian Madsen has appeared alongside his father Michael in deliverance tale Refuge from the Storm and off-kilter thriller The Brazen Bull and his auntie Virginia in comedy Jake Squared, while he also had a minor role in Justin Timberlake vehicle In Time. Cast as kind-hearted Al, he'll next be seen as Bryan, a young man who reunites with his estranged father after 15 years in the indie drama Prism.
Ben Lloyd-Hughes (Will)
Following his older brother Henry's role in Harry Potter & The Goblet Of Fire, the Lloyd-Hughes name will appear in the credits of another major franchise when 25-year-old Ben plays Tris' brainy ally Will. He first appeared on screen as a teenager in BBC drama Love Soup back in 2005 and has since cropped up in a string of hit British TV shows including Skins, The Hour and Young James Herriot. While his filmography includes teen horror Tormented and the 2012 remake of Great Expectations.
Divergent hits theaters March 21. You can check showtimes and purchase advanced tickets at Movietickets.com.