Why Every 'Wizard of Oz' Movie Is in Jeopardy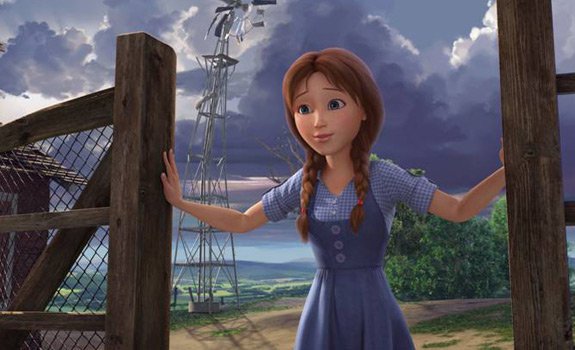 Five years ago, Warner Bros. sued AVELA for the distribution of merchandise bearing the likenesses of characters from the 1939 films The Wizard of Oz and Gone with the Wind, as well as the cartoon short series Tom and Jerry. Warner Bros. won the case on the grounds of copyright infringement, symbolizing the definitive controlling stake the studio has in these cinematic icons.
While this particular episode might not hit very close to home with the public, the fact is that Warner Bros. degree of control could inevitably effect, or even destroy, currently in-production incarnations of these films, specifically The Wizard of Oz, which has nine derivative projects in the works. Two of these projects are being developed by Warner Bros. itself (or subsidiaries), Oz—about which little is known—and Oz: Return to Emerald City, which places Dorothy's lawyer granddaughter into the magical world to defeat a new witch.
Other companies' projects which might face more legal peril include:
Dorothy of Oz: Summertime Entertainment's indie animation film featuring the voices of Glee's Lea Michele as Dorothy and Dan Aykroyd, Kelsey Grammer and James Belushi as the Scarecrow, Tin Man and Cowardly Lion respectively.
Oz, the Great and Powerful: Disney's 3D prequel to the 1939 film starring James Franco (of course) and directed by Sam Raimi.
Wicked: Speculation has it that Universal might back the film-adaptation of the Broadway sensation, with possible stars including Kristin Chenoweth and Idina Menzel.
The Witches of Oz: Already in post-filming stages, Leigh Scott adapts to film one of the original sequels, starring Paulie Rojas as an adult Dorothy recovering memories of the magical land (sounds familiar to another classic story destroyed in cinematic reimagination). Also starring are Sean Astin, Christopher Lloyd and Lance Henrikson.
Dark Oz: An adaptation of the Caliber Comics steampunk series wherein Dorothy's return to Oz finds that her former trio of comrades have become tyrannical dictators. To be directed by Perry Teo and to star The Fugees' Pras Michael.
The Wonderful Wizard of Oz: John Boorman, director of 1974's Oz-inspired Zardoz, oversees a CGI adaptation of the original novel.
Surrender Dorothy: A film originally slated to star Drew Barrymore, but currently on production hiatus.
So how many of these will escape legal damnation? Let's pull, at the very least, for Wicked…and maybe Dorothy of Oz. Also, Oz, the Great and Powerful sounds pretty cool… Warner Bros., please be generous.
Source: Hollywood Reporter, FilmBuffOnline