Why the BAFTA Rising Star Award Is the Most Exciting Prize in Awards Season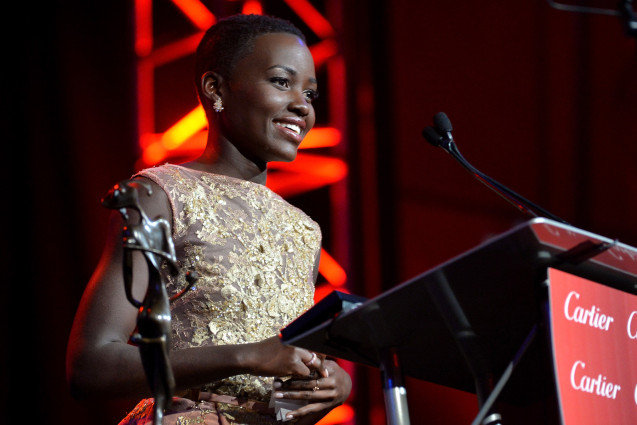 Michael Buckner/Getty
Despite the rest of the 2014 BAFTA Award nominees not being announced until later this week, the five actors who will be competing for the annual Rising Star Award have been revealed. The list includes:
–Dane DeHaan, who played the murderous beatnik Lucien Carr in Kill Your Darlings

–Lupita Nyong'o, who gave a devastating and unforgettable performance as Patsey in 12 Years A Slave 
–Lea Seydoux, who romanced Adèle Exarchopoulos in Blue is the Warmest Color
–Will Poulter, who costarred in the high-grossing comedy We're The Millers
–George MacKay, who starred as a recently-discharged soldier in the British musical Sunshine on Leith
The winner will be determined by the public, and fans can vote for their favorite actor on the BAFTA website. 
With all of the end-of-year lists, award nominations, and "breakthrough performance" articles that have been published lately, it's very likely that thesse Rising Star nods will get lost in the shuffle. However, if there's one award that film fans should really be paying attention to, its the Rising Star Award. Why? Well, it's the most exciting award that will be handed out in the coming months. That's right: more exciting than the Best Picture race or the possibility of your favorite, underappreciated television show winning a Golden Globe. And here's why:
Everything About Them Will Surprise You
From the moment it premiered at Cannes, Blue Is the Warmest Color has been one of the biggest and most critically acclaimed films of the year, resulting a steady stream of awards and accolades for its leading lady, Exarchopoulos. Despite making every single "breakout performance" list of the year and being a strong contender for an Oscar nomination, she was passed over in this category for her co-star, Seydoux. While Seydoux may have started off as the film's more recognizable name, with years of modeling and acting credits under her belt, she has been all but forgotten in the wake of Exarchopoulos' performance. As such, it was a surprise to see BAFTA name Seydoux on its Rising Star list, when everyone expected Exarchopoulos to be a lock. Perhaps they plan on nominating her for one of the main acting categories, perhaps they feel she has plenty more time to be nominated, or perhaps the panel of judges just wasn't that impressed with her work; whatever it is, it just goes to show that the Rising Star Award is the most unpredictable major film award around. Besides, if you can't even predict the nominees, just imagine what that will do for your awards bracket. 
The Winners and Nominees Go on to Lead Huge Careers
Since the award's inception in 2006, almost all of the winners have gone on to become blockbuster stars and acclaimed power players. James McAvoy, the first winner, took home the prize amidst awards buzz for his role in The Last King of Scotland, and then went on to star in major films like Atonement and X-Men: First Class. Other winners have included Eva Green, Tom Hardy, Kristen Stewart, and Shia LaBeouf, all of whom have enjoyed a great deal of fame and success. But it's not just the winners who are able to make the transition from breakout to bankable movie star; all of the nominees have also seen their star power rise as a result of being placed on the shortlist. With actors like Emma Stone, Andrew Garfield, Carey Mulligan, Michelle Williams, Cillian Murphy, Michael Fassbender, and Jesse Eisenberg all among the many nominees, the Rising Star Award may just be the most accurate indicator of who really is the next big thing in Hollywood. And considering that one of the actors McAvoy beat for the prize is 12 Years a Slave star Chiwetel Ejiofor, there's no doubt that everyone on this list will go on to do big things, and you can now say that you discovered them first. 
Everything Is Skewing Younger
At only 20, Poulter is the youngest of the five nominees, and one of the youngest to ever be nominated, but this year, all of the nominees seem to be a lot younger than the usual selection. Because the Rising Star Award prides itself on recognizing great performances, regardless of age, nationality or gender, there has always been a good mix of ages on the list. When Hardy won at 33, his competition ranged from then 21-year-old Aaron Taylor-Johnson to 24-year-old Gemma Arterton to 27-year-old Garfield. However, this year, the oldest nominee is Nyong'o, who is only 30, which seems to recognize that the people who are giving the most incredible film performances are not necessarily the people studios have come to rely on. Sure, there's always a chance that a young performer will be nominated for an Oscar, but the Rising Star Award is the best way to recognize all of the young, talented performers currently working in Hollywood. Need someone to carry your action franchise? Look no further. Want to see a compelling, moving performance from an unexpected source? Consider this award your recommendation list. With so many young nominees this year, it's clear that something is shifting in Hollywood, and its refreshing to see a major film academy recognize that. 
It's Anyone's Game
What makes the Rising Star Award so interesting is that the results are entirely determined by the public, making it almost impossible to predict who will take home this year's prize. While Nyong'o has captured everyone's attention as Patsey, and Lea Seydoux has already won the Palm D'or, their captivating performances might not be enough to guarantee them a win. Often, it helps when an actor has a major film behind them, like with Stewart and the Twilight franchise, or Hardy's work in Inception, which might help sway things in Poulter or DeHaan's favor. While neither of their films have the same kind of following that Stewart and Hardy had, they've both been steadily gaining attention for some time now, and are set to play important roles in big upcoming franchises — The Maze Runner for Poulter and the sequel to The Amazing Spiderman for DeHaan. However, there's still the possibility of a complete surprise, like in 2012, when writer/director/rapper Adam Deacon, best known for his work on Kidulthood and Anuvahood beat out Chris O'Dowd, Eddie Redmayne, Chris Hemsworth and Tom Hiddleston, which means that things could end up swinging in MacKay's favor. There's no telling who will walk away with the title this year, which makes it more thrilling than watching the expected front-runner end up with the prize. 
Vote for your favorite rising star online, and find out who will win this and all of the other BAFTA awards when the ceremony airs on February 16.