Why We Want to See More Justin Timberlake Movies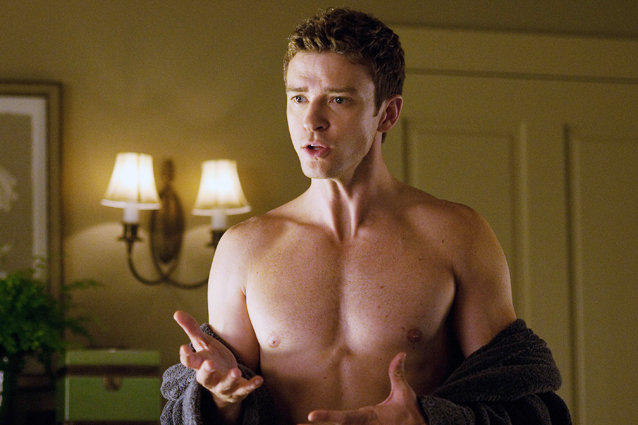 Screen Gems via Everett Collection 
Justin Timberlake has become one of the most accomplished musical artists of his time. Since his boy band days leading *NSYNC through a string of solo hits, JT has shown that he can rock the iTunes chart with the best of them. The one-time Disney Mousketeer has also been acting for just as long as he has been singing, but without the same level of success. Sure, he's drawn raves for his work on Saturday Night Live and goofing around with his buddy Jimmy Fallon, but his movie career has been middling at best. But that's too bad, because Timberlake has shown flashes that he can be that rare talent that can conquer any medium that he takes on, making him the closest thing to an heir apparent to the Rat Pack days of Frank Sinatra, Dean Martin and Sammy Davis Jr. as we have.
At his best in movies, Timberlake uses his natural charm to do most of the work. In last the Coen brothers' Inside Llewyn Davis, his turn as a completely earnest folk singer in early-'60s Greenwich Village was small, but gave the movie exactly what it needed: a counter to Oscar Isaac's self-destructive title character. The look on Timberlake's face when Isaac derisively asks who wrote the novelty song "Please Mr. Kennedy" that they're recording (Timberlake's character did), was played as well as it possibly could've been.
In a larger role, Timberlake was impressive in Clint Eastwood's Trouble with the Curve. The film itself may have plodded along, but JT shined as the former big league baseball prospect trying to find a new role in the game as a scout. He was warm and natural — and cocky in the way that both athletes and artists can be — in playing off of Eastwood and Amy Adams. As with Inside Llewyn Davis, he played the character as a variation of himself and didn't try too hard. When his character actually wins over Adams' prickly lawyer, it feels like a satisfying conclusion. Timberlake did equally well with small parts in The Social Network and Black Snake Moan.
Where Timberlake has not done as well is when he seems to be trying to "act." In Runner, Runner, besides just the fact that the movie wasn't particularly well made, JT seemed to be trying to dial up Shia LaBeouf-style facial intensity as a poker player forced by the feds to help with a sting operation. (Timberlake was hardly the lone flaw of  Runner, Ben Affleck as a Russian mob boss was high up on the unintentional humor scale.) He ran into the same situation with the sci-fi thriller In Time.
Oddly, Timberlake has also had trouble in comedies. Thanks to his work with Fallon and the SNL crew, we know that Timberlake can be funny, but largely, he hasn't made that translate on the big screen yet. Of course, the biggest issue with that could just be his choice of projects. Between Friends with Benefits, Bad Teacher, and The Love Guru there wasn't enough material combined for a halfway decent short film.
There's nothing wrong with an actor playing to his or her strengths. Plenty of actors find success playing a continuous variation of similar roles. Timberlake is likable, charming and funny. If he chooses roles wisely — taking on characters that he can relate with on some level and letting his natural gifts work to his advantage — there's no reason that he can't be a bankable movie star. There are roles out there that are right for JT and we'd like to see them take on more of them.