Will Ferrell and John C. Reilly vs. James Franco and Seth Rogen: Which Friendship Do You Prefer?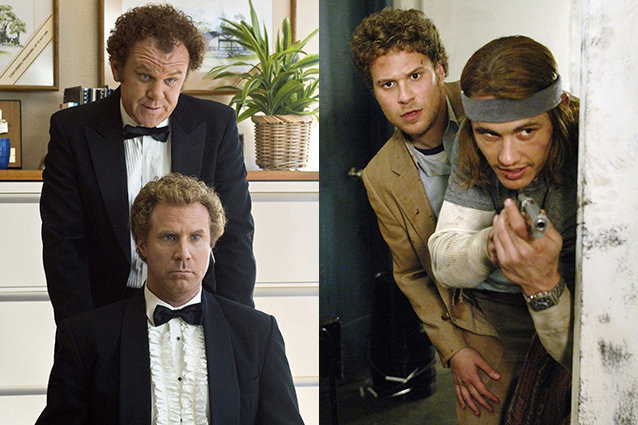 Everett Collection
Some pairs are just meant to be onscreen together, whether its Fred Astaire and Ginger Rogers or Bud Abbott and Lou Costello. They have a connection and chemistry that is hard to quantify and even harder to manufacture. As far as today's stars go, Will Ferrell and John C. Reilly have proved that they have that kind of connection when they're working together. So have Seth Rogen and James Franco. With each duo in the early stages of new big screen projects, we ask fans: Which of the bro-tastic pairings are you most looking forward to see reunited?
Ferrell and Reilly
It's not exactly the most logical fit. Ferrell comes from the Saturday Night Live school of goofy man-child characters and Reilly was once considered an up-and-coming dramatic actor working with directors like Martin Scorsese, Paul Thomas Anderson, and Terrence Malick. Then Reilly became Ferrell's dimwitted sidekick in Talladega Nights: The Ballad of Ricky Bobby and soon the two were doing red carpet bits in character. They reteamed for Step Brothers, a film that gave new meaning to the term "arrested development" and established Ferrell and Reilly as a powerhouse comedy duo. Since then they've appeared in Funny or Die shorts together and Reilly made a cameo in last year's Anchorman 2: The Legend Continues. They each continue to do a full slate of work on their own — Reilly in particular stays extremely busy — making it clear that when they work together it's because they want to. The pair is set to reteam with director Adam McKay, Ferrell's frequent collaborator and Step Brothers director, on a comedy called Border Guards about two guys that end up on the wrong side of the Mexican border while trying to protect the United States from illegal immigrants.
Rogen and Franco
As opposed to Ferrell and Reilly, who had plenty of success individually prior to working together, Rogen and Franco started out working with one another in Judd Apatow's critically TV cult classic Freaks and Geeks. The pair shared screentime and exemplary chemistry with Jason Segel, Busy Philipps, and Linda Cardellini as the titular "freaks." While Franco went off and found stardom in the Tobey Maguire Spider-Man movies, Rogen hung around with Apatow long enough to find a fan base of his own after films like The 40-Year-Old Virgin and Knocked Up. Around the same time that Ferrell and Reilly did Step Brothers, Franco and Rogen reteamed for Pineapple Express. Then there was last year's This Is the End, where Rogen and Franco played amplified versions of themselves. Since then, they've taken to the net to spoof Kanye West's "Bound 2" video as well as Vogue's photo shoot with Kim Kardashian, and Franco popped in on Rogen's recent hosting turn on Saturday Night Live. The affection that they have for each other shows… sometimes more than you could even expect, such as the over-the-top (and shirtless) displays of love in the Bound video. Rogen and Franco, through their production companies, are planning to produce a film version of the book The Disaster Artist about the making of the notoriously bad cult movie The Room.
Perhaps someday Ferrell, Reilly, Franco and Rogen will all make a movie together — and considering Ferrell's and Rogen's proclivity for cramming famous people into their projects that isn't too far-fetched — but for now we're making you choose. So, who's it going to be? Vote below to tell us which duo — Ferrell and Reilly or Franco and Rogen — you can't wait to see more comedy gold from.