Will Mark Wahlberg Ever Be a True Action Star?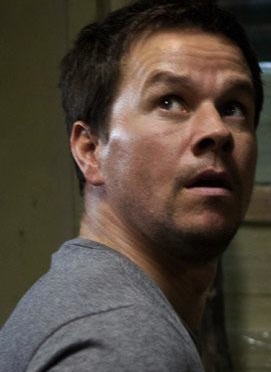 I dig Mark Wahlberg. And not just because he was an underwear model, or hung out with the funky bunch. He's someone I enjoy watching in movies, plain and simple. He may not have the broad range of a guy like Daniel Day-Lewis or the overflowing charisma of George Clooney, but rarely does he lead a movie that's not passably enjoyable.
On Wahlberg's resume is some truly great work—his naive, well-hung Eddie in Boogie Nights and the hilarious foul Dignam in Scorsese's The Departed are both inspired—but, for what might be obvious reasons, Wahlberg has also spent a better part of his career trying to be an action star. In that effort, he's found middling results.
Wahlberg's new movie Contraband hits theaters this week and it got me thinking: is Marky really a gun-toting, ball-busting hero a la Bruce Willis or is he striving for something out of his reach. Or somewhere in-between? Take a look back at his action-oriented filmography, then you decide:

Wahlberg built up to his first big, blockbuster outing with a series of dramas that toyed with the action formula, including the mob picture The Yards and the disaster flick The Perfect Storm. But with Tim Burton's renvisioning of the Planet of the Apes franchise, Wahlberg stepped up to the leading man, the center of the movie's grand set pieces and adversary to an army of damn, dirty apes. Unfortunately, the movie was a dud—Mark Wahlberg insists there were issues with the studio preventing the movie from being awesome. That's easy to buy, but if you see the movie, Wahlberg wasn't exactly elevating the material with his performance, with his biggest scene involving outrunning horseback gorillas as they chase him through a river.
Action star potential: The Planet of the Apes issues are too murky to truly assess his abilities.

Post-Apes, Wahlberg pulled back on his attempts to go full-on ass-kicker, but found footing again with the 2003 remake The Italian Job. In the film, Wahlberg plays ringleader to a group of brilliant thieves who step up their game for the biggest heist of their careers. This was a smart choice for Wahlberg—instead of relying solely on his abilities, he shared the abundance of action scenes with his co-stars, but charming the pants of audiences as the head honcho. Think George Clooney/Ocean's 11, but with a few more car chases. Wahlberg pulls off the ensemble anchor position gracefully.
Action star potential: When he has the right team, Wahlberg can lead the pack.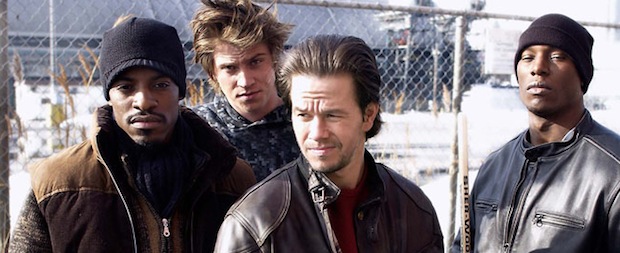 Wahlberg spent the early part of his acting career distancing himself from his bad boy image, but with Four Brothers he grapples with it head on. And you know what? It works. The premise of a racially mixed household taking revenge for their adoptive mother's death allows him to tread territory that would've rang a little strange in his music days, but he owns the "street" attitude in Four Brothers, engaging in a number of gritty shoot outs and fist fights.
Action star potential: The action is smaller scope, but it toughens up Wahlberg. He's dangerous here.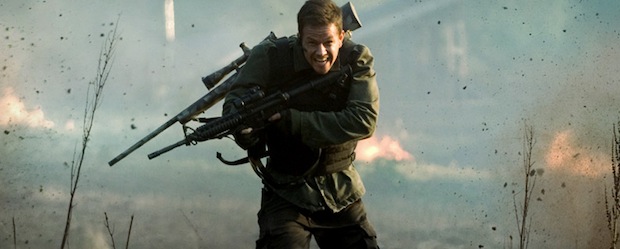 I'm sure after everyman Matt Damon blew up in the Bourne series, every guy in Hollywood was hankering for his own powerhouse franchise. That may have been the idea Wahlberg had when he signed up for the generic, military-infused action thriller Shooter. The idea's fine: a retired sniper is hired for one more mission, and finds himself at the wrong end of a government conspiracy. The only problem with sniping is that the guy behind the scope is really, really, really far away from the action.
Action star potential: If more movies required squinting, than Wahlberg would be an action A-lister.
While video game adaptations are notorious for barely scratching the surface of cinematic quality, Whalberg's decision to take on the beloved Max Payne series also felt logical. The style nodded to Sin City and 300 when CG-ified comic book movies were all the rage, and the tone was perfectly in tune with the bleak Batman Begins/The Dark Knight. But instead of mirroring everything those movies got right, Max Payne went hammy. The result is muddled and laughable.
Action star potential: Wahlberg's already a character—without a grounded reality, his movies blast into outer space.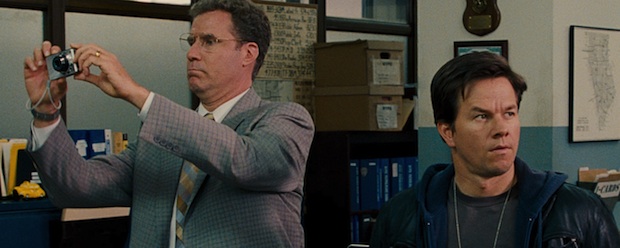 After Mark Wahlberg spoofed his own rough-around-the-edges attitude on Saturday Night Live, it was clear the actor had untapped comedic potential. Who would have thought it would have been perfectly utilized in the first action movie from the guys who brought us Anchorman?
Will Ferrell and director Adam McKay brought Wahlberg into the fold for The Other Guys, a buddy cop movie about two guys who aren't buddies and are barely cops. The movie riffs perfectly on the formula, with Wahlberg lampooning his own typecasting to maximum effect. He also gets a few big scale action scenes. With the movie's ridiculous foundation, they're highly entertaining.
Action star potential: Ridiculousness is Wahlberg's greatest weapon.
I don't think Wahlberg is the next Stallone, Willis or even Cruise, but he does possess the required genetic code to pull off an action movie. His strengths aren't in pulling off intricate set pieces with IMAX-sized scope. He needs either intimate action movies (something like Taken) or off-the-wall comedies that weave in large-scale sequences. He has the necessary swagger.
So will he be able to pull off Contraband? We'll find out this weekend.
="font-style:>