Colin Farrell Travels Through Time (with His Horse!) For Love in Confusing 'Winter's Tale' Trailer
Lady Sybil is back, ya'll — well, the actress who played her is, at least. In the trailer for the romantic fantasy Winter's Tale, Downton Abbey's Jessica Brown Findlay is romanced by Colin Farrell (although we wish she were still madly in love with her Irish rebel back at the Downton estate), and… time-travel is involved?
The Warner Bros. film, which is based on Mark Helprin's 1983 novel of the same name, follows a thief named Peter (Farrell) who falls in love with a dying woman named Beverly (Findlay). (Side note: Why is Findlay always dying?). Decades later, we find an un-aged Peter in New York City with no recollection of his former life. Yes, it appears that we've got another time-traveling romance on our hands (we're looking at you, About Time), or as IMDB says, a story of reincarnation.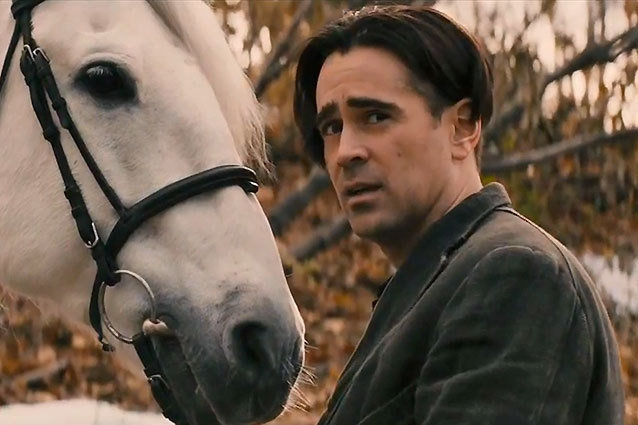 FilmTrailerZone/YouTube
The trailer makes the film's plot seem a little bit scattered, but what we can discern from the two-and-a-half minute peek is that Jennifer Connelly eventually steps in to help forgetful, time-jumping Peter remember who he is and what happened to him and Beverly. Oh, and Russell Crowe plays a mobster with a gigantic scar on his face who's out to kill Peter, and Peter's mystical horse might be able to travel through time as well. Yup, that's all we can put together. Take a look at the trailer and try and figure out if you can solve the Winter Tale mystery.
Winter's Tale, which is directed by Akiva Goldsman (A Beautiful Mind), is set to hit theaters on Feb. 14, 2014. If the film is being released on Valentine's Day, it has to have a happy ending, right?