Would 'Star Wars: Episode VII' Be a Good Move for Lupita Nyong'o?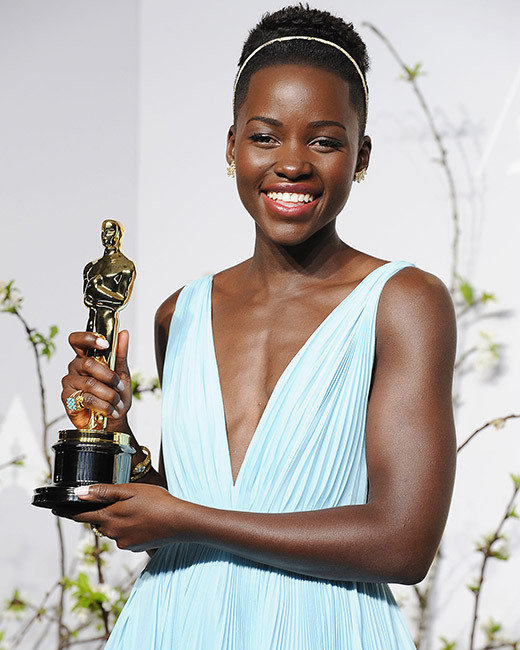 Getty Images
It's good to be Lupita Nyong'o right now. In between winning over film critics, the fashion elite, and the general public with her poise and charm, the Oscar winner reportedly met with director J.J. Abrams to discuss taking on the female lead in the upcoming Star Wars film. Since the script is still being kept tightly under wraps, it's unclear whether the role in question would see Nyong'o playing a descendant of Obi-Wan Kenobi, which has been described as a "non-Caucasian" role, or whether she is in talks for another part.
If Nyong'o does get a major part in the movie, it could be the role that she needs in order to capitalize on her Oscar buzz and cement herself as an A-List actress. Since she is still a relative newcomer, the earliest post-Oscar roles she chooses will have a major effect on her career trajectory. Many actors who have taken home a trophy only to disappear from the public consciousness thanks to disappointing follow-up films.
Despite her film 12 Years a Slave winning Best Picture, there is still a significant portion of the population (including some Oscar voters) who haven't seen the movie. As such, taking a role in such a major, mainstream franchise like Star Wars would keep Nyong'o at the focus of moviegoers' attention and expose her talent to people who might not have seen her act yet. And since the character will likely be a very different turn from Patsey, it would also allow her to showcase the range of her talent.
In addition, if the new Star Wars installment is well-received by fans and critics — since it is all but guaranteed to do well at the box office — it would prove that Nyong'o is capable of carrying a film, which would put her in contention for more leading roles. Studios are usually hesitant to take a risk on allowing up-and-coming actors to be the cornerstone of a big-budget picture, unless either the franchise or the star has proven to be successful in the past. Although Nyong'o has shown herself to be an exceptional supporting actress, playing the lead in a successful blockbuster opens her up to more opportunities and roles, for both supporting and leading roles. Essentially, Star Wars would put Nyong'o in the conversation as a leading lady as well as a key emesemble player, which would mean bigger and better parts in both mainstream and indie films.
However, the film being a major success could have some issues for Nyong'o as well. Because studios often prefer to stick with formulas that they know will be successful, Nyong'o could find herself only being offered roles in action movies, which, again, would make establishing herself as an A-List actress very difficult, especially since there are generally fewer female-fronted action films than there are one with male leads. There's also the fact that almost all of the actors who have starred in the Star Wars franchise have struggled to break out from the shadow of the space fantasy giant. From the Original Trilogy, only Harrison Ford was really able to shake off Han Solo — which was largely due to a starring role in another major franchise — while Mark Hamill and Carrie Fisher are still primarily remembered in relation to Luke Skywalker and Princess Leia, and Billy Dee Williams will forever be Lando Calrissian to the general public.
Even Hayden Christensen saw his career stall after playing Anakin Skywaker in the prequels, despite having earned critical acclaim in films like Life as a House and Shattered Glass. But he was unable to capitalize on that momentum, and that, combined with a great deal of derision from Star Wars fans concering the way the character was handled, resulted in Anakin being his last major, successful role. Although there are several Star Wars actors who have been able to avoid being typecast, they have usually signed on to the series after establishing their careers. Nyong'o, being a newcomer, could be more likely to become conflated with her character, especially since she hasn't been in the public's awareness long enough for many people to have already formed a perception of her.
But although the majority of Star Wars actors have become permanently associated with their characters, that doesn't mean it would be impossible for Nyong'o to break away from the franchise. Both Ewan McGregor and Natalie Portman joined the series with a few critically-acclaimed credits under their belts, but allowed the Star Wars franchise to break them through to genuine stardom. By following the films up with diverse, interesting roles, they were able to shake off Obi-Wan and Padme, respectively, in order to become established and acclaimed actors in their own right. If Nyong'o manages to follow in their footsteps, she would likely be able to side-step the epic franchise trap and continue to become a well-respected actress with an impressive resume.
She already seems to be on that path: in addition to the Star Wars role, she was in talks to play Tiger Lily in Joe Wright's Pan, and she's reportedly being looked at for a major part in an upcoming courtroom drama opposite Daniel Craig, so it shouldn't be a problem for her to follow up Star Wars with something completely different. In general, it seems that the best course of action for Nyong'o is to look for diverse, compelling roles in order to prove to both her fans and critics that she is capable of tackling a wide variety of roles.
Recent Oscar winners are always under a great deal of pressure to keep the momentum going after awards season wraps up, and since Nyong'o is so new on the scene, her choices of roles will be scrutinized even more closely than usual. A lead in the latest Star Wars film is a big step forward for her, career-wise, and as long as she is able to avoid getting stuck in a rut, we should be able to look forward to many more incredible performances from Nyong'o in the future. And if worse comes to worse, she should be able to buy herself some goodwill and acclaim with a few more exceptional fashion moments. Nobody can wear a gown quite like she can.