Which Upcoming Zach Galifiankis Movie Is More Exciting?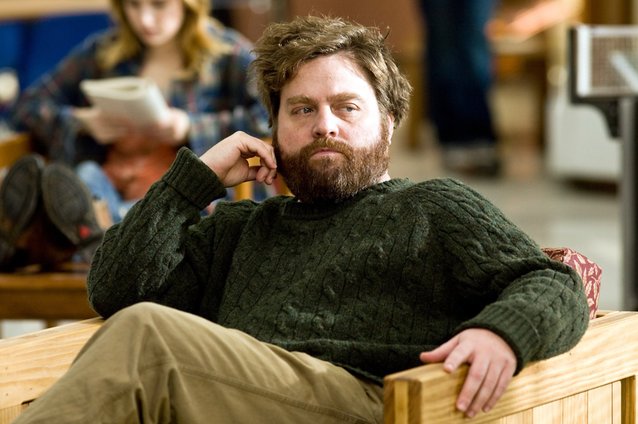 Focus Features via Everett Collection
Now that he's done being a one-man wolf pack, Zach Galifianakis is going highbrow. The actor has signed onto two new projects, Larry's Kidney and Will, which will be helmed by Oscar nominated directors Richard Linklater and Michel Hazanavicius, respectively. Larry's Kidney doesn't yet have a planned time frame to start filming, and Variety reports that Galifianakis will start work on Will before the end of the year, primarily so that Hazanavicius can then begin production on In the Garden of Beasts, which is slated for a 2016 release.

In addition to working with two acclaimed directors, the films will give Galifianakis a chance to reunite with his former co-stars: Will Ferrell is attached to star in Larry's Kidney, and Paul Rudd set to play the other lead role in Will. Between the unusual directors and the chance to see Galifianakis one-up The Campaign  and Dinner for Schmucks, it's hard not to get excited about his upcoming projects. But which film is truly the most exciting? We've pitted the two against each other to see which one of Galafiankis' next films is worth marking your calendars for.

Will
Plot: Set in a fantasy world where humans don't have free will and are instead guided through life by a guardian angel, Will (Rudd) finds himself stranded after his angel (Galifianakis) quit. Will must now navigate through life on his own, and learn how to make decisions on his own.
Director: Michel Hazanavicius, best known for The Artist, which won five Oscars, including Best Picture and Best Director.
Co-star: Paul Rudd, everyone's favorite comedic leading man.
Team Involved: Will Ferrell and Adam McKay are on board as producers, and the script was written by comedian Demetri Martin.
Pros: Between the cast, writer and producers, Will has an impressive team behind it and Hazanavicius will lend an air of gravitas to the proceedings. His films tend to be more dramatic, but The Artist did have some moments of broad, slapstick, and vaudeville comedy, which is similar to a lot of what Galifianakis does. Plus, Martin's comedy is universally appealing while still being quirky and unique, which will help the film appeal to a wider audience than Galafiankis' films might normally draw.
Cons: The Artist was much more of a drama than anything else, which makes us apprehensive as to how well Hazanavicius will do with a straightforward comedy, since it's not something he has a great deal of experience with. Also, while Rudd and Galifianakis are a solid pairing, they've played these parts many times before, with varying degrees of success, and since the concept is a tricky one to pull off – remember The Invention of Lying? – that could drag things down.
How Excited We Are: Cautiously optimistic. The team is solid, the concept is interesting, and Hazanavicius is a talented director, but there's still plenty of room for things to go wrong.
Larry's Kidney
Plot: Based on the memoir by David Asa Rose, the film follows a man (Ferrell) who travels to China with his cousin Larry (Galifianakis) and a mail-order bride in order to help Larry receive a life-saving kidney transplant. That is, if the cousins can manage to stay out of a foreign prison and repair their fractured relationship.
Director: Richard Linklater, whose filmography includes Dazed and Confused, Bernie and the Before Sunrise trilogy.
Co-star: Will Ferrell, everyone's favorite comedic man child.
Team Involved: Thus far, Galifianakis, Linklater and Ferrell are the only people signed onto the project.
Pros: Although Galifianakis and Ferrell are two of the biggest names in comedy right now, the real draw here is Linklater, whose comedies are consistently excellent. Like Hazanavicius, his presence adds some (much-needed) seriousness to the film, as even when his movies are broad and goofy, they're still grounded. Larry's Kidney seems like it could become a dramedy, which makes him the perfect choice, and will allow both actors to showcase their range.
Cons: Well, the last time Galifianakis and Ferrell got together, the result was The Campaign, which wasn't very good. Both have a similar comedic style, relying on over-the-top, weird characters and childish hijinks, which can be overwhelming if there's nobody onscreen to help balance the out. Plus, though the plot seems like it could lend itself to more dramatic moments quite easily, the "foreign adventure" and "mail-order bride" remind us of the worst parts of the pairs' films, which makes us uneasy.
How Excited We Are: Slightly hopeful, mostly worried. Though we're automatically on-board with everything Linklater does, this film has a lot stacked against it, and we're not sure that even he can reign the pair in enough to keep things from going off the rails.

Winner: Will
We're big fans of Linklater and his work, but Will has a stronger team behind it, and is less likely to give us terrible flashbacks to The Campaign.