'Zero Dark Thirty' Box Office Win: Defying the Odds of Modern War Movies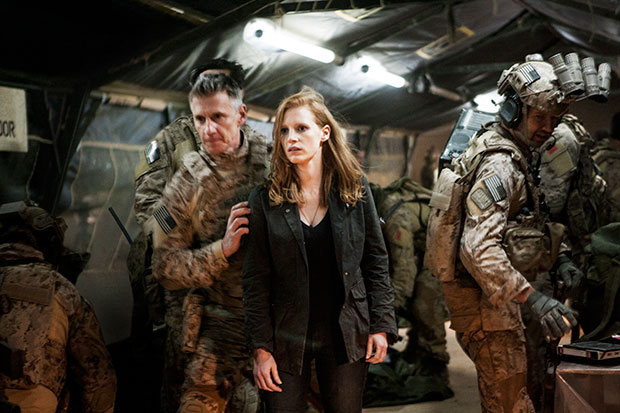 This weekend, director Kathryn Bigelow and writer Mark Boal's riveting, true life manhunt drama Zero Dark Thirty topped the box office chart with $24 million. This is not a place "modern Iraq/Afghanistan war movies" in the post 9/11 world generally reside, with most struggling to find an audience and posting modest to fair revenue numbers at best. 
RELATED: 'Zero Dark Thirty' Easily Beats 'Gangster Squad' to Top Weekend
Dramatic movies in this category have not fared particularly well: only one was able to top the $50 million mark in domestic box office and not a single debut at number one in the bunch. The top grossing films include Jarhead, starring Jake Gyllenhaal and Jamie Foxx ($62.6 million in domestic receipts), The Kingdom directed by Peter Berg ($47.5 million), Body of Lies starring Leonardo DiCaprio and Russell Crowe ($39.4 million), Green Zone starring Matt Damon ($35.5 million) & The Men Who Stare at Goats ($32.4 million) starring George Clooney. This is not meant to minimize the fact that many of these were excellent films, but rather illuminate that movies in this genre have until now, been a tough sell. 
Documentaries fared much better with Michael Moore's documentary Fahrenheit 9/11 benefitting from perfect timing and openingt number one with $23.9 million. The film went on to become the highest grossing documentary of all time, earning $119.1 million in North America. In addition, the well-regarded documentary Restrepo with $1.3 million is also to be considered a hit for a small-scale documentary.
RELATED: Jessica Chastain Wins Big at the Golden Globes
Notable box office failures included the brilliant Best Picture winner The Hurt Locker ($17 million in domestic receipts), Lions for Lambs starring Tom Cruise and Meryl Streep ($15.0 million), Stop-Loss starring Ryan Phillippe and Joseph Gordon-Levitt ($10.9 million), In the Valley of Elah starring Tommy Lee-Jones ($6.8 million) and Grace is Gone starring John Cusack (only $50,080).
What is it then that may have caused these films to be greeted by a less than enthusiastic movie-going public? Perhaps the subject matter either proved particularly daunting for audiences for whom the subject matter may have hit too close to home, or perhaps they were more interested in the escapist fare that permeated the multiplex. Irrespective of the reasons, it looks like the story of the manhunt for Osama Bin Laden was an irresistible one for audiences this weekend.
RELATED: 'Zero Dark Thirty' Star Jason Clarke on His Special Relationship with Army Base Monkeys
Zero Dark Thirty in the wake of multiple Oscar nominations and continued critical accolades (and yes, some controversy as well), proved to possess that magic combination of elements that enabled it to break the number one debut barrier that has so eluded this genre and find itself at the top of the chart this weekend…and deservedly so.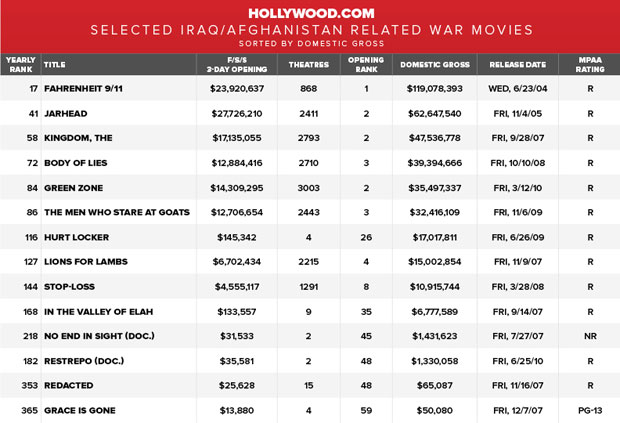 [Photo Credit: Sony Pictures]
---
You Might Also Like:

Who Wore This Crazy Hat?

Stars Who Changed Their Look