Is 'Guardians of the Galaxy' What Zoe Saldana Needs to Finally Become a Superstar?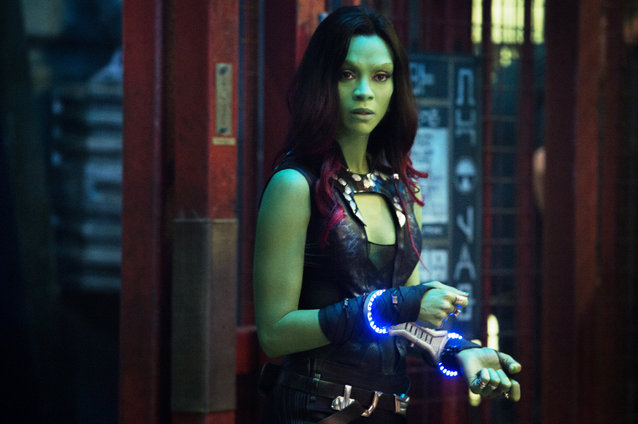 Walt Disney Studios/Marvel
There are a lot of people in Hollywood who are considered sci-fi icons – George Takei, Harrison Ford, Lynda Carter – but when it comes to current sci-fi and superhero blockbusters, there's one woman who reigns above them all: Zoe Saldana. Friday's Guardians of the Galaxy will mark her third starring role in a major sci-fi franchise, and she's effortlessly made the jump from one iconic character to another, earning fans and rave reviews every time. But when you think Star Trek or Avatar or even Guardians of the Galaxy, her face likely isn't the first one that pops into your head. For some reason, Saldana hasn't quite been able to make the jump from blockbusters to international superstar.
Major superhero and sci-fi blockbusters have a history of turning unknown or underrated actors into A-list stars. Henry Cavill was just "that guy from that thing" before he became Superman. Tom Hiddleston went from a theater darling to making women everywhere scream their heads off thanks to The Avengers. Even Sam Worthington was omnipresent for a solid year or so after Avatar was released. And yet Saldana is still best known as the "blue girl from Avatar" or "the one woman in the new Star Trek films" despite having three times as many franchises under her belt. It could be argued that Cavill and Hiddleston have a background in more prestigious projects, which has helped them become more recognizable. But Saldana also has plenty of impressive films under her belt, including collaborations with directors like Steven Spielberg, Neil LaBute, and Guillame Canet. She's even starring in a biopic about Nina Simone, which is the kind of cinematic catnip that neither the Oscars nor audiences can resist.
What, then, is keeping Saldana from enjoying the kind of fame that other franchise stars have? Do audiences have trouble recognizing her thanks to the various CGI and full-bodied makeups that have turned her blue, green, and everything in between? Is it because she's a member of an ensemble cast in Star Trek and Guardians of the Galaxy, the two films where her face hasn't been digitally altered? Is it just because she's not playing the sullen, broody one with daddy issues?
It's certainly not due to lack of talent, as Saldana has always given compelling, complex performances, even in her smallest roles – remember Crossroads? She was by far the best thing about that movie – and often chooses characters that are tough and complicated. Neytiri and Uhura are interesting, strong, sometimes difficult women with a great deal of depth to them. However, despite the attention all of those characters have gotten, it still pales in comparison to the fan bases that their male counterparts have received, which has likely contributed to the smaller nature of Saldana's general fan base.
Still, it's likely that Gamora could be the key to launching Saldana into superstardom, or, at the very least, to being more than just "the blue one." Though both Star Trek and Avatar were incredibly successful, Marvel's films are currently the biggest, most attention-grabbing franchises in theaters thanks to the resurgence of superhero films and the excitement surrounding them. She's already getting more attention and press for Gamora than she did for Neytiri or Uhura, which is probably due to the fact that Gamora is a more prominent lead than the other two. Yes, Neytiri is the only Na'vi anyone can name, but Saldana herself was overshadowed by more familiar names like Sigourney Weaver and Michelle Rodriguez. The biggest name in the Guardians cast, by contrast, is Bradley Cooper, who is only doing voiceover work in the film.
The fact that she's already starred in two other major franchises should also help Gamora become Saldana's biggest role yet. She's already familiar to causal moviegoers, even if they still can't quite place her name. She's also established herself as a fashion darling, which means that she's likely to have graced the cover of many high-selling magazines, which is another important step towards helping her move onto the A-list. And since everyone loves a celebrity baby, she's likely to get even more press over the course of the next few months, which will help keep her in the public's consciousness.
Her upcoming film Nina could also be a major factor. Saldana's always been able to balance action-heavy blockbusters with serious, quiet dramas, but she's yet to properly breakthrough in the latter. A biopic of a major icon could be exactly the kind of films she needs to gain some awards attention, and all of the promotion that Oscar season entails would definitely encourage more people to pay attention to her. However, thus far, the film has been plagued by filming delays on controversy, so if the final product isn't exceptional, it might do more harm than good.
Of course, if Guardians of the Galaxy does even half as well as some of its predecessors in the Marvel Cinematic Universe, it might just be enough to balance out any possible mis-steps, and ensure that Saldana finally gets the kind of attention that she deserves. After all, Scarlett Johansson can't play every female superhero out there.