Not Just A Pretty Face: Zoe Saldana's Career Heads In A New Direction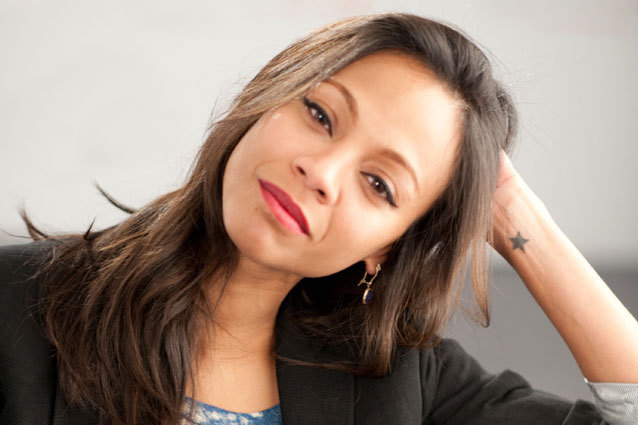 George Pimentel/Getty Images
There may have been a time when Zoe Saldana was pegged as just another pretty face in Hollywood. By now, we all know the type: gorgeous, thin, kinda racially ambiguous, and talented enough to make it all work. But it seems that the actress has no intention of playing eye candy any longer. Over the past few years she's taken on projects like The Words and Colombiana, and even her roles in Avatar and the Star Trek franchise have allowed her to branch out. Considering the movies she has lined up right now, it looks like Zoe is making some truly exciting career moves. Here's a look at three new movies we can all get psyched about.
Nina
The web practically exploded with rage when it was announced that Zoe Saldana would be taking on the role of legendary jazz singer and activist Nina Simone in the upcoming biopic, due mostly to the fact that Saldana is lighter-skinned and more conventionally Hollywood-pretty than the fierce and fabulous Simone. Now that the fury has died down, and Zoe herself has spoken out about her decision to take the lead in Nina, we can't help but get excited about the movie. At the very least, it seems only fair that audiences take Zoe's advice and see the film before passing judgment. Here's hoping that Zoe — a completely capable actress — surprises the naysayers.
Blood Ties
Starring alongside Mila Kunis, Marion Cotillard, and Clive Owen, Zoe joins a seriously impressive cast in the new film from French director Guillaume Canet. The Brooklyn-set crime drama will be a gritty new look for Zoe, but she also brings some romance to the film, playing lover to Billy Crudup's character Frank.
It is impossible to not get excited about this one. Zoe will be in excellent company with Christian Bale, Casey Affleck, Woody Harrelson, and Forest Whitaker on board. Although she's playing another love interest, we expect things to get really intense, really fast, and Zoe will certainly have the opportunity to prove that she can play hard with the big boys.
More:
Zoe Saldana Speaks Out On Nina Simone Role
Marion Cotillard Has Exciting New Films In The Works
Zoe Saldana And Her Sister Head Into The Production Biz 
---
From Our Partners:


40 Most Revealing See-Through Red Carpet Looks (Vh1)


15 Stars Share Secrets of their Sex Lives (Celebuzz)