Amber Heard Is a Bad Girl in Pretty Clothes For Net-a-Porter
Net-a-Porter didn't have to work hard to bring out the sex kitten in Amber Heard in the Francesco Carrozzini-shot feature for the digital edition of The Edit.
Heard looks vaguely reminiscent of the Rum Diary persona that catapulted her to fame, with lacy undergarments by Kiki de Montparnasse and Lanvin leopard-print gloves. The femme fetale-inspired shoot was styled entirely in a palette of blacks and complementing animal prints to go along with sultry smokey eyes and coiffed hair.
The Texas-born actress is hardly just a pretty girl with "dewy skin so clear it looks Photoshopped" — she carries secondhand tomes in her Stella McCartney Falabella, and she speaks of her rebellious youth with ease: "I was just curious and hungry, and had nothing to lose. I come from the middle of nowhere and grew up with nothing."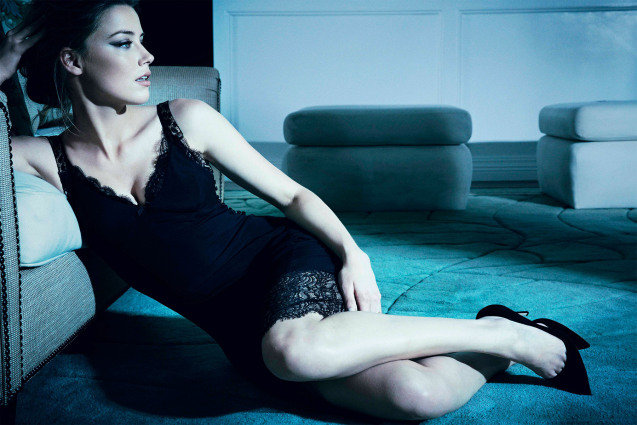 It's no surprise that the screen siren has become an object of fascination for tabloids — her defensiveness about current paramour Johnny Depp and past relationships with both men and women is atypical to starlets with equally impressive resumes.
"If I didn't want to be scrutinized," she claims, "I would have just stayed in Texas."
It would be too easy to attribute Heard's seemingly effortless sexuality as the product of a team of stylists and makeup artists: she can make an off-white Alessandra Rich dress look just as sultry as gray floral jeans and a white linen shirt. The silver chunky rings she wore to her interview, though, echo of Depp.
I was just curious and hungry, and had nothing to lose
"People have been calling me an up-and-comer for 10 years," she claims, "I would rather be called that than a flash in the pan."
If her newest projects says anything — a lead role in Machete Kills opposite Jessica Alba and Sofia Vergara, as well as a role in Valentine's Day thriller Three Days to Kill alongside Kevin Costner — this Hollywood goddess is here to stay.