Who doesn't love a statement hairstyle at a holiday party? I mean, add some glitz and sparkle (to anything) and we're sold. But embellished accessories can cost a bundle. And we don't know about you — but we dropped all our money on presents this year.
While searching fresh ideas for our holiday tresses, we came across photos of Jennifer Lawrence and Mila Kunis, who used necklaces to add bling to their red carpet 'dos. It got us inspired. But how does one (without a styling team) incorporate jewelry into their hair without it looking kitschy?
We turned to our mane man Ted Gibson, to show us how to recreate these chic looks at home. Gibson is one of the most sought after hair stylists and counts Hollywood A-listers, including Angelina Jolie, Jessica Chastain and Janelle Monae, among his clientele. He's also the single-handedly responsible for getting hair on the Academy Award ballot. "Hair accessories can be expensive," Says Ted. "Plus, they can get dated quickly if you don't buy something classic." His advice on how to decorate your holiday 'do? "Go through your mother's jewelry box or pop into a vintage shop to find some gorgeous items" that you can use to create a show-stopping seasonal style.
Using jewelry from our staff's personal collection, Ted showed us easy ways to deck out our strands. Here's how: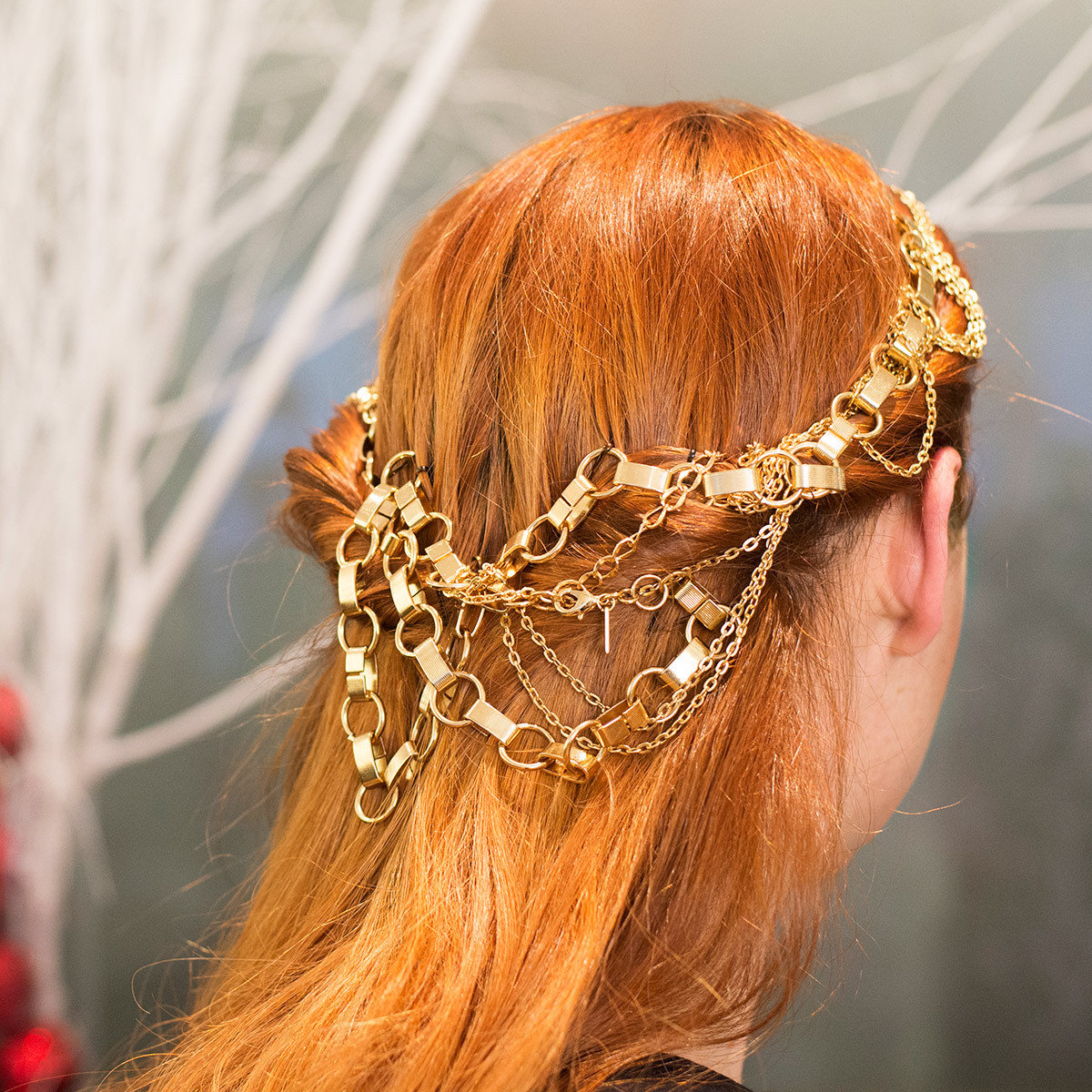 Tyler Joe
A gilded crown looks simply angelic during the holidays. It also works to brighten the face. "A chainmail necklace draped across your hair can look both tough and sweet at the same time," says Ted, of the style he created on Trish Halpin, BTR's photo editor. "If you are a little more adventurous you can place the necklace right on the forehead. But if you're more reserved, you can nestle it behind the twist."
Click here to get the look.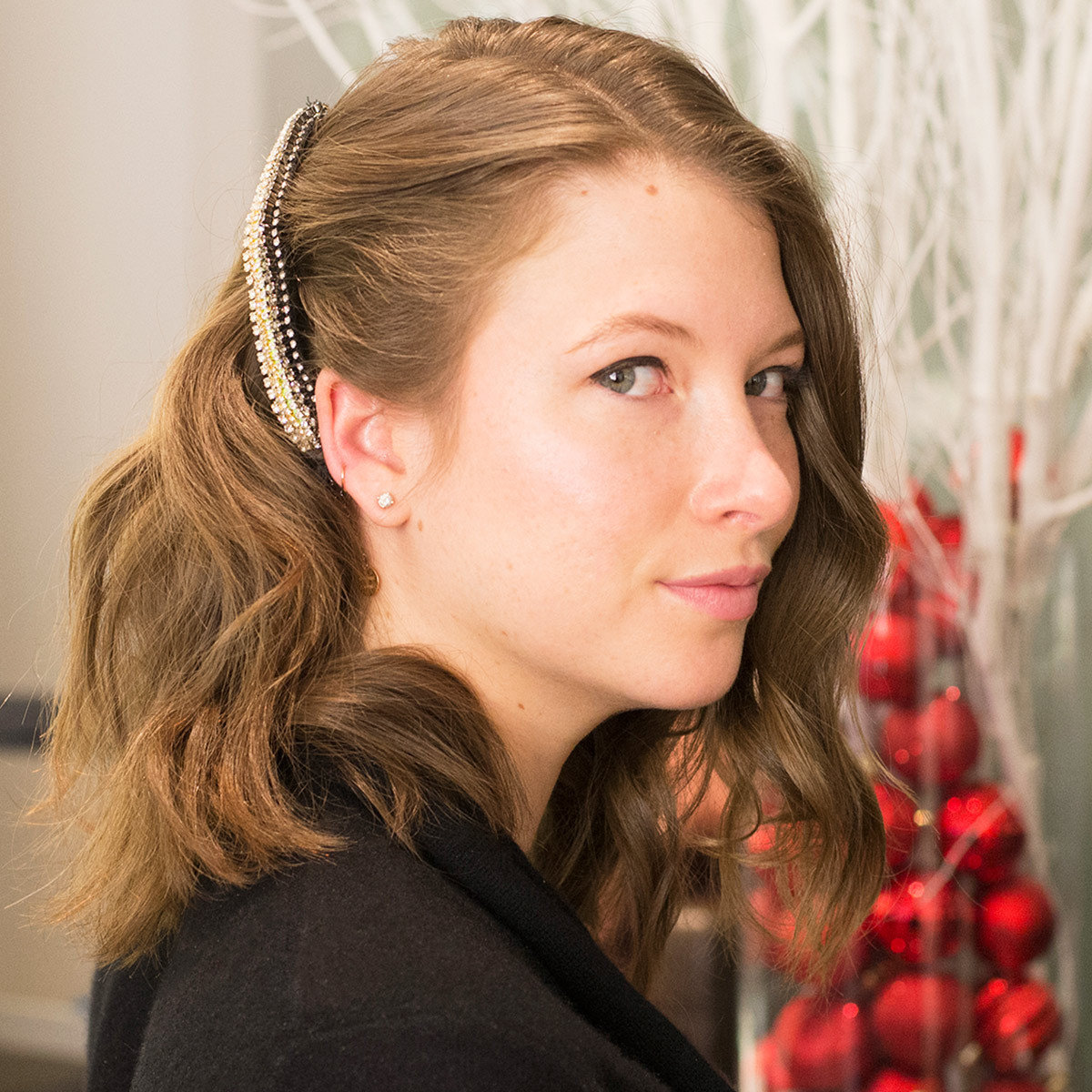 Tyler Joe
Half-dos are an easy style to create and get hair off the face without having it be as complicated or formal as an updo. "This is a very sweet look, it reminds me of the 40's," says Ted of the side-swept style he created on Dianna Cohen, BTR's social media director, using a blinged-out fabric cuff. "Plus, a side part opens the face up and show her beautiful eyes."
Click here to get the look.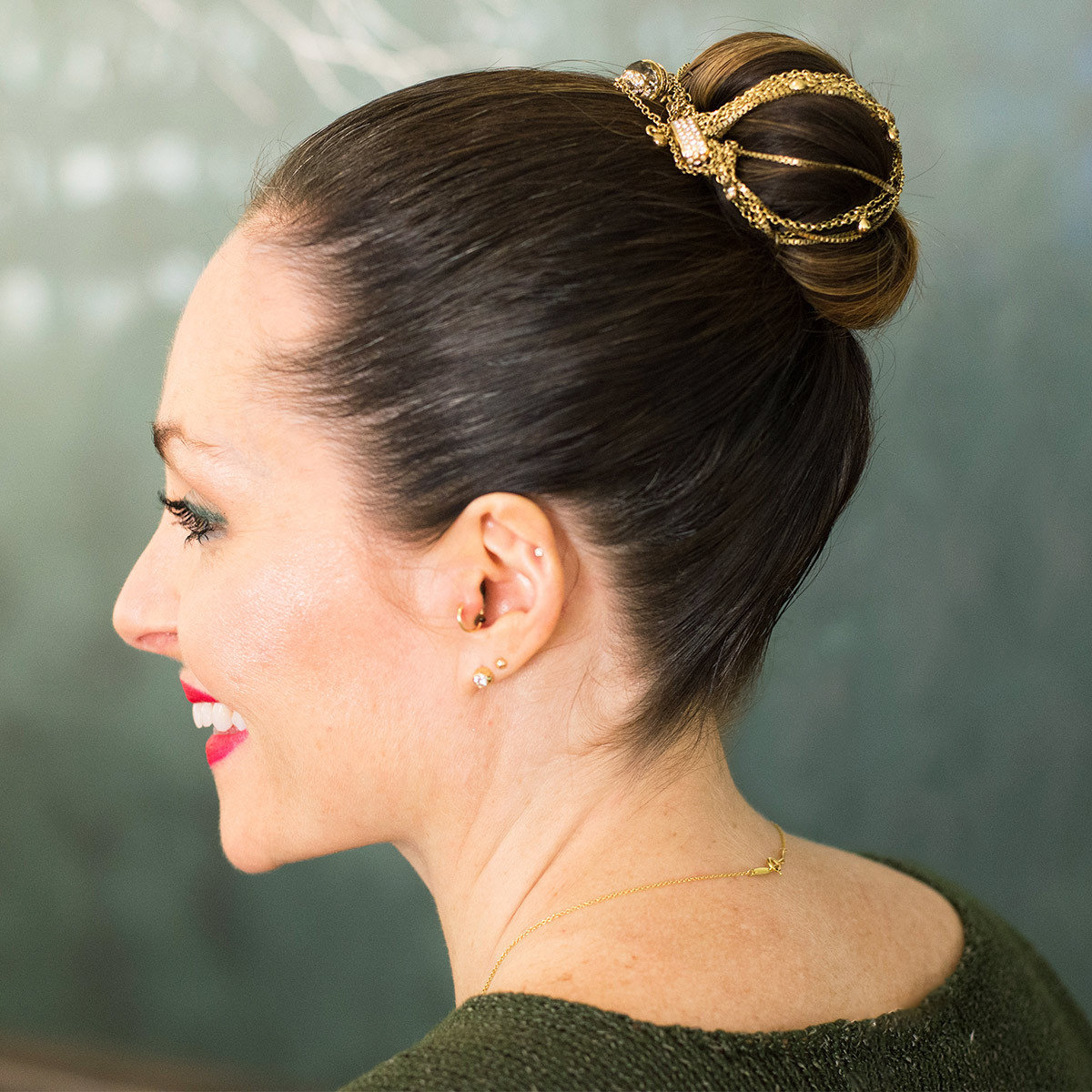 Tyler Joe
"This is the most polished look. It's chic and elegant," says Ted of the bedazzled ballerina bun he created on Caitlin Kiernan, BTR's editorial director. "You can go anywhere with this — from the office party to the Nutcracker. It's for the girl who is nervous to wear a red lip during the day and saves it for a night out. You can wear a bun to work and then wrap a multi-chain bracelet around it when you're ready to hit the town."
Click here to get the look.