Jackie Kennedy Personal Letters go up for Auction
Start digging into your piggybanks, Kennedy-philes. Jacqueline Kennedy's letters to Bergdorf Goodman's personal shopper Marita O'Connor are going up for auction on Nov. 22nd. The letters — both typed and written in Jackie's own hand — explore the former First Lady's style tendencies, starting from before the White House and trailing into the Onassis years.
"She's asking for specific things," McInnis appraiser, Dan Meader, said in an interview with BTR, "for both the Inauguration Day, and then for the next four years. She wasn't going to be able to do things the way she used to." In one of the letters, Jackie states her need for a 'personal shopper.' It was Jackie who coined the term.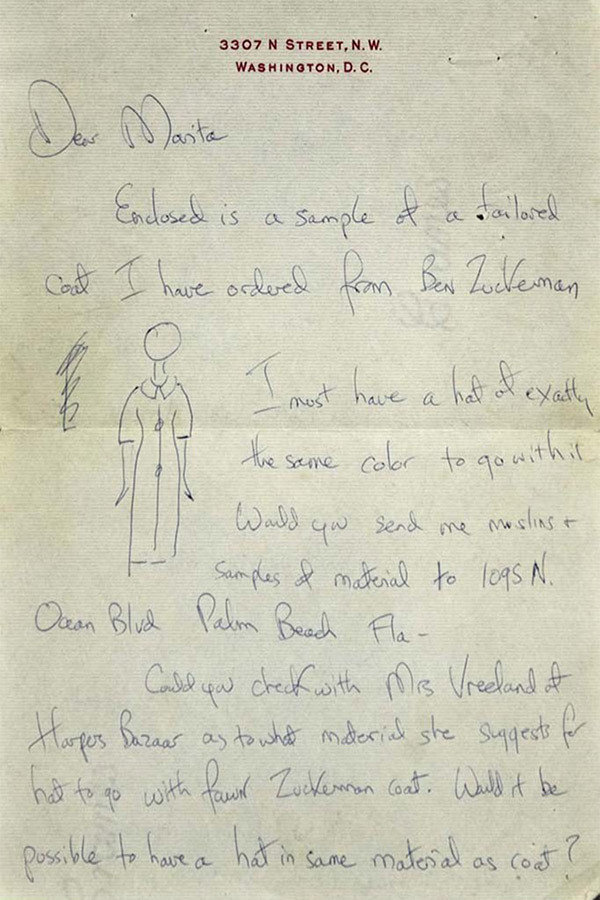 The letters detail Kennedy's unparalleled eye for fashion, with very specific requests for gloves, bags, and most famously, pillbox hats. The most interesting tidbit? Despite being First Lady and having access and means to wear the most lavish couture, Jackie was still a bargain hunter. One of the letters addressed to O'Connor reads: "P.S. Can you find me some hats at the downstairs hat bar — the easy to wear back of head pillboxes — as I must economize on some." A woman after our own heart.
"She was very particular," Meader continues. "She knew what she liked. It's not that she didn't trust the designers, she just wanted her (own) input. She knew exactly how she wanted to look."
The 18 lots are expected to fetch a total of $42,000-$84,000. The letters, along with 1,538 other lots filled with Kennedy memorabilia, will be a part of Legends Auction which runs through Nov. 24th at McInnis Auctioneers in Amesbury, Massachusetts.