Playing With The Devil: A New Forbidden Fragrance
Writing about a by Kilian fragrance is no easy task. The amount of work, dedication, and utter luxury that encapsulates a fragrance by the famed Parisian house is nothing short of spectacular and the story behind every fragrance is even more complex than the notes themselves. The newest offering from the brand, Playing With The Devil, is no exception. Hennessy combined what he describes as devilish notes—pimento berries, black pepper, clove, and jasmine—with fizzy blood orange, white peach, lychee, and black currant.
Devilish notes dance on the skin alongside fizzy fruity notes. 
"This collection was challenging because I am not used to working with fruity notes," Hennessy said over breakfast. "Fruity, sweet perfumes can smell very mass and that's just not my world." The world he's referring to is that of an olfactive integrity so high, it challenges the perception of what luxury truly is.
Hennesy and his perfumers work to find notes that work harmoniously in unison to create an experience unlike any other on the market. They consider everything when creating a scent, from the size, shape, and texture of the bottle to the way in which it should be applied. "You should never rub your wrists together, it messes with the evaporation process which is essential to getting the final scent," Hennessy said with a smile. "But, then again, you should enjoy your fragrance and if you enjoy rubbing your wrists, then by all means, do."
Each of the refillable bottles ("why would you want something so luxurious to be disposable?") also comes housed in it's own wooden lacquered box. In playing with the Garden of Good And Evil theme, of which Playing With The Devil is the fourth release, the newest offering comes in a white lacquer box wrapped with a gold snake. "It reminds me of antique cigarette cases," Hennessy said. "It's very thin, but you can fit anything in there. We made sure of that so you could use it as a clutch too."
Why would you want something so luxurious to be disposable?
Every by Kilian fragrance starts first with a story that Hennessy himself conjures. He pulls influences and inspirations from these stories to formulate his scent, relying heavily on synthetic notes. "The reality is that you can't achieve these dramatic layered scents with natural oils and notes," Hennessy explained, "there just aren't enough available. Synthetic notes open up the palette tremendously. It's like if the perfumer was a painter and you've just given them new colors to play with. There's no limit to what they can create."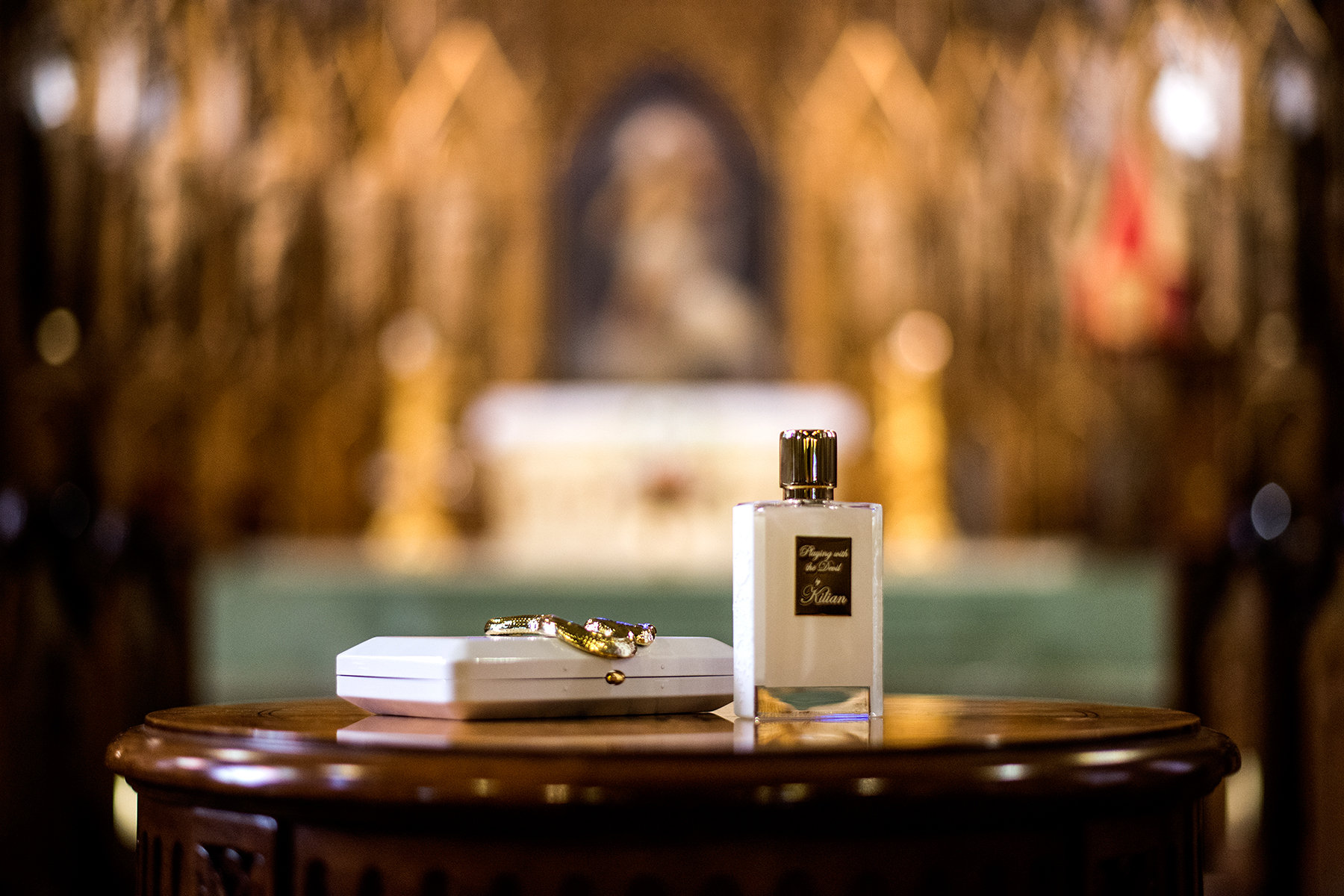 Tyler Joe