Fade to Black, Marc Jacobs Bids LV Adieu
After weeks of speculation, this morning we received the official word; Marc Jacobs and LVMH are finito. But no need to fret fashion-pack darlings, as Jacobs and business partner Robert Duffy have left the archetypal Louis Vuitton house on good terms. "We left it to Marc and to Robert Duffy to decide when they wanted to concentrate on the brand," said LVMH chairman and CEO Bernard Arnault. "Now we have come to an agreement and the object is to assist them with an introduction on the bourse," (or as us mere mortals call it, the stock exchange). 
Jacobs is leaving to concentrate on his own brand.
Arnault went on to explain that Jacobs and Duffy will now focus on an IPO of the Marc Jacobs Company, in which LVMH is already an investor. "When we started together, Marc Jacobs was a tiny little business of around $20 million. Now the totality of sales is approaching $1 billion. It has been an enormous growth." 
But enough about business. What really broke the news to the fashion world was the romanticism of Jacob's last show. Never one to shy away from provocation, Jacobs commenced the evening by sending a nearly naked Edie Cambell down the runway in handcuffs and chains, with nothing but a G-string and painted-on on Stephen Sprouse-designed logos to cover her up. After that it was one ornate ostrich-feathered headpiece after the next, atop the heads if girls wearing seriously ornate biker jackets, understated light-wash boyfriend denim and sheer paneled gowns of varying raciness.
The contrasts seemed abundant yet insignificant- a half showgirl half city walker hybrid if you will. Hefty intruding flats transported elaborately beaded pieces and delicate tulle dresses were in equally numbers of oversized masculine blazers. The juxtaposition gave the sensation that the Louis Vuitton girl's flashy inner subconscious was emerging from her blasé everyday façade right in front of out eyes. And it worked. 
Less to do with a gloomy farewell and more to do with nostalgic sentiment towards his past 16 years with LVMH.
The all black show Jacobs presented had less to do with a gloomy farewell and more to do with nostalgic sentiment towards his past 16 years with LVMH. After all, the designers first show for the Louis Vuitton label was all black as well. A sentiment highlighted by the appearance of past shows props on stage, the elevators, the escalators, the carousel, the fountain, and last season's hotel corridors all a reminder of seasons past.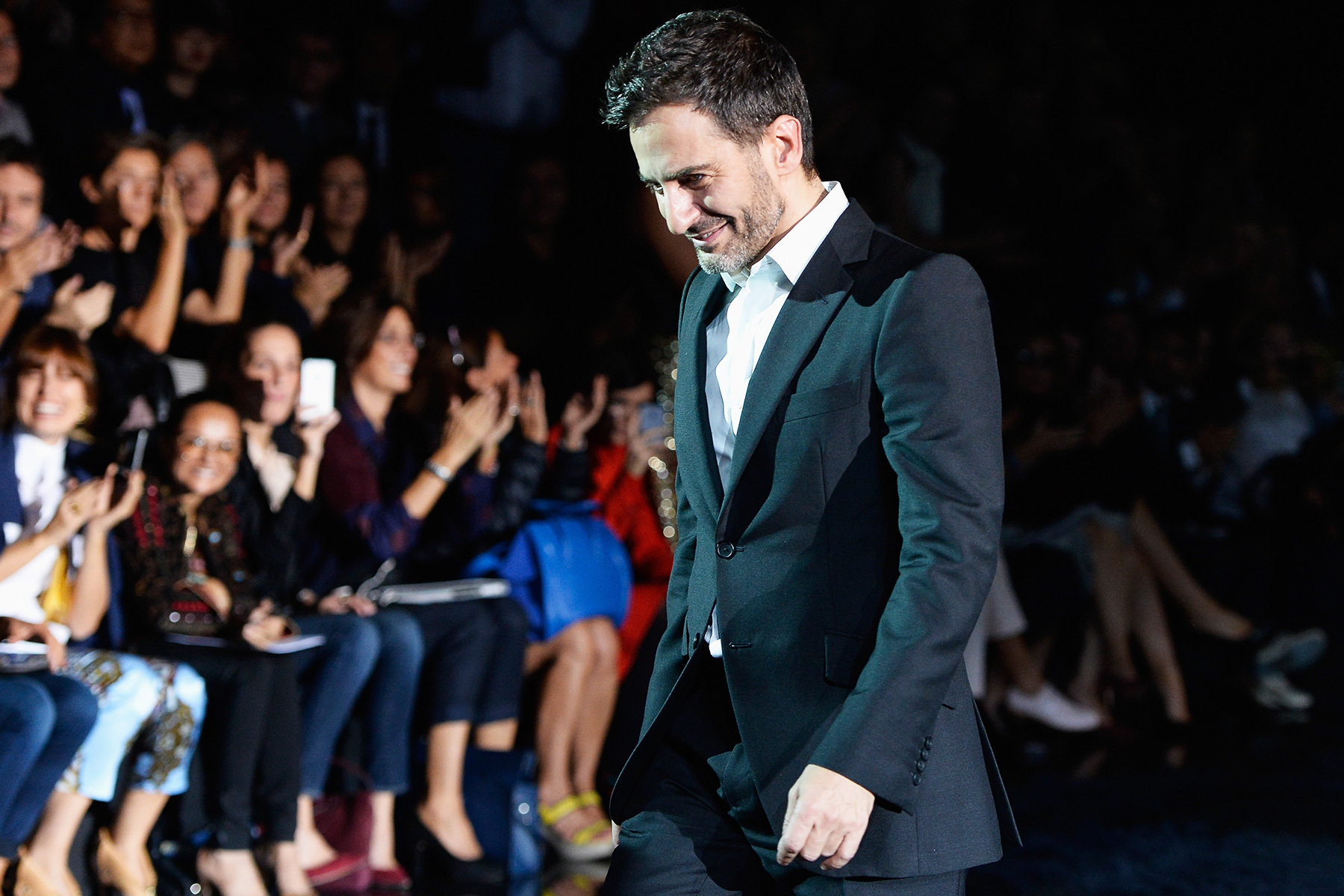 Jacobs notes on the program referenced the many muses of his past decade-and-a-half in Paris. Among them, Coco Chanel, Miuccia Prada and Rei Kawakubo.  "To the showgirl in all of us," he wrote, before finishing with a shout out: "For Robert Duffy and Bernard Arnault, All my love, always."  Beat that adorableness, undecided Vuitton successor.
So there you have it. Perhaps this is a good reason to get involved in the world of finance and purchase some stock (but not really).