'Star Wars' Fashion Face-Off: Rodarte vs. Preen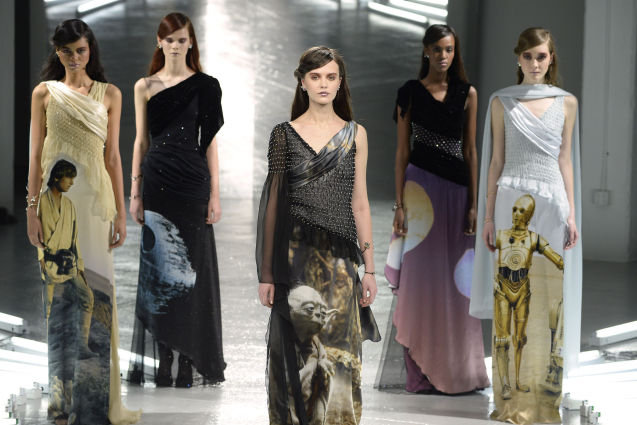 Catwalking/Getty Images
Rodarte's always had a bit of an edge to it – from their breathtaking costuming in Black Swan to their kicky Elle Fanning collaborations, they're not afraid of a little risk taking.
This year, they surpassed mere risk and went to a galaxy far, far, away. Yes, that one. Remember their heavily Van Gogh-inspired line back from Spring 2012? Well, their New York Fashion Week offerings did something similar, except with Star Wars. They took elaborate, red carpet-gowns, and printed some of our most loved characters (and moons, and spaceships) right across the floor-length skirts: we've got Luke, C-3PO, Yoda, the Death Star II, and the twin moons of Tatooine. Other than their quirky skirts, the dresses are quite elegant: delicate beading, ladylike chiffon, and gorgeously draped asymmetrical sleeves. Who knows? Maybe we'll be seeing one on the former Queen Amidala!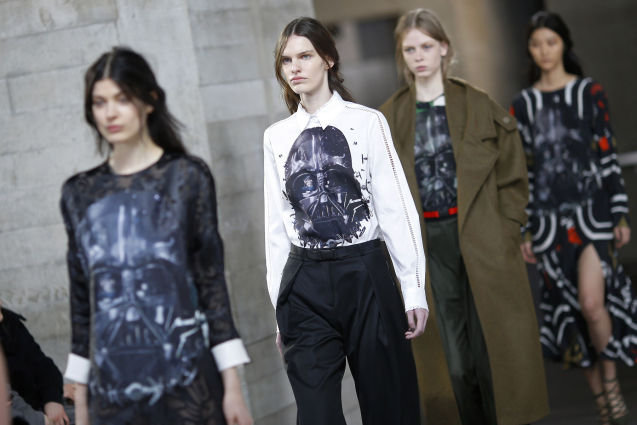 AFP/Getty Images
Preen, on the other hand, took quite a different approach. Their Star Wars fare leans less formal – maybe more something you'd see on a breezily cool fashionista on the streets of NYC, rather than at the Met Ball Gala (still holding out hope that Natalie Portman will wear one to support her favorite designers and the movie that launched her into superstar-dom) – the look reads more "Urban Sophisticate" than "Slightly Eccentric Nerd." And you'll notice that each outfit features Darth Vader and Darth Vader alone, rather than the array offered by Rodarte – so maybe this line will appeal more to Sith Lords rather than Jedi? And even if you're not into the dark side or the Force, it must be acknowledged that Mr. Vader is more fashion-forward than his son. So who to choose?
When it comes down to it, I'd personally go for Rodarte: I'm a sucker for a good gown, and the all-out kookiness speaks to me more than Preen's more restrained rendition. How about you?