TCA 2012: FX Announces Fourth Season for 'Louie,' Martin Sheen on 'Anger Management'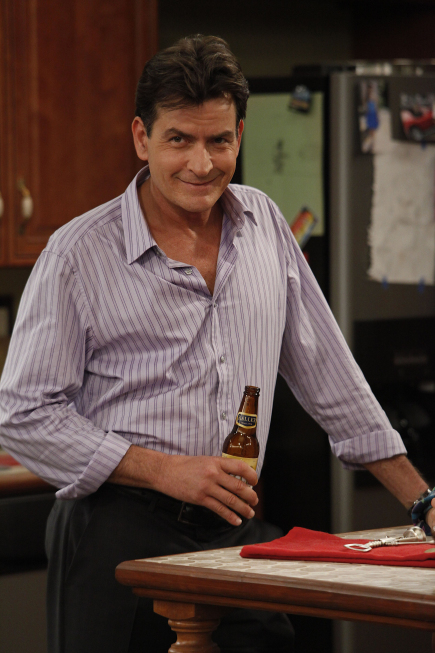 Ready to for your daily FX fix? Of course you are!
FX President and General Manager John Landgraf addressed a room full of reporters at the TCA panel in Los Angeles on Saturday morning to shed some light on the status of the network's stellar line-up. The FX head-honcho spilled details on new pilots and some favorite FX hits like American Horror Story, Anger Management and Louie. Check out all the updates below!
Anger Management: Martin Sheen is going to therapy! Yup, Charlie Sheen's real-life daddy will be joining the freshman show as (drumroll please!) his dad! Truly a stretch on that one. Although there was no news on whether Anger Management will be picked up for the back 90, Landgraff hints that it's "very likely." Considering Martin Sheen has been added to the cast as a series regular, I'm gonna say this one is probably in the bag.
American Horror Story: Get excited, thrill-seekers! The mega-hit "mini-series" is set to return in October and Landgraf spilled some more details about the new setting. The second season will take place in the '60s in a New England sanitarium run by the Catholic Church. Anyone else picturing creepy nuns? And to clarify, there will be absolutely no continuity from Season 1 — that is, none of the characters will be the same. Landgraf reveals, ""I know that [show creator] Ryan [Murphy] doesn't want to give away that many details, but I can tell you that it's unbelievably scary."
BrandX with Russell Brand: FX has ordered more of the late-night half-hour comedy — seven episodes, to be exact. BrandX will return in October after all new episodes of The League. Brand says that the additional new episodes will features some new changes: "The show will look a little more like a conventional late night show. I think we will have guest every week." Landgraf boasts, "Russell Brand is an extraordinary comedic talent —nventive, ambitious and fearless — and we are thrilled to continue our association with him, as well as his partners Troy Miller and Nik Linnen."
The Bridge: FX has found its newest drama series in The Bridge, from Meredith Stiehm (Homeland) and Elwood Reid (Hawaii Five-O). Adapted from the Scandinavian series Bron, The Bridge centers on two detectives from the United States and Mexico who must work together to hunt down a serial killer operating on both sides of the border after a dead body is found on the bridge connecting El Paso and Juarez. "We really loved the Scandinavian drama, and Meredith's and Elwood's script adaption is very compelling and true to its progenitor," said Landgraf.
Bronx Warrants: FX's new half-hour comedy pilot centers around errant warrant detectives in the Bronx assigned to arrest individuals with outstanding warrants. With bonuses paid out for each "body" they bring in, the detectives are out to get to get rich rather than dole out justice. Godfrey (Louie), Josh Segarra (Homeland) and Shirley Rumierk (White Collar) have been cast as the three leads with Emmy-nominated director Scott Ellis (30 Rock) directing. The show will begin production mid-August in New York.
Louie: The hilarious hit has been renewed for a fourth season! Louis C.K. has snagged 14 additional episodes. "There are not enough superlatives in the English language to bestow on Louie or the work Louis C.K. is doing," said Landgraf. "With this series, he has changed the form and is doing truly groundbreaking, landmark work that is inspiring a whole new generation of artist. Simply put, he is making one of the best shows anywhere on television." The third season will conclude on Thursday, September 27 with a special one-hour finale.
Follow Leanne on Twitter @LeanneAguilera