10 Bitchiest Moments From This Week's Don't Trust the B—- in Apt. 23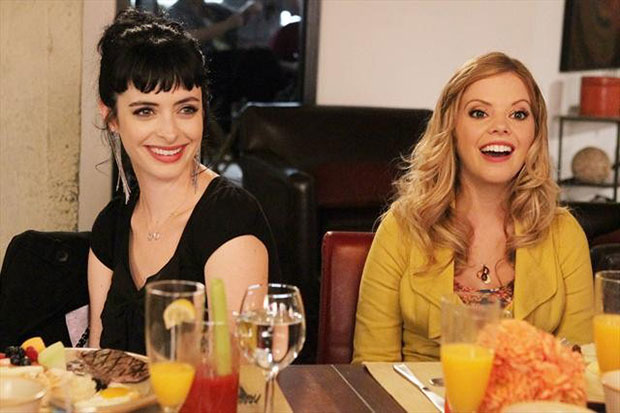 Our dear friend Chloe never leaves us disappointed in the borderline evil and downright bitch department — so much so that she's rubbed off on the rest of the gang. (Yes including small-time-girl June-bug.) SO MUCH SO that every episode is like one big bitch fest sprinkled with only a few relatively heartwarming moments (if you can even call them that). And because I simply can't list all of the hurtful things our pals say to strangers — and to one another — I have compiled the top 10.
10. Old red zip-up windbreaker man threatening June in only the nastiest of ways by shouting, "Move or I'll kick you in the clam!"
9. Chloe's new nickname for June: Judge Judy.
8. Angry, pale neighbors screaming "WHORES" into the "brothel," or what they've deemed J and C's apartment.
7. Coffee shop man Mark growing long, creepy pubic-like sideburns and bashing his ex-girlfriend like she never ever mattered at all. Ex girlfriends matter, okay?
6. Dawson boning a slore in June's room in the middle of the day and then snapping when she acknowledges it.
5. Chloe despising single moms for the sole fact that "they make such a big deal about it." (Though kind of true, no?)
4. June bringing Chloe to the pleather-clad cougar bar, Saddlebags. So, it's a little funny.
3. "I couldn't do it. I couldn't marry a farmer! — Who else.
2. June slamming a poor and helpless Janice Dickinson for being a desperate cougar. Leave the poor lady alone!
1. Luther circling "problem areas" on a skinny blonde with a Sharpie marker. What is this, sorority pledging?
[Image Credit: ABC]
Follow Anna on Twitter @thebrandedgirl
More:
TCA: FOX Picks Up M. Night Shyamalan Series; Late-Night Animation
TCA: FOX Picks Up 'Bones' for 9th Season
TCA: About the Time Kevin Bacon and James Purefoy Kissed Onstage…

Megan Fox's 12 Hottest Moments (Moviefone)