10 Reasons 'New Girl's Cece & Schmidt Are #RelationshipGoals
It takes a special kind of woman to handle Schmidt, his driving moccasins, his love for mango chutney, and his lap dance pants. Fortunately for our favorite New Girl roomie, he is officially hitched to the love of his life (and we are officially obsessed). We're forever #TeamSchmece, and here's why!
1. Their history is memorable (and unconventional).

Before becoming star-crossed lovers, Cece could literally NOT with Schmidt. Schmidty, on the other hand, was head-over-heels for his roommate's BFF from the moment he laid eyes on her.
2. They prove opposites attract.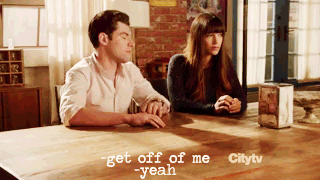 Aside from both being beautiful humans, there wasn't much Cece and Schmidt had in common. Though they got off to a rocky start, it made watching them fall in love SO much better.
3. They aren't afraid to declare their love.

In the words of Schmidt, "I'm a squirrel. You're my nut. Winter is coming. I'm gonna store you in my cheek, girl."
4. They have support from great friends.

These two couldn't have come so far without encouragement from the gang. We're glad they have Jess, Nick, Winston (and even Outside Dave) to help navigate the trials and tribulations of life, love, jobs and True American.
5. Even their biggest mistakes come from the heart.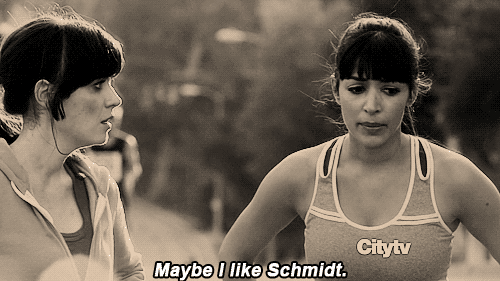 Remember that time Schmidt had Nick pick up the wrong "Cece's mom"? Remember that time Schmidt missed his own wedding because he was on a plane to pick up the right "Cece's mom"?

6. They've mastered the art of both "awkward" and "romantic".

For a couple that uses the term "sig oths", these two are still wildly romantic. Who has time to say "significant others" anyway?

7. They've seen each other at rock bottom.

From jealousy to failure, these two go through the hardships of any couple. Luckily, they're a prime example of love trumping all.
8. They continually bring out the best in each other.

Over the years, both of Jess's friends have gotten a little less narcissistic. Plus, Cece minimizes Schmidt's douchebag jar-worthy comments, and Schmidt encourages his woman to pursue her dreams.
9. As a couple, they follow their own path.

From their meeting to their proposal to their wedding, these two have never settled for 'mainstream'.
10. They're onto the next great adventure: marriage!

Sweet mother of sea dragons! We can't wait to see where these lovebirds go next.