10 TV Pairings We'd Like to See Kiss at Midnight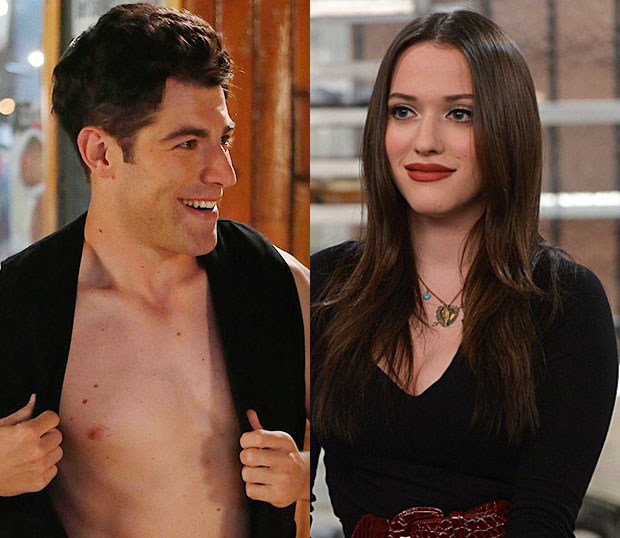 You're invited! Tonight we're throwing a huge New Years Eve bash and all of your favorite TV characters will be there. The alcohol is flowing, the playlist is perfect, and as the clock ticks closer to midnight, ten cross-network couples begin to form. Due to our vivid imaginations and an insane passion for TV, we at Hollywood.com have your sneak peek into what would happen if Ted Mosby, Sookie Stackhouse, Tom Haverford, Dana Brody and many more were all together to welcome 2013 with their 12 o'clock smooches. Check out our fantasy TV pairings below to see who would find their soul mate and would have their first one night stand of the new year!
Schmidt and Max Black (New Girl/2 Broke Girls): Max would thoroughly enjoy calling Schmidt out on his obnoxious behavior in front of the entire party and then secretly pass the money from the Douchebag Jar over to Caroline. Schmidt, enamored by Max's blunt personality and sexually charged jokes, would be determined to kiss her by midnight. At Midnight: Max slaps Schimdt and the two later disappear into the coat closet with a bottle of champagne.
Ted Mosby and Karen Cartwright (HIMYM/Smash): She is totally Ted's type (driven, smart, kind, brunette, etc.) and after Karen's most recent catastrophic breakup, she needs a good guy like Teddy Westside right now. Plus, we all know that Ted would go above and beyond to make sure that Karen had everything should could ever need while "in tech" At Midnight: A sweet 5-minute makeout complete with nose nuzzling and forehead kisses.
Nick Miller and Shoshanna Shapiro (Girls/New Girl): These two are amazing, so naturally they would find each other at our fictional party. Shoshanna would admire Nick's laidback personality and Nick would see that Shoshanna's upbeat personality is strong enough to stop him from making that ugly turtle face we all know so well. They would become good friends who commiserate that their dates bailed at the last minute. At Midnight: An awkward brother/sister type kiss followed by a marathon of Baggage on the Game Show Network.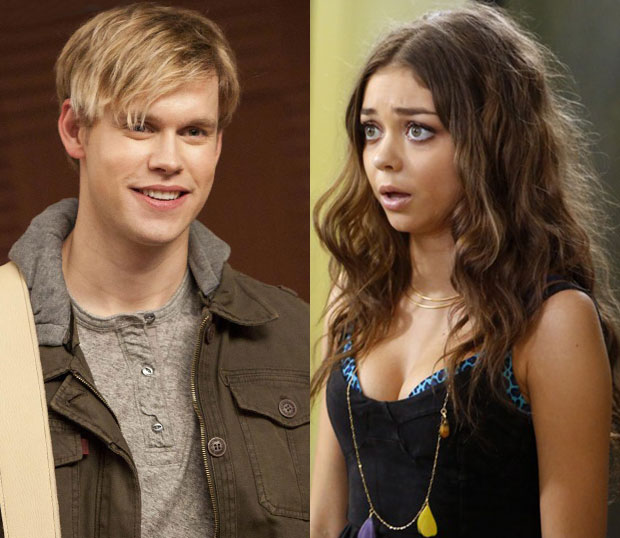 Sam Evans and Haley Dunphy (Glee/Modern Family): Talk about cross-network soul mates! Sam and Haley have never been the brightest bulbs in the box, but they're both extremely attractive and easily persuaded. Throw any topic at them and these two would think that the other is a gorgeous genius. At Midnight: Sam pulls out (yet another) ring and proposes to Hayley at 1 in the morning because they still have yet to change their watches from Daylight Saving Time. She accepts because she thinks Dylan has dyed his hair blonde. 
Tom Haverford and BJ (Parks and Rec/Ben and Kate): Tom has always tried to lure the ladies with his swagger but often failed. Luckily for him at this party BJ would be on the prowl tonight looking for a fella with some smooth lines and extra bottles of Ciroc.Their eyes meet while Tom is singing Justin Bieber's "Baby" on Wii karaoke. At Midnight: BJ pins Tom to a wall and the entire party looks away as they have a sloppy makeout for about two hours complete with loud moans. 
Joffrey Baratheon and Dana Brody (Game of Thrones/Homeland): Ugh, these two. Neither of them could find someone to go with, so they would be here on a blind date. Everyone hates them both and they've both killed people, so they deserve each other. Dana's incessant whining is enough to drive anyone crazy, but Joffrey is particularly annoyed. At Midnight: A quick peck for tradition before Joffrey sentences her to the great beyond. Good riddance.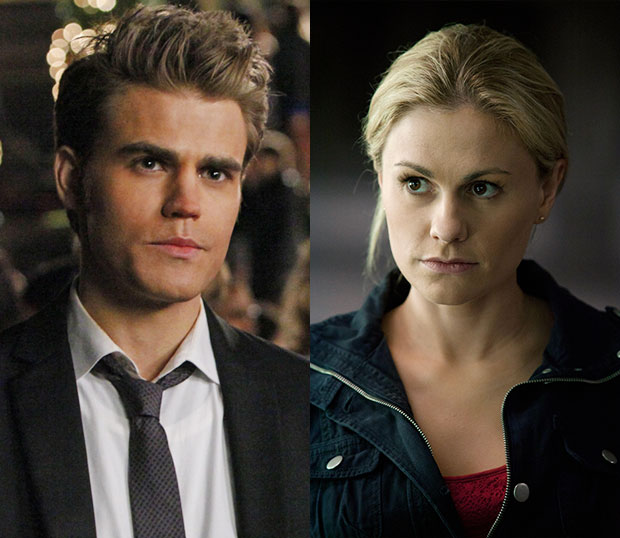 Stefan Salvatore and Sookie Stackhouse (The Vampire Diaries/True Blood): Stefan and Sookie are both single now and after commiserating about their drawn-out love triangles, sparks would begin to fly. Stefan would like the fact that Sookie doesn't whine all the time and Sookie would instantly see that Stefan has is redicuoulsy attractive and has fangs. He's totally her type. At Midnight: A super sexy makeout sesh that lasts about 30 seconds until Stefan needs to leave because his inner Ripper is dying to drain her of every ounce of her fairy blood.
Raj Koothrappali and Mindy Lahiri (The Big Bang Theory/The Mindy Project): There's always champagne flowing on New Years Eve, so Raj would have the perfect excuse to use his alcohol enhanced voice to woo Mindy with his knowledge of the stars in the galaxy. Mindy—totally wasted in her super sequin dress—would think that Raj is the perfect guy that her parents will finally approve of. At Midnight: The two are overly excited for their kiss and they smack their heads together. Raj now has a concussion.
Chris Traeger and Marnie Michaels (Parks and Rec/Girls): Marnie and Chris would meet each other while reaching for the last fat-free hors d'oeuvre. Chris would instantly fall in love with Marnie's smile, trim figure and perfect hair, and Marnie would be enjoy his blue eyes and positive outlook on life. Marnie, drunk and depressed, could care less if they ever see each other again, she just doesn't want to be alone at 12. At Midnight: Their kiss leads to the nearest bedroom and the two have a wild night. New Years Day: Marnie must now change her number because Chris keeps calling her every seven minutes and sending her countless emoji-filled texts.
What did you think of our New Years Eve couples? Who do you think would be great together at midnight? Shout out your suggestions in the comments below!
Follow Leanne on Twitter @LeanneAguilera
[Photo Credit: ABC, CBS, FOX, HBO, The CW]
MORE:
The 15 Biggest Letdowns Of 2012
10 Reasons to Be Excited for 2013
The Worst TV Tragedy of 2012 — POLL

'Les Mis': Who's Who of the Cast — PICS