2012 Emmy Awards: The Winners… and Losers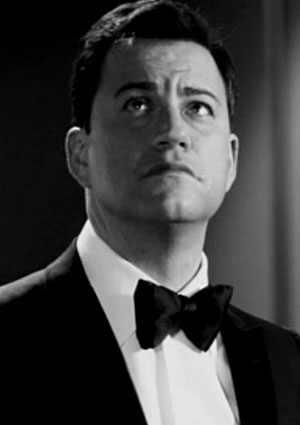 It's easy to find out who won trophies and who could only speak to what a thrill it was to be nominated. (Oh, what a prescient joke about Jon Hamm losing again in the monologue.) In fact, if you want to know who won, just click here. We already did the work for you. But the hard work is deciding who walked away with the most — and least — love from the TV viewing audience. Don't worry, I'm here to break it down for you. You can disagree with me if you want, but then you will be wrong. How does that feel?
WINNERS
Homeland: Yes, this show won all the awards — Claire Danes wasn't the only person to pick up a trophy. It brought home awards for Outstanding Writing and a shocking victory for Damian Lewis in a very tight field for Outstanding Actor in a Drama, beating out both repetitive winner Bryan Cranston and heavy favorite Jon Hamm. This was the first win for Showtime in the Outstanding Series category, and the pleasant surprise couldn't go to a more deserving show.
Taped Segments: The only funny portion of Jimmy Kimmel's opening was a pre-taped sketch featuring the host crying over his overly Botoxed Real Housewives face in the ladies' room with the Oustanding Actress in a Comedy nominees (with some great cameos by Ellen DeGeneres and others). And then, in another win for pre-planned content, there was also the cute idea of mashing Breaking Bad with The Andy Griffith Show in a sketch that showed poor Barney Fife taking a bullet instead of fiddling with one. And let's not forget Modern Family's cute (but pointless) riff about a demonic child actress on the set and the cast of The Big Bang Theory finally finding at least a moderately amusing way of introducing the accountants who count the votes.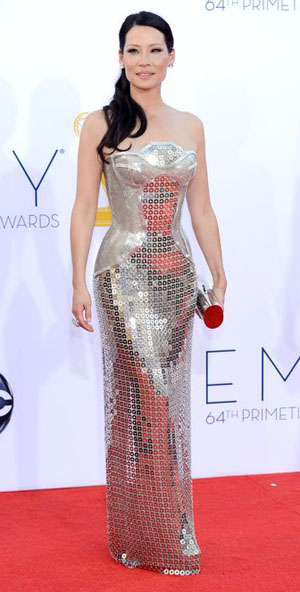 Lucy Liu's Dress: I don't know what it was, but it looked like it was made out of Ryan Lochte's grill. Jeah!
Jon Stewart Calling Out the Emmys: There is nothing better than a 10-time Emmy winner calling the Academy out for how predictable it is and dropping the F-bombzilla while doing so. Didn't keep him from giving up his trophy though. Maybe after 10 he'll finally pull an Oprah and stop entering his show into contention so someone else can win?
Bits: Tracy Morgan (or is it Jordan? I can never remember) showed serious dedication by reclining on the stage for 15 minutes without his nunchucks, even while Hayden Pain Quotidien couldn't figure out what the heck he was doing. (He was trying to help make the Emmys happen on Twitter, which was a bust, because if you paid attention to Twitter at all, you could tell that is all everyone was already talking about.) Amy Poehler pulled off another one of her great comedy moments during the Outstanding Actress in a Comedy Series Category after winner Julia Louis-Dreyfus began reading from the wrong acceptance speech — Amy's. And Jon Stewart enlisted the help of Jimmy Fallon and Stephen Colbert for a little bit of horseplay that we never would have expected. Where is the GIF of that?
Women: Women didn't win any awards for writing or director or doing anything other than acting while in the possession of a vagina (oh, the male-dominated Hollywood biz), but they still managed to steal the show. Not only did we watch a funnylady-led sketch open the show (I only want to see Lena Dunham naked and eating a cake from now on) and Poehler rock her category without winning, but we also laughed along with Tina Fey's funny gag about reading the Teleprompter without her glasses and Melissa McCarthy cracking up Mindy Kaling by sexually harassing all the Best Supporting Actor in a Comedy Series contestants (nominees, whatever). Who runs the world? Girls.
Louis C.K.: Sure, his Emmys came in the writing category (he's better at that than acting anyway), but if anyone ever deserved top honors, it's this guy. Speaking of which…
Gingers: Between Louis C.K., Damian Lewis, Julianne Moore, the fiery-haired people were on fire last night. Cartman is so pissed right now.
LOSERS
Jimmy Kimmel: Not only did he deliver a snooze of a monologue, but most of his comedy segments during the broadcast were self-involved and uninspired. His "In Memoriam" reel that only featured moments from his own career was the most tediously unfunny moment at an awards show since David Letterman rambled on about Uma and Oprah at the Oscars. Having his parents escorted out by security after he didn't win an Emmy was also pretty darn dumb. He killed it with the videos, but the hosting duties left a lot to be lacking.
Predictability: Yes, Modern Family is a great show, but this is the third year in a row that it has dominated the comedy categories. Snoozeville. And while The Daily Show churns out laughs more consistently than the Duggers have babies, isn't it time to switch things up a bit, Emmys? Give some new people a try. Not only would it make the show more exciting, it would, well, make the show more exciting. That's really what you need. And seriously, stop giving a damn trophy to The Amazing Race. Actually, I think this needs its own subheading.
F**K The Amazing Race: Seriously. F**K it through nine different countries and 14 different cities. It is well past its prime, it is no longer exciting, and whoever wins the first leg of the race always wins the whole show. Spoiler mother-f**king alert. Its year after year win is as boring and predictable as the menu at the retirement home — or, let's face it, the Comedy categories at the Emmys as long as Modern Familiy is in contention. The Amazing Race simply should not win. Voters, do you even watch reality TV? Does everyone with a ballot and a number two pencil think that they can cast a vote for this show and maybe get a free vacation out of it? That's not going to happen. Give it up already. And while you're at it, just give Cat Deeley her damn Emmy too. I mean, Tom Bergeron is nice and all, but he is no Cat Deeley. Admit it, Emmys — we don't care how highbrow you might be, you are still in the same business as the Kardashians.
Ricky Gervais: Sadly, the Brit may have outlived his wit and charm at Awards shows. Not only did he give a tepid performance at the Golden Globes this year, but while presenting two awards Sunday night, he provided barbs with as many teeth as the entire cast of Here Comes Honey Boo Boo. Give it a rest already, Ricky.
Playing People Off: The orchestra revved up and played winners off the stage an alarming number of times. Sure, the director of the show joked about it when he won (for directing the Tonys), but by the time Alex Gansa won for Homeland, so many people heard the fat lady sing that he had to complain about it. Even Steven Levitan heard the harpsichord when Modern Family won for one of the night's two big awards. And the orchestra even played off Julianne Freaking Moore when she won for Best Movie Star to Be on HBO This Year. The only person who didn't get the play-off treatment was Kevin Costner, who pretended it was 1994 again by winning an award again and not wearing a tie. That said, good on the orchestra for cutting off Tom Berenger, who used his acceptance speech to ramble on about garden gnomes and moonshine and rabid racoons or something. Maybe he was talking about what he and Costner were doing in the bathroom during the commercial break.
Maggie Smith: Seriously, lady, you've won two years in a row. I know you're old enough to remember when Betty White still had her original hair color, but can't you show up? How dare you deprive us of what must be the best acceptance speech of the night?
Steve Bu-scemi: When did we change the pronunciation of this Boardwalk Empire actor's last name?
Condescending to Michael J. Fox: It's incredibly brave that he continues to work with Parkinson's Disease, but that doesn't mean he wants the whole crowd to stand up just because he walked out on stage to present an award. He does five episodes a season of The Good Wife — let's applaud him for his work on that!
Tom Hank's Mustache: Yes, the actor's wearing it to play Walt Disney in a movie, but we haven't seen anything that spotty since, well, Jimmy Kimmel's monologue.
Follow Brian Moylan on Twitter @BrianJMoylan
[Photo Credit: ABC]
More:
2012 Emmy Awards: See the Full List of Winners Here
Emmys Monologue: Jimmy Kimmel Doesn't Wow the Crowd