2012: The Year That 'The Voice,' 'X Factor,' and 'Idol' Stopped Caring About Contestants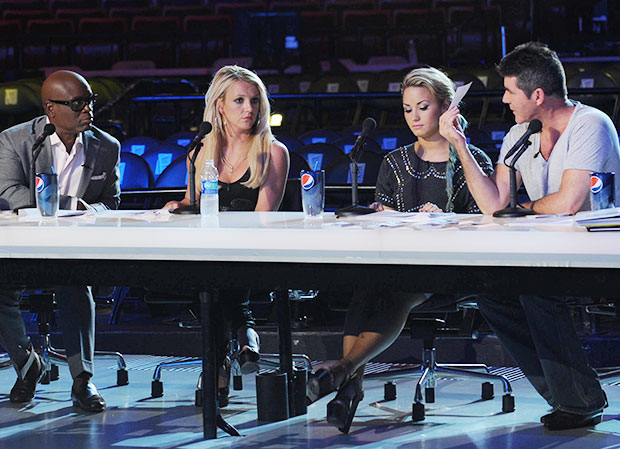 Oh, September 2002 — what a strange and magical time. The fresh beats of boy bands were in the air, sophomore homecoming was just around the corner, and I actually cared, deeply, about Kelly Clarkson beating Justin Guarini on the first season of American Idol. I voted for her every week, discussed her future career with my friends, and felt the bitter sting of injustice when Tamyra Gray was voted out before Nikki McKibbin. That's right — 10 years later, I still remember the third and fourth place contestants' names. That floppy-haired dude starred in a movie, for God's sake. But now, after a decade of reality singing competition domination, I must confess — despite the fact that I was in the audience, I don't remember who won fourth, third, second, or first place on Season 1 of The Voice. Because they don't need me to — the show's main attraction were the four singers sitting in the judges' panel. And they were already famous.
"I feel like being a judge is like being on The Surreal Life on VH1," says Pao Gonzalez Marra, a 26-year-old Voice, Idol, and X Factor fan from Los Angeles. "I'm sure that's the reason [upcoming Idol judge] Mariah Carey is doing it. [It's] like, people who used to be super on top, and now just want a way in."
Of course, you could argue that judges promoting themselves over their contestants isn't anything new — after all, Simon Cowell has had a strong TV personality for years, and his bank account certainly hasn't suffered. But even though Cowell is now part of the "problem" — bringing together TV's (arguably) biggest-name panel by acquiring Britney Spears — he didn't start out that way. Yes, he was selling himself in 2002, but he was also selling his show — and the success of contestants like Clarkson and Carrie Underwood, for Cowell, meant more seasons and more cash. But producing a show that highlights the tension between himself and Demi Lovato instead of its contestants isn't helping these newbies sell records.
"I work in music, so I have a better eye to the fact that all of the shows are pretty much fake," says Mara Frankel of Brooklyn, NY. "Now it's more about the judges than the singers. I couldn't tell you anyone [competing] on The Voice besides the people who were already in bands."
The winner of Season 1 of The Voice — the first of these shows to garner attention for its larger-than-life judging panel — was Javier Colon, a talented soloist who departed Universal Records shortly after his big win, after disappointing sales and a lack of promotion from the label. "I went into it with high hopes, as I believe everyone did," Colon said in a statement. "But when you pour your heart and soul into a new album that you think is really great, and your label who is supposed to support, market, and promote your music does neither, it's really hard not to be upset. The truth is, we are all better off going our separate ways."
Now counter that with the post-Voice success of Colon's mentor, Adam Levine: The Maroon 5 frontman admitted the band was revived by its collaboration with fellow Voice mentor Christina Aguilera, the blockbuster single "Moves Like Jagger." Their post-Voice album, Overexposed, fared much better than its 2010 predecessor Hands All Over, and Levine was even offered a role on FX's hit drama American Horror Story: Asylum. In short, he's everywhere. 
The X Factor noticed The Voice's success and quickly followed suit, offering Spears a whopping $15 million contract to appear on its second season — dropping smaller names Paula Abdul and Nicole Scherzinger. They even hired a Kardashian to host, making X Factor the buzziest show in town.
"I think people want to tune in to hear what kind of crazy s**t will come out of Britney Spears' mouth," Frankel says of the singer, who had previously been largely MIA from live TV since her infamous 2007 meltdown. "It's not about the singers, it's about what the judges have to say — cattily — to each other, instead of their singers."
And though contestant popularity has declined in recent years on many of these shows (sorry, Melanie Amaro), Idol has always been the torch-bearer for finding quality talent over quality judges. That is, until now. Hollywood.com's Kelsea Stahler lamented the recent battle between new hires Mariah Carey and Nicki Minaj in a recent post, saying: "The original purpose of American Idol was to find the next Kelly Clarkson. And to some extent, it's worked. We've got Clarkson, Jordin Sparks, Carrie Underwood, and even Season 11's Phillip Phillips still charting thanks to his single "Home" running in the background of every NBC London Olympics promo. Compared to both The Voice and The X Factor (in the U.S.), neither of which have produced a successful winner in their short runs, Idol has a pretty good record for spotlighting talent….  [but] the series itself is dangerously close to losing what's left of its identity. If this nonsense between the two diva judges continues, Idol may steer into becoming a documentary-style reality show parading as a talent competition – a fate it's been teetering on since Season 9 when the celebrity judge trend had its first shaky start.
Stahler's argument does bring up one solid point in the contestants' favor — overseas, acts like One Direction and Cher Lloyd have recently found huge success via The X Factor. But unfortunately for fans of discovering new, raw talent on television, that trend is going the opposite way stateside.
"[U.S. singing shows] sign the people they are contractually obligated to sign," Frankel says. "Maybe the runner-up — if they were really popular on the show, maybe we'll [the record companies] bring them in for meetings. But the new people aren't getting any kind of shot at all with a label because of their show."
With that, everyone raise your glass for Emblem3. I'm pulling for you, buddies.
Follow Shaunna on Twitter @HWShaunna
[PHOTO CREDIT: Fox]
MORE:
How Nicki Minaj Vs. Mariah Carey Could Change 'Idol' Forever — UPDATE
'Idol' Audition Fight Leaks: Why We Hope The Series Keeps It Behind-The-Scenes
'X Factor': Khloe Kardashian Odom, Mario Lopez Announced as Hosts

Kate Middleton Pregnant: A Look Back at Famous Royal Baby Portraits (PHOTOS)

Pregnant Kate Middleton Leaves Hospital After Four-Day Stay