'30 Rock' To End Next Season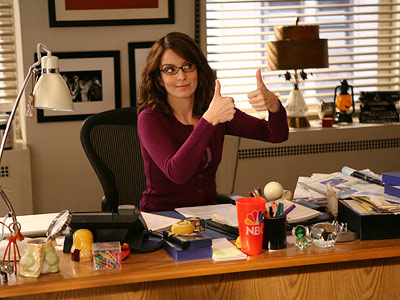 While it comes as no big surprise, it was confirmed at the NBC upfronts in New York City on Monday that the upcoming seventh season of the Emmy-winning comedy 30 Rock will be its last. Nerds! NBC chairman Bob Greenblatt officially made the announcement: "I know Tina [Fey], Alec [Baldwin], and the rest will deliver some of their best work," he said, adding, "We think the world of Tina and hope she will be in the NBC family for years to come." 
With the Season 6 finale airing this Thursday, we can only ponder what will be in store for the strangest batch of nuts on prime time television (you lucked out, Dance Moms) for Season 7. But here's what we hope to see happen to the 30 Rock gang when the whole thing wraps up next year. (Well, other than another visit from Oprah or Wesley Snipes.) 
Liz: Forget you, Murphy Brown! If there's anyone who's going to be able to raise a child without the help of her colleagues (because let's face it, no baby should ever be brought around TGS studio) it's Liiiiiiiiiiz Lemon. Okay, I really want Oprah to come back. Besides, she will be just fine with the help of her boyfriend, hot dog van entrepeneur Criss (James Marsden.) I have no doubt that Liz could raise a baby solo, but I love the idea of her settling down with someone finally worthy of her awesomeness. 
Jack: Speaking of families, as much as it would be nice to see Jack wind up with Nancy Donovan (Julianne Moore) Avery's return was a reminder as to what a good couple they make. We're wicked sorry, Nancy. And Good God, someone make him the CEO already. The man has more than paid his dues. 
Jenna: After Mickey Rourke tries to unsuccessfully ruin her sponsored celebrity wedding, Jenna lives happily ever after with Paul (well, their warped idea of happily ever after, anyway) and lands the lead role in a rock n' roll biopic about Joan Jett called Jessie Jarmp-Jarmp.
Tracy: Tracy finally EGOTs! In fact, he DEGOTs after winning a daytime Emmy for his work on Queen of Jordan. 
Kenneth: The greatest NBC page of all-time entrusts his duties to Hazel so that he can finally go back from whence he came, Stone Mountain, Georgia. 
Grizz and Dot Com: The pair pen an episode of Downton Abbey that makes them two of the most sought-after writers in the industry. They still never leave Tracy's side. 
Hornberger: Pete rejoins Loverboy and heads back on the road with them for a reunion tour. "Yes, Hornberger!"
Lutz: Lutz totally redeems himself and becomes a functional, decent member of society who knows how to order a proper lunch. Just kidding, Lutz is the worst. 
What do you hope to see happen to the 30 Rock characters? Who do you hope they bring back in the last 13 episodes of Season 7? Sound off in the comments section. 
[Photo credit: NBC] 
(Additional reporting by Kelsea Stahler) 
More: