5 Reasons We Love 'Agents of S.H.I.E.L.D' Executive Producer Maurissa Tancharoen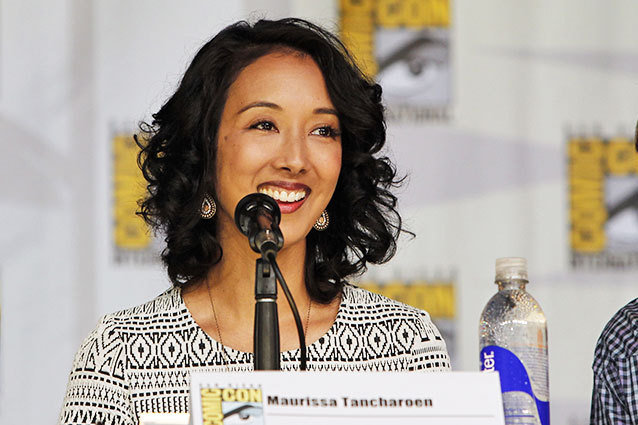 ABC via Getty
Who is Maurissa Tancharoen? She's an executive producer (along with writing partner-cum-husband, Jed Whedon) on ABC's Avengers spin-off, Agents of S.H.I.E.L.D. Long story short? She's awesome, and here's why:
5. She played Kilo, the spitfire active on Dollhouse. She only made a few brief cameo appearances, but they were all extremely memorable – in one episode, she tells off Fran Kranz's Topher Brink, saying, "How do you wanna straight up lie to my face, white boy? You told me you were takin' me on a treatment; I ain't got time for no nerd convention." She's got sass to spare, that's for sure.
4. In her youth, she was part of an early '90s multicultural girls' R&B group called "Pretty in Pink." Enough said.
3. If you like her music, you'll love her rendition of "Sigh No More" (music by Joss Whedon, lyrics by William Shakespeare) which she sings along with husband Jed Whedon in my favorite film of the year, Much Ado About Nothing.
2. She co-wrote and appeared in nerd masterpiece Dr. Horrible's Sing-Along Blog. She played a Captain Hammer groupie, with this memorable lyric about Penny, Captain Hammer's altruistic girlfriend: "they say she works with the homeless, and doesn't eat meat – we have a problem with her." Yeah, I'd have a problem with her, too.
1. As if being a co-creator of Dr. Horrible  wasn't enough, she also wrote this awesome commentary on the lack of Asian roles in film and TV. "Nobody's Asian in the Movies" unpacks difficult (and oft-unspoken) issues of racism and tokenization. It's especially interesting when you look at Joss Whedon's not-so-stellar diversity track record – before Tancharoen came along, he produced 12 episodes of a series based largely off of Chinese culture without featuring even one Asian character. I love Firefly, but dude: not cool. In contrast to Firefly's issues (heresy, I know), it's nice to see Tancharoen ushering in Asian and Asian-American actors to primetime TV.