Rounding Up All of the Upcoming Superhero Television Series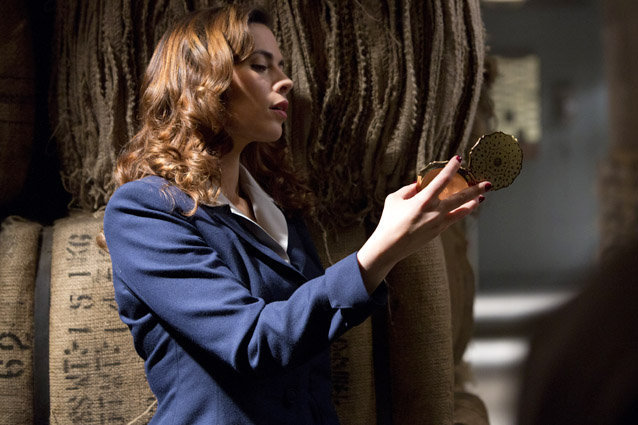 Marvel Studios
Peggy Carter, the plucky heroine of Marvel's short film Agent Carter, is getting her own series. Talk of a possible Agent Carter  TV show has been rumbling around ever since the character's live-action debut in Captain America: The First Avenger and her subsequent solo adventure, but things were made official today with ABC picking up the property for a series order. The past couple of days have been huge for superheroes on television – this week alone saw pickups for Gotham, The Flash, and Agent Carter by different networks – so to help you decide which comic book crusader to catch on the small screen next year, we've outlined all of the upcoming superhero television series currently hurtling their way to your television sets.
Agent Carter
Premiere Date: There's no official word, but according to The Hollywood Reporter, the series will likely be used as a "bridge" during the second season hiatus of Agents of S.H.I.E.L.D. That would put the premiere date around Spring/Summer 2015.
What It's About: Based on the Agent Carter  one shot, the series will focus on Peggy Carter (Hayley Atwell) as she begins her legendary career as a spy and works to form the intelligence agency, S.H.I.E.L.D.
Will it Be Good? The original one shot was an incredibly fun romp, and the upcoming series already has an impressive cast forming (Atwell is confirmed to star, and Dominic Cooper will possibly reprise his role as Howard Stark). Agent Carter will also likely be able to side step the pitfalls of its sister program, Agents of S.H.I.E.L.D.,  since it doesn't have to align as slavishly to the continuity of Marvel's cinematic output. Plus, the show will  be run by Tara Butters and Michele Fazekas, who have proven themselves capable of delivering fun, episodic television from their work on the wonderful, yet sadly short-lived Reaper. We do have some doubts, given ABC's handling of Agents of S.H.I.E.L.D., but Agent Carter looks to be in good shape.
The Flash
Premiere Date: Fall 2014
What It's About: A spin-off of the CW's wildly sucessful Arrow, The Flash will focus on Barry Allen (Grant Gustin), a costumed crimefighter who gains super-speed after being caught in a chemical explosion at S.T.A.R. labs.
Will It Be Good? The CW has proven themselves to be quite adept at creating compelling superhero TV. After some early missteps, Arrow has blossomed into a fun, rollicking hour of television with the right mix of action and melodrama. Given that it's a spin-off, the series already has an established universe to take plots, the scarlet speedster should be in capable hands.
Gotham
Premiere Date: Fall 2014
What It's About: Gotham will serve as an origin story for the entire Batman universe. The series will center on a young Det. Jim Gordon (Ben McKenzie) during his first couple of years on the Gotham police force, while also exploring the humble beginnings of several classic Batman characters, including Penguin, Poison Ivy, Catwoman, the Riddler and of course, a young Bruce Wayne.
Will It Be Good? Creating a series centered on Batman's city sans Batman is decidedly risky, but there's a lot to like in what we've seen of the series so far. Gotham's first trailer  is decidedly moody and the actual depiction of Gotham City – a dark and sprawling metropolis with a ton of secrets hidden in every alleyway – looks just about right, but all the child versions of Batman's iconic rogues gallery does give us pause. It might also  suffer from the same problems that have plagued Marvel's Agents of S.H.I.E.L.D's rocky first season, namely being set in a comic book universe without all the cool comic book characters. If the series can weave a compelling and original narrative with the Batman mythos, then we won't miss the caped crusader all that much.
The Netflix Series: Daredevil, Jessica Jones, Luke Cage, Iron Fist, The Defenders
Premiere Dates: Sometime in 2015, beginning with Daredevil.
What It's About: Netflix is strengthening its original programming output with four original series based on Marvel comics properties. They'll focus on Daredevil, a blind crimefighter with heightened senses; Jessica Jones, a super-powered private investigator; Luke Cage, a super-powered and near-invulnerable hero for hire and Iron Fist, a martial artist endowed with mystical abilities. Finally, all four heroes will come together in The Defenders, an epic mini-series event.
Will It Be Good? Much of Netflix's original programming thus far has been pretty great, so it would seem that the streaming service is dedicated to delivering quality material. Also, writer Drew Goddard will serve as showrunner on Daredevil. Goddard has quite an impressive resume, with writing credits on  Cloverfield, Lost, Buffy the Vampire Slayer, Alias, Angel, and World War Z, not to mention his work directing Cabin in the Woods. Things are looking good for Marvel and Netflix.