'All-Star Celebrity Apprentice': Gary Busey Will Be Back In Your Living Room and Your Nightmares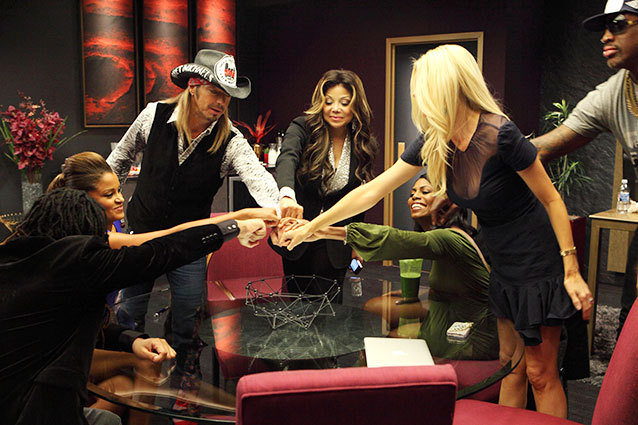 What do you get when you put a bunch of Z-list celebrities/certified lunatics together in a board room and have them compete for the charity of their choice/fight incessantly? The Celebrity Apprentice. What do you get when you bring some of those Z-list celebrities/certified lunatics back together for even more competing and fighting? Why, Donald Trump's televised sideshow All-Star Celebrity Apprentice, of course. 
RELATED: Even Celebrities Are Fed Up With Donald Trump 
Former winners Arsenio Hall, John Rich, Piers Morgan, Joan Rivers, and Bret Michaels are all back (Michaels will be competing, while the others will serve as advisors) and so are former competitors Trace Adkins, Stephen Baldwin, Penn Jillette, Lil' Jon, Bret Michaels, Dee Snider, Marilu Henner, La Toya Jackson, Claudia Jordan, Omarosa, Lisa Rinna, Brande Roderick, Kim Jong Un's new BFF Dennis Rodman, and the puppet master of your nightmares Gary Busey. 
RELATED: 'Celebrity Apprentice': Are You Woot-ing For Arsenio Hall? 
Before the season premiere of the reality hit airs on Sunday at 9 PM ET NBC, we'll help get you caught up to speed before all the madness begins. 
Show: All-Star Celebrity Apprentice
Where We Left Off: Arsenio Hall, who was playing for the Magic Johnson foundation, bested Clay Aiken for the title of Celebrity Apprentice. 
Biggest Jaw-Dropper Last Season: Lisa Lampanelli inexplicably lasting as long as she did. 
Biggest Letdown Last Season: Poor Aubrey O'Day, who never reached superstar status. Case in point: she's not in the All-Star cast. 
Player Most Likely To Win: There are some serious competitors here, but our money is on Dennis Rodman, if only to avoid nuclear war. 
Player Least Likely To Win: Gary Busey, but we'll be damned if he won't be entertaining/terrifying to watch. Don't worry man, the Entourage movie will be here soon enough!
5 Reasons You Should Keep Watching: Lil' Jon may get the answer to his lifelong question, "What?!"; Stephen Baldwin could turn out to be the most sane Baldwin in Hollywood; Lisa Rinna's lips could be one of the charities; Joan Rivers will offend someone; Gary Busey might actually eat someone one of these days, and you wouldn't want to miss that, would you? 
What We Ultimately Want To See: The boardroom turns the tables and fires Donald Trump…from existence. 
What Would Make Us Turn Our Backs: If this show or its "stars" became even somewhat self-aware of its inane place in the television landscape. 
RELATED: TV's Best Bitch Faces
[Photo credit: Douglas Gorenstein/NBC]
---
From Our Partners:


Justin Bieber Celebrates 19th Birthday, Loses His Pants (Vh1)


60 Celebrity Bikini Bodies: Guess Who! (Celebuzz)