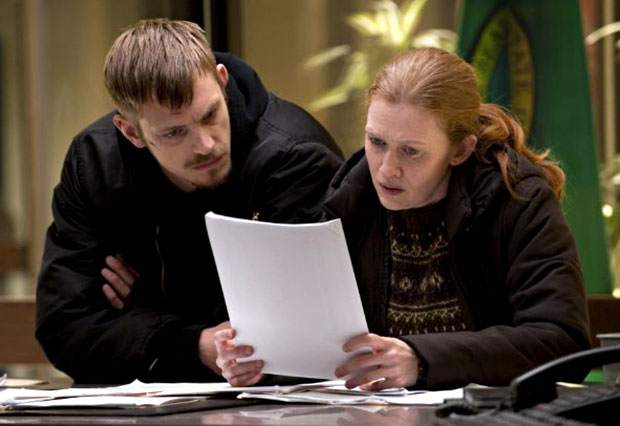 What are Mireille Enos and Joel Kinnaman looking at in the photo at left? A lewd photo, perhaps. The first transcript of A Casual Vacancy, perhaps less likely. If you said "statement announcing that AMC has given the axe to their meandering murder-mystery serial drama The Killing," then I'll throw my money in with you, because you're probably right. The expressions of concern and wonderment on Enos' and Kinnaman's thespian mugs is all you need to see to register the news: The Killing has, officially, been killed.
Let's rewind: AMC made a big splash with its Twin Peaks-lite drama when The Killing first reached the airwaves in April 2011. The first season was a big hit with critics, and even managed to impress Emmy voters enough to garner six nominations (including two for acting and one for writing). The premise — who killed young Rosie Larsen? — was a question that, upon being raised, fans wanted answered immediately. But after the identity of the murderer failed to be revealed on the first season finale (as supposedly promised by the show creators), fans were bugged; when the show returned for Season 2 and continued to amble slowly towards the revelation, they had turned off their televisions. Now comes the final blow — AMC gave the final boot to the show, which means that The Killing faces imminent death, lest it find itself being picked up by another network.
AMC released a statement on the late summer decision to cancel: "After much deliberation, we've come to the difficult decision not to renew The Killing for a third season. AMC is incredibly proud of the show and is fortunate to have worked with such a talented team on this project, from showrunner Veena Sud and our terrific partners at Fox Television Studios to the talented, dedicated crew and exceptional cast."
Quickly rushing to the defense of its baby, Fox released their own hopeful statement: "Fox Television Studios is extremely proud of The Killing, the extraordinary writing staff and crew, and what we believe is one of the best casts on television. We will proceed to try to find another home for the show."
What are the chances that the show lives to kill another day? If you consider the success of other shows that have been canned and un-canned — Southland, Futurama, The Game and Medium, to name a few — there's high potential that The Killing could move on to another network and succeed. But then again, no other show seems to be so divisive among fans and industry insiders. If history tells us anything, though, it's that the show will fight to find a new home — this is one Killing that's dying to live.
Follow Marc on Twitter @MarcSnetiker
[Photo Credit: AMC]