Why Angie Miller's Shocking 'Idol' Elimination Is Good For Candice Glover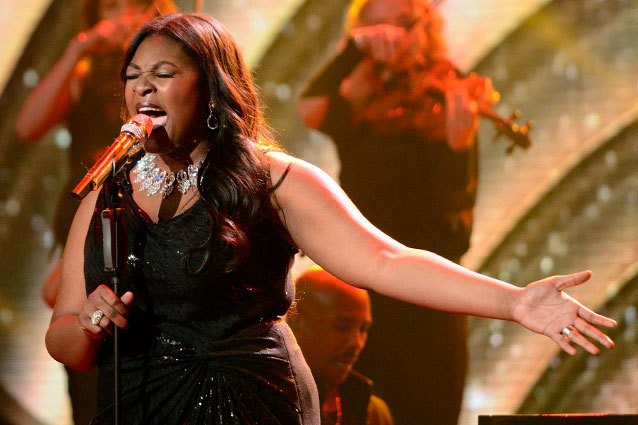 I'm not a fan of watching people's dreams be crushed right before their eyes. That's why it was so hard to watch the normally chipper, practically hyper-active Top 3 contestant Angie Miller weep throughout her swan song on Thursday's American Idol elimination episode. The front-runner and everyone, from Ryan Seacrest to my mildly interested roommate, was shocked when the envelope revealed her sudden elimination. And as heartbreaking as her final moments on the show were, this unforeseeable shocker is a really, really good thing. 
It means two things: First, it means that Candice Glover, the sure-fire runner-up pre-Angie's elimination, might actually win this thing. Candice's talent is leaps and bounds above her fellow Idols, but she hadn't appeared to capture the same size audiences as favorite Angie. There was almost no way she was going to beat the bubbly Bostonian if America was forced to choose come May 15. Pitting her against Kree Harrison, the surprise Top 2 finalist might mean Candice's fans could propel the deserving singer right to the top, finally breaking Idol's country-star cycle. 
But therein lies the second thing: Idol loves — I mean, loves —  country singers. It's likely why Kree overtook Angie. What's an Idol finale without a little country singin'? While Candice is a clearer frontrunner of the remaining two singers, Thursday night's surprise proved that for the first time in years, the finale really is completely dramatic and unpredictable. If country Kree could overtake the clear winner at the Top 3 stage, what's to keep her from taking the whole thing next week? 
So while it's sad to see Angie go back home to Massachusetts, it's really for the best. Her elimination has restored what American Idol has been bereft of since Season 5: a truly shocking, unpredictable finale. While Candice should be the one receiving a confetti shower on May 16, Kree has just as much of a shot at taking that title. Finally, Idol is an exciting show again, just in time for Randy Jackson's final season. 
Hey, better late than never, right?
Follow Kelsea on Twitter @KelseaStahler
More:
Randy Jackson Is Really Leaving 'American Idol'
'American Idol' Hometown Visits Recap
'American Idol' Shocker: Angie Miller Eliminated