Candice Glover and Kree Harrison on Their 'Emotional' 'American Idol' Singles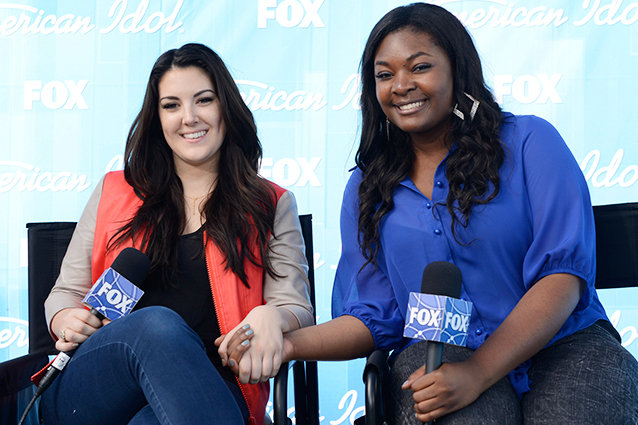 While performing on stage at the Nokia Theatre in front of a crowd of 7,000 people (and millions more on TV) was exhilarating for American Idol finalists Candice Glover and Kree Harrison, it was also a deeply emotional experience — especially singing the lyrics for their potential coronation singles. Both songs seemed tailor-written to address each woman's struggles, Candice's battle for self-confidence and Kree losing both parents at a young age.
"I got emotional in the middle of the song, but I couldn't stop because I didn't want to go off key," Glover confesses to reporters after her performance of "I Am Beautiful." "Then at the end I got emotional again because of the lyrics — I connected with them. Even when I first heard the song I got emotionally connected to it. So it was definitely easy to put myself into the lyrics."
Harrison echoes that sentiment. "It was really easy to get emotionally connected to the song. Lyrically, melodically — I couldn't have wrote it better myself," she says of "All Cried Out." "I'm so thankful that I'm given this. The best part of tonight for me was being able to sing my single, hopefully, to all of these people. The energy in the room was insane…unbelievable."
Although Harrison has a deep well of tragedy to dig from, she has actually found it more difficult to connect with emotional songs. "The truth is, I felt like coming into this competition, I wasn't so good with emotional songs," she says. "I had always had a wall up because I didn't want to get to that point where I couldn't handle the lyrics and I couldn't really get it out, but I found that there's a happy medium with connecting with all of you and really showing your heart through the lyrics. I think that it's just been this journey that's helped me figure that out."
Watch both performances below. Which one's your favorite?
More:
Keith Urban Would Return to Judge 'American Idol'
'Idol' Finalists on Their Potential Singles
Ratings Might Be Sinking, But Don't Blame 'Idol' Judges
Follow Jean on Twitter @hijean
---
From Our Partners:


Watch Justin Bieber Attacked in Dubai (Celebuzz)


33 Child Stars: Where Are They Now? (Celebuzz)