'American Idol' Hometown Visits Recap: Could Candice Glover Get The Boot?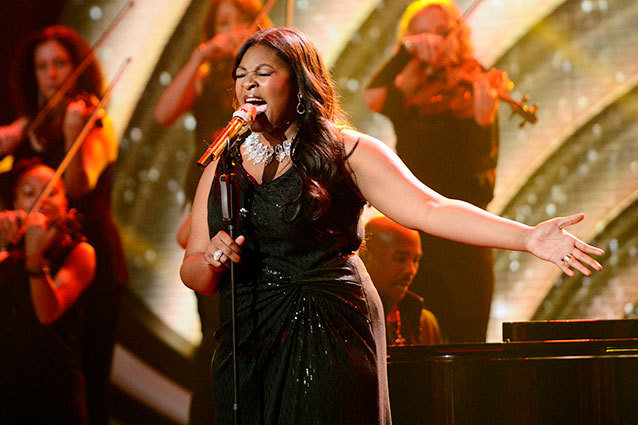 Despite a string of earth-shattering performances and the ability to connect on every possible, minute level, Candice Glover can't go into Thursday night's American Idol eliminations with one percent certainty that she'll stay. She and Kree Harrison have been taken turns having panic attacks in the bottom two for the last two weeks, and with Kree's sudden surge of emotion and vitality, Candice might actually have a real threat to her spot in the Top 2.
Of course, I hope with every last fiber, cell, proton, neutron, and electron of my heart that Candice not only stays, but that she wins the whole competition. But I don't trust the voters.
Angie Miller, and all her Miley Cyrus charm (Nicki Minaj, Met Gala attendee, said it – not me), is a firm hook for one spot in the Top 2. Audiences love to love her and her style, which more broadly appeals to Idol's pop-minded audience. They want sweeping, sweet singing. They want someone who looks prime to have their face slapped on a Thermos or a novelty blanket. They proved it last year when they crowned the boy with a sweet song called "Home" over a tiny little lady with a ridiculously powerful voice (Phillip Phillips and Jessica Sanchez, for those of you just joining us). The good thing is, Angie has that powerful voice too, and she proved it with her three admittedly fantastic (and far less theatrical than ever before) performances of Elton John's "Sorry Seems to Be the Hardest Word," Pink's "Try," and Emeli Sande's "Maybe," which Angie played at the piano for her grand finale. She's primed for a top two slot, and there's no way she's not going to get one.
But it's not Angie who's competing for Candice's votes. It's Kree. After falling from grace during the last two performance rounds (especially last week when her swift stroke of rebellion against guest mentor Harry Connick, Jr. backfired spectacularly), Kree slipped from top-of-the-heap country crooner to inches from packing her bags and leaving a week early. This week, between her phenomenal rendition of Rascal Flatts' "Here Comes Goodbye" and her incredibly moving and emotional reprisal of Carrie Underwood's "See You Again," which she sang for her deceased parents on her hometown visit, Kree is back. She's not ready to go home, and while her performances of "Perfect" by Pink and "Better Dig Two" by the Band Perry weren't wowing the judges, they may have won over audiences with the easy-going, country style of Kree's unique voice. That, plus her genuine emotions as she remembers the deaths of her parents with her similarly sweet sister when she pays a visit to Texas, may be the ticket she needs to overtake Candice.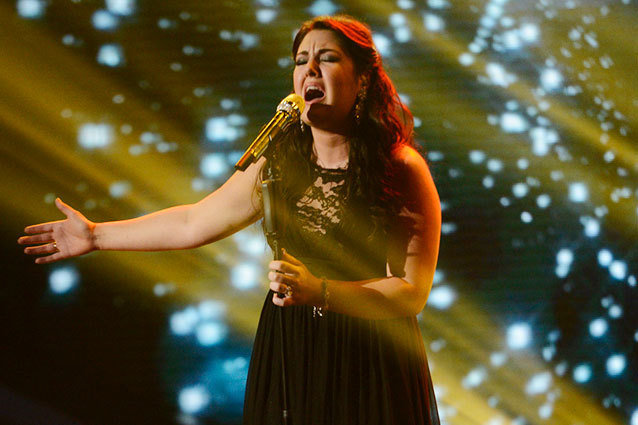 As sweet and talented as Kree is, and as touched as we all were by her video package, the thought that she might take Candice "A-plus-mazing" Glover's spot in that finale is crazier than the involuntary spasms of joy Keith Urban has when she sings. Candice came right out of the gate with Jimmy Iovine's pick for her: "One" by U2 (also covered by Mary J. Blige). And as soon as she started singing it I worried she'd fall into the Mary J. trap: she had the boots, she has the "I'm so full of emotion I have to hop onstage while I sing" thing going, and she's got the voice of a soulful angel. But by the end, it's a rendition that Candice truly owns. It's not Mary's, it's not Bono's, it's one hundred percent Miss Glover's.
Then came the storm cloud: the judges picked another Emeli Sande song, "Next To Me." It allowed Candice to play with a contemporary pop song, but not in the right way. The song was too wispy for Candice's impressive vocals, leaving her to struggle to make the song a bigger moment than the lyrics and melody wanted to allow. It was still wonderfully enjoyable because Candice can sing anything, but it was certainly her dark spot for the night.
Luckily, Nicki gave her a wee bit of a boost with her bonding moment in which she declared Candice as the most confident person on the stage and cried tears of proud joy over how far the church singer has come. It's that moment, and Candice's final number, that will keep her from going home if she stays. After that incredibly palpable, heart-wrenching conversation, Candice later closes the show with a song that could have ruined her. The Idol production staff picks West Side Story's "Somewhere," also known as the song every high school girl trying out for the school play loves to sing, but Candice brought it back to where it belongs. She took it from an overplayed, once great ballad, to the earth-shattering emotional outpouring that it was written to be.
Literally, the only notes I could muster while she sang were "OH MY F**KING GOD." (Only, my notes didn't have those handy little asterisks.) Listening to Candice sing this song of love torn asunder by circumstances completely out of the lovers' control was beyond the seeming perfection of a moving Angie ballad or even Kree at her best. But Candice isn't on a different tier. It's not as if she's doing something better, per se. Candice just is the music. She is that song. It's inseparable from her, despite the years and years of history and the multitudes of versions that song has seen.
And while all of this is serving to boost her up to the top, there's also a distinct possibility her fans (who, according to Keith, should be all people with a pulse) will be trading in the tears she evoked on Wednesday night for tears of injustice. Candice deserves to win this thing, hands down. But I only get 50 votes. There's a whole voting pool out there, and they may not see things the way I and everyone else on the Candice side of life see it.
One thing is for sure: If we have to endure a week of Idol without the promise of a Candice performance next week, anyone who didn't vote for this incredible, talented, amazing singer will feel the full weight of their faulty decisions and they'll see just how right the rest of us were all along.
Follow Kelsea on Twitter @KelseaStahler
More:
'American Idol' Results: Amber Holcomb Breaks Down During Elimination
'Idol' Top 4 Recap: Amber Makes Nicki Cry
'Idol' Ratings Are Low, But Don't Blame Mariah
---
From Our Partners:


Watch Justin Bieber Attacked in Dubai (Celebuzz)


33 Child Stars: Where Are They Now? (Celebuzz)