'American Idol' Judges Don't Do a Very Good Job of Dispelling Feud Rumors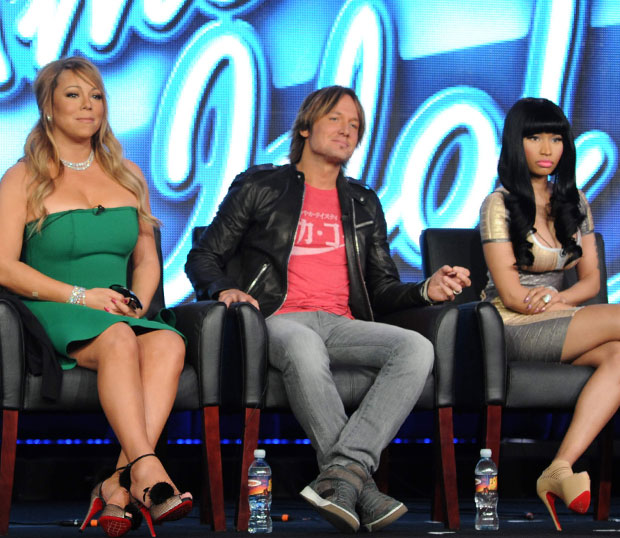 As noted wordsmith/American Idol judge Randy Jackson points out during a discussion with the Fox reality stalwart's judges, host, and producers, the show is supposed to be all about the aspiring singing superstars.
"The judges don't win — the contestants win," Jackson says during the show's Television Critics Association winter press tour panel.
But why, then, was the Q&A session almost entirely comprised of questions regarding the three new superstar judges, and more specifically, the alleged feud between Mariah Carey and Nicki Minaj?
It's not just the two women who fight, explains executive producer Nigel Lythgoe. "Whatever feuds there have been, it hasn't just been between Nicki and Mariah," he says.
Besides: the new judges all knew what they were getting into. "This is a very passionate panel. I think there are a lot of strong personalities, and starting this process I [knew] that there was a possibility that there would be different opinions," Carey says when a journalist asks her about the fighting that allegedly took place during the auditions.
"We fight constantly," she admits, but wishes the media would focus on something else. "This is American Idol. It's bigger than all that. It's bigger than some stupid trumped-up thing."
Fox reality head Mike Darnell tells reporters that the feud is very much real — "It's authentic. There's passion in this group," he says — something Carey and Minaj inadvertently confirm after insisting that they've made peace.
"It was sort of a one-sided thing," Carey says of the much-publicized video of a screaming match between the pair, to which Minaj quickly interjects: "No, it wasn't."
American Idol premieres Wednesday, Jan. 16 at 8 p.m. on Fox.
Follow Jean on Twitter @hijean
[PHOTO CREDIT: FOX]
More:
TCA: FOX Picks Up M. Night Shyamalan Series; Late-Night Animation
TCA: FOX Picks Up 'Bones' for 9th Season
TCA: About the Time Kevin Bacon and James Purefoy Kissed Onstage…From Our Partners:

Megan Fox's 12 Hottest Moments (Moviefone)