Why 'American Idol' Needs Lazaro Arbos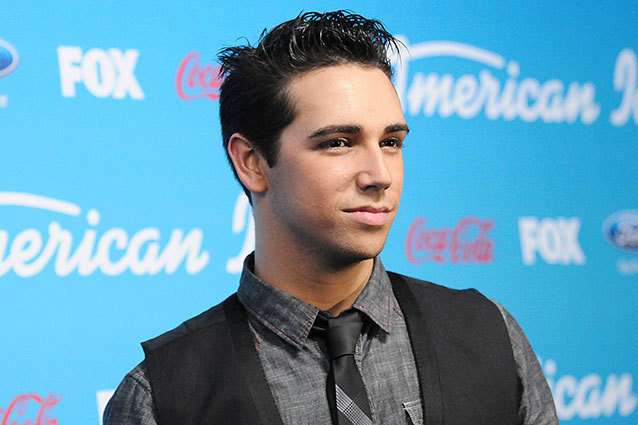 We should consider ourselves lucky Nikki McKibbin, Corey Clark, Scott Savol, Sanjaya Malakar, Danny Gokey, Tim Urban, Jacob Lusk, and Elise Testone were contestants on American Idol. And that's coming from an Idol superfan who absolutely despised Nikki McKibbin, Corey Clark, Scott Savol, Sanjaya Malakar, Danny Gokey, Tim Urban, Jacob Lusk, and Elise Testone. 
And five weeks into Season 12's finals, we should consider ourselves lucky that Lazaro Arbos has not only managed to outlast four more talented male contestants, but also attract an astonishing number of votes for a contestant so far out of his league, you might as well name him Kit. Because without Arbos, we'd be left with a crop of singers talented enough to sit alongside Kelly Clarkson and Carrie Underwood on the Billboard charts. We'd be left with a crop of singers with interview packages charming enough to help us develop an unhealthy obsession with their Twitter feeds. But mostly, we'd be left with a crop of talented singers and no villian. 
As much as the Idol viewing experience revolves around rooting for your favorite contestant, it also revolves around rooting against your least favorite contestant. What's the fun of loving a Tamyra Gray, Jordin Sparks, or an Adam Lambert if you can't hate a McKibbin, Malakar, or Gokey? (Heck, Season 6's ratings dropped a whopping nine percent after Malakar's elimination.) American Idol is a reality series without built-in twists, smack talk-inducing confessionals, and camera-ready weave-pulling. (That is, unless you count this.) If not for each season's anointed villain, it would be a reality series devoid of drama. 
And, boy, is Arbos drama. Though his ability to sing through a speech disorder is certainly inspiring, the past few weeks have proven Arbos is as arrogant as he is ill-prepared. Just see his inability to remember lyrics in multiple performances and his dismissive response to negative feedback from Randy following his disastrous "For Once In My Life": "No problem, boo." And don't even get me started on his excuse that he had learned "In My Life" a mere 24 hours before his middling performance, a claim rebutted by Jimmy Iovine, who said he had been working on the song with Arbos for several days. I could go on — for paragraphs, and probably even days — about how much I dislike this Idol contestant… and that's exactly what Idol needs. Candice Glover, Angie Miller, Kree Harrison, Amber Holcomb, and Janelle Arthur are five extremely talented women with a real shot of making it in the music industry. I can only pray to the AT&T gods that they're rewarded the top five slots they so deserve. But I'm also ashamed to admit I'd be a bit disappointed to let go of Arbos, a contestant who is just so much fun to hate. 
True, there have been a couple Idol seasons that were extremely enjoyable without the presence of villains. The dueling Davids was enough to carry Season 7, and Season 2 hit Idol's first televised sweet spot with the sweet friendship between Ruben Studdard and Clay Aiken. But Season 12's fabulous five females don't quite boast the innovation of Season 7's contestants, or the advantage of being members of a fresh new reality series like Season 2's singers. Season 12, with all of its undeniable talent, runs the risk of being boring. And while some Idol fans would point to Arbos' mere presence as evidence of the existence of the Rule of Three (every third Idol season is a terrible one), a drama-free season could very well put it over the edge. 
Do I hope Arbos sings his farewell tune soon? Of course. Will Idol's top five girls make it in the industry regardless of their placement? In the name of Jennifer Hudson, I do believe so. Do I hope Arbos makes it as far as the top three? Absolutely not — I have ears, don't I?
But as fun as it is to hear Glover belt a serious note or Holcomb nail an impossible run, our Internet-trolling generation is addicted to hating on the most obnoxious of Arbos quotes. No doubt we'll even find something to hate in this one — Arbos tells Hollywood.com the sympathy vote is not responsible for his existence on the show. "It's getting a bit old and people have to let go of that," he says. "They keep saying that that is the only reason why I'm on the show, and I would just like to say that I haven't talked about my speech since day one, and the people that love me love me for my songs, and they also love me for my speech, but they don't say, 'Oh, I love the way you talk so much.'"
Unfortunately for Arbos, until he's let go from the show, fans eager to cling onto their five favorite girls won't stop blaming his success on the sympathy card. Nor will they let go of their desire to send him packing. But these same fans will undoubtedly be disappointed when Arbos is gone, no matter how ardently they watch in the coming weeks, hoping that he finally sings his swan song. And that's why Idol, as its ratings continue to decline, desperately needs its villain: Fans are riled up, but they're still watching, aren't they?
Follow Kate on Twitter @HWKateWard
More:
'American Idol': Will the Judges Use Their Save? 
'American Idol' Top 6 Singing Beyoncé, Adele, and More
Burnell Taylor Says Amber Holcomb Has a Crush on Him Too
---
From Our Partners


Jessica Alba Bikinis in St. Barts (Celebuzz)


Pics of The Rock Making Things Look Small (Vulture)