'American Idol' Goes on Without Nicki Minaj & 7 Other Live TV Disasters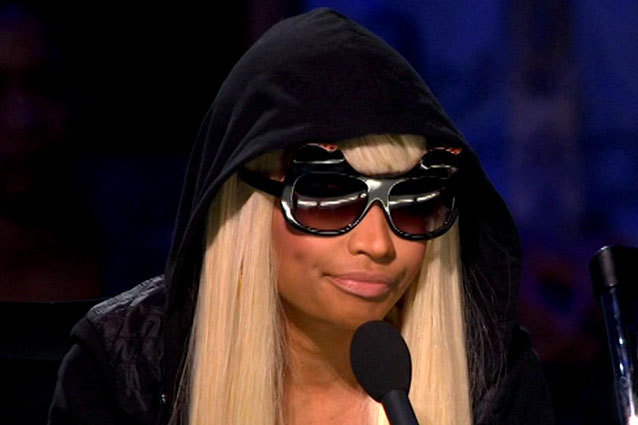 Ah, the wonders of live television. How fragile is the barrier between great moments and disasters when the safety net of a pretaped show is removed. And no show knows this better than American Idol, which has witnessed not one but two uncomfortable live moments this season.
RELATED: Why Was Nicki Minaj Late to 'Idol'?
First was Charlie Askew's incredibly uncomfortable moment of distress after his Top 20 performance failed to impress the judges. Second was Nicki Minaj's reenactment of your hungover coworker showing up an hour late to the morning meeting. After having "traffic issues" (something Randy wasn't buying at all) Minaj arrived for the show in a T-shirt and hoodie, sheilding her eyes from the viewing public with her cat-ear-adorned sunglasses. Really profesh, Nicki. 
But this isn't the only instance of live TV serving up an awkward surprise — that's practically the reason any network airs something live: the possibility of weirdness and, sometimes, even disaster. Minaj shouldn't feel too bad; she's just taking part in an age-old tradition, really.
RELATED: 'American Idol' Top 10 Recap
The Rachel Crow Tear-Fest
At the very least, Idol can hold its head high that it's not the show that has become infamous for unleashing the saddest four minutes of live television (possibly ever) onto the viewing public. The X Factor made a nation weep when judge Nicole Scherzinger failed to save young Rachel Crow from elimination towards the end of the first U.S. season. The result was tears… everywhere. Rachel broke down on stage. America broke down. Nicole broke down, and Paula Abdul had to pick her back up. Nicki's psuedo hangover was nothing compared to this. 
Sports Stars Behaving Badly
The world of competitive sports is no stranger to an unexpected moment of live television. At this year's Super Bowl, we witnessed the Ravens' Joe Flacco dropping the F bomb and the Super Dome lost its lights, both of which became fodder the next day. Then there's Shaq, who famously forgets the part where live TV interviews generally need to be given without cursing, and continues to do so as a commetator for TNT. And of course, Kobe Bryant's uncomfortable outburst in 2011, when the camera panned a little too close and captured the Lakers star dropping a homophobic slur. 
The Famous Oscars Streaker
Nothing says style and grace like a guy with long hair and a mustache running naked across the stage at Hollywood's biggest awards ceremony. In 1974, David Niven was barely even bothered by a streaker running across the Oscars stage. But it's a live TV moment no one else has managed to forget.
RELATED: Can a Girl Win 'American Idol'?
The Jig That Killed a Career
You can't talk about TV mishaps without bringing up Ashlee Simpson's famed lip-synching failure. In case you forgot (and you probably didn't), Simpson's vocals played back on the SNL stage before she started lip-synching (or singing along, as she claimed). Realizing the jig was up (sorry, I couldn't resist), Simpson danced around the stage before exiting altogether. Gee, I wonder why we haven't heard any new music from her since that happened?
Walking Is Hard: Hilarious Awards Show Edition
It's simple: Bret Michaels was performing a Rock of Ages number at the 2009 Tonys, when the backdrop came down too early and he smacked right into it. Hilarious. 
Walking Is Hard: Adorable Jennifer Lawrence Edition
Not all live TV disasters have to be awkward. Case and point: Jennifer Lawrence's charming princess tumble at the 2013 Oscars. She faltered, got back up, and adorably told the audience to sit down because they were only giving her a standing O for her ability to miraculously continue after the horrible embarrassment of having difficulty with a dress 10 times her size. And people wonder why the Internet is so convinced that she's the epitome of perfection.
Janet Jackson and the Infamous Wardrobe Malfunction
How could we not? Jump to 5:26 if you're feeling pervy. 
Follow Kelsea on Twitter @KelseaStahler
[Photo Credit: Fox]
---
You Might Also Like:


14 Movies That Are, Surprisingly, Not Porn


Stars Who Have Lost Roles For Being Too Hot (Celebuzz)