'American Idol': How New Ranking System Could Send Your Favorite Out the Door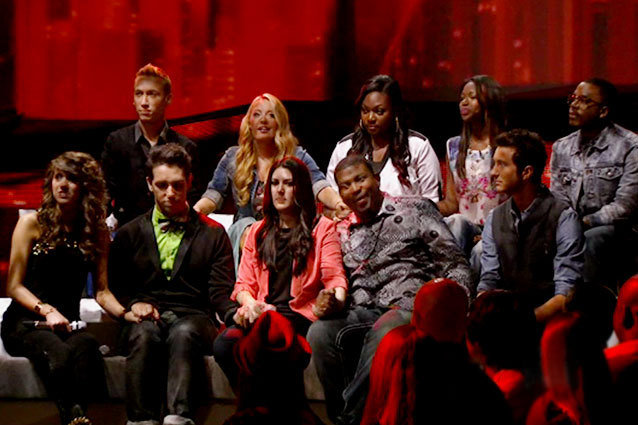 Throughout its 12 seasons, American Idol has seen many changes. What began as a quest to find bubblegum pop's next big artist morphed into an artistry competition before the series transformed into the search for America's Most A-List Judge. (The reality show also went through a "packaged artist" phase that we'd love to forget about as quickly as Norman Gentle.)
But now, in Season 12, Idol has seen its biggest change of all, and we're not talking about its return to pre-Season 9 glory as an entertaining reality series. (Consider me a converted Barb here, Nicki Minaj!) Nope, last night, Idol debuted its new ranking system, borrowed from X Factor's format with the intent of borrowing from NCIS ratings. Whereas Idol fans have grown accostumed to learning the bottom three contestants each week — and only the bottom three contestants — the series now informs us of the rankings of all the singers, except for the top three vote getters. 
RELATED: Curtis Finch, Jr., 'Shocked' About Elimination
It would seem a minor change for those who have survived Simon Cowell's exit and Ellen DeGeneres' disastrous tenure on the show, but, moreso than the series' new SuperVote format, the ranking system now changes the entire Idol game. Before, fans of contestants would power vote for their favorite bottom three contestant — but still text or call for their favorite frontrunner, not knowing where they fell on the season's scale. Now, while we can respect that America got things mostly right this week (ahem, Lazaro Arbos at No. 4? What in the Zoanette?!), we also run the risk of watching America get it very, very wrong next week.
Because the assumption after this week is that Angie Miller, Candice Glover, and Kree Harrison are all safe. Why should America spread any of their 50 super votes to the frontrunners when they're all locked in at the top three? We've seen quality contestants leave before their time thanks to the dreaded safety assumption (see: Jennifer Hudson, Chris Daughtry, Michael Johns, Carly Smithson). Idol's new system now simply exacerbates the problem.
RELATED: 'Idol' Recap: The Weirdest Results Show Yet
Granted, it does make for great television. Discovering that Lazaro outranked the likes of Amber Holcomb (No. 5) and Burnell Taylor (No. 7) is enough to get frenzied Idol fans more riled up than Charlie Askew in a tank top. (Too soon?) And, best case scenario, we actually get an interesting results show while sympathy voters supporting the stuttering-plagued Lazaro will realize they run the risk of only helping the weak contestant wear out his welcome. Still, it wouldn't be surprising to see Burnell, Paul Jolley, and Devin Velez topping the rankings next week, while Angie, Candice, and Kree are left middling in the back of the pack thanks to voters who feel their vote for the frontrunner no longer matters. 
Thursday night, Nigel Lythgoe, it seemed you got your wish — the girls sat at the top of the pack during a results show that managed to bring plenty of drama. But the ratings grab might come at the expense of one of Season 12's very talented ladies. And if Nicki almost walked out after Curtis Finch, Jr. — a semi-talented, but very maligned contestant — was eliminated, imagine what she'll do if wifey Kree were eliminated. There simply aren't enough waffles in the world to cure that injustice. 
RELATED: 'Idol' Top 10's Pop Culture Lookalikes
[Image Credit: FOX]
---
You Might Also Like:


14 Movies Thshiat Are, Surprisingly, Not Porn


Stars Who Have Lost Roles For Being Too Hot (Celebuzz)