'American Idol' Recap: Blame the Judges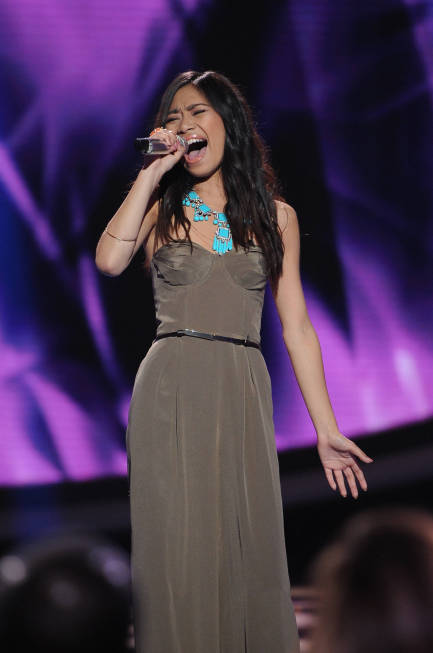 Over the course of 11 seasons of American Idol, only one contestant outside the South has basked in a confetti shower. Kelly Clarkson, Ruben Studdard, Fantasia, Carrie Underwood, Taylor Hicks, Jordin Sparks, David Cook, Kris Allen, and Scotty McCreery were all winners raised below the Mason Dixon line. The one outlier? Illinois-born and -bred Lee DeWyze, who messes up the southern Idol theory as much as Season 9 messed up our ears and souls.
Heading into Season 11's finale, it's hard to ignore those demographics — especially seeing our one non-southern contestant, California's own Jessica Sanchez, shockingly advanced into the final two. Can we expect a true nail-biter next week, or should we go ahead and reward the prize to the southern Phillip?
At least we can count on a fair fight, as far as the judges' are concerned. It's no secret that our panel of three favored Joshua since the finals begin — Jennifer Lopez, Randy Jackson, and Steven Tyler gave the contestant just as many standing ovations as Idol has given us awkward Ford Music videos. But as much as I want to praise Jennifer for providing comfort to Joshua as he sang his final swan song, "This is a Man's, Man's, Man's World," I can't. Because, plain and simple, it's her fault that Thursday night's elimination was a shocking one.
The reasons behind Joshua's elimination are threefold: First, Joshua lost fans during the course of the competition because of the unabashed favoritism. Sure, we were pulled into the singer during his first performance, "You Pulled Me Through," but it wasn't long before the incessant standing ovations — an occurrence that used to be as refreshingly rare on Idol as a lucid Paula Abdul critique — began to grate on the voting public like they were Reed Grimm. (Ugh, gross!) Why should we back Idol's favorite son when the under-appreciated are being so overlooked?
Secondly, our panel of three Archuleta-ed poor Joshua. Leading into the Season 7 finale, young judge favorite David Archuleta was all but guaranteed the Idol crown. Simon Cowell had already named him the season's winner — and last time he did that, Carrie Underwood was treated to a rightful confetti shower. Instead, Cowell's words drove David Cook's fans to pick up their phones like they were in Bye Bye Birdie (that comparison brought to you by Uncle Nigel Lythgoe), and Cook was named our American Idol while Archuleta fans wondered why they had assumed their favorite's safety. Same goes for Wednesday night — with Joshua awarded one standing ovation, and a 13-week stamp of approval, his fans likely felt there was little point spending their nights tied to a busy signal. Thanks to the judges' constant approval, Joshua had to be as safe as a performance of "Imagine," right?
And finally, our three judges managed to screw Joshua professionally too. Jimmy Iovine was absolutely right to label Joshua "overblown" and "overemotional" during his Wednesday night performances — but we can't blame the contestant. After all, from his eyes, why should he fix what doesn't appear to be broken? If the judges never told him to add subtly to his personal dictionary, why should he be expected to deliver the word? Now, I understand our panel of three are about as subtle as a Jennifer Lopez relationship in 2003, but constructive criticism is necessary to guide the voting public, and, more importantly, to help our finalists grow even stronger. After all, there's a reason Jimmy has astutely pointed out Phillip's growing originality over the past 13 weeks. Joshua, meanwhile, had yet to fall flat on his face, sure, but he also had yet to improve. And as soon as you plateau on Idol, it's high time you fall.
So, sorry, Jennifer, you might cry and scream about this seemingly unfair and shocking elimination, but you have no one to blame but yourself. If you do choose to return next season, remember that an Idol judge always rolls the dice — and gambles with a singer's future — when choosing a favorite. Now, excuse me as I get back to wondering whether I should report myself to my neighbors just for noticing Jessica's cut-out dress.
Were you surprised by the results? Do you, like me, think the judges are at least partly responsible? Was the trio's "Got To Get You Into My Life" the best opening number of the year? Does Jessica stand a chance of beating a southerner? Is she more of a Michael or a Jermaine? Or a Tito? When did Adam Lambert become so boring? How did Idol manage to book Tim Burton's wet dream? What's that? You didn't say you wanted to see Ice Age, no matter how much Idol is shoving it down your face like it's Casper Smart? And remember Reed Grimm? Ugh, the worst!
Follow Kate on Twitter @HWKateWard
[Image Credit: FOX]
More:
American Idol Recap: Pick and Miss
American Idol: Season 12 Will Boast 'Creative Tweaking'
Idol Castoff Hollie Cavanagh on Her Bond with Joshua Ledet and Colton Dixon's FangirlsAmerican Idol