'American Idol' Recap: Order Restored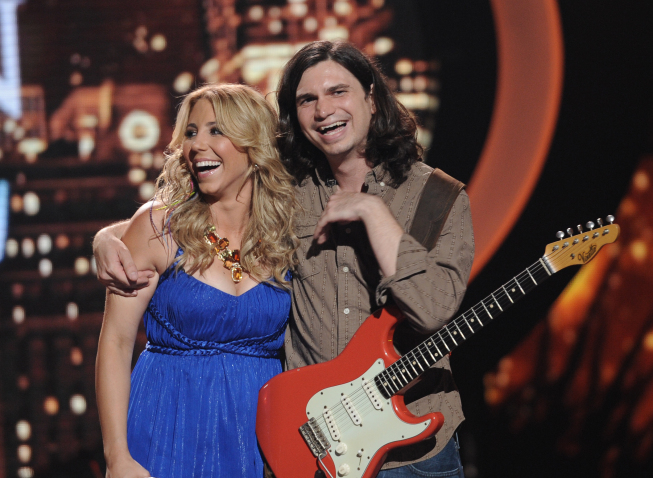 I can't be the only one who breathed a sigh of relief at approximately 8:56 PM Thursday night. After two straight weeks of the most troubling American Idol results since Scott Savol outlasted Constantine Maroulis during season 4, I feared we were yet again in for a surprise of Nigel's bodyguard-sized proportions. I wasn't completely wrong to be nervous — after all, the contestant who seemed doomed to leave the show weeks in a row had just enjoyed her best night since blowing us away in the Top 11 with "Power of Love."
But though Hollie Cavanagh continues to stick around like an adorable puppy you wish never followed you home after she messed up the order of your home, justice was finally served in the Idol universe. After murdering "Bold As Love" so brutally, Detectives Munch and Finn were ordered to investigate it, Elise Testone was sent directly off of Idol's couches of safety. (Do not pass go. Do not collect a recording contract and a reputation that could land you alongside Taylor Hicks.) And, unlike Colton Dixon and Jessica Sanchez's shocking bottom finishes, Elise actually deserved to leave behind CBS Television City.
Not to say it isn't a shame to see her go, especially when she started off the season with so much promise. With one of the strongest — and most relevant — voices in the competition, Elise represented the old wave of American Idol. Like many contestants of seasons past, the 28-year-old singer — the oldest in this season's batch — boasted power vocals more than originality, and was hurt by not only a willingness, but a seeming desire, to talk back to our admittedly unsound panel of judges. Even Thursday night, after Jimmy Iovine rightfully dismissed her two performances, claiming she "makes bad choices," Elise managed to increase her surly profile by telling Ryan Seacrest, "I just can't win."
Granted, it's that confidence and attitude that made Elise a fun contestant to watch — her self-assuredness often lit up the stage (that is, when she wasn't encouraged to sing clunkers like "I'm Your Baby Tonight"). But talking back to Steven Tyler, Jennifer Lopez, and Randy Jackson doesn't have the same appeal as verbally brawling with the likes of Simon Cowell amid a chorus of boos. Instead, Elise's argument with the big three often featured a backdrop of silence from the audience, making the moments as uncomfortable as a TV promo featuring a picture of a child and the word "Touch."
Viewers certainly felt uncomfortable and disconnected from the contestant — Elise flirted with elimination in the bottom three a whopping six out of eight weeks, two more times than underdog Hollie. Still, fans of the passionate Elise would find her finish behind the staid Hollie as undeserving as a terrible trip to see the horrible orange puppets at TMZ.
Still, it seems we can all rest easy, fellow Idol fans. Though Skylar was placed in the bottom three, she still has a chance to ride her ATV well into the finish. Though Phillip's illness explains his flat "Fat-Bottomed Girls," he'll still live on to be the antidote for lovesick teenage girls everywhere. And Joshua Ledet and Jessica's favor with the judges' panel has primed them to outlast Hollie, even though the Idol universe seems desperate to keep me from using my "Hollie Go-Lightly-Away" headline. One day!
But what did you think of the results, fellow Idol lovers? Did you have a "Whole Lotta Love" for Elise, or was she the right contestant to bite the dust? Does Hollie stand a chance of making it into the Top 4? Did the Top 6 film their Ford commercial on the set of How I Met Your Mother? Did you dig The Queen Extravaganza's incredible lead singer/viral video star Marc Martel, even if you found yourself wishing he was Adam Lambert? Are you, like me, ashamed to hope that Stefano Langone's single finds its way onto your radio stations and into your head like the terrible/infections "Party Rock"? And, finally, is Casey Abrams slowly transforming into a Muppet who joins Fall Out Boy?
Follow Kate on Twitter @HWKateWard
[Image Credit: Fox]
More:
American Idol Recap: They Want to Break Free
Ryan Seacrest Re-Ups with American Idol: Why We're Thanking Our Lucky Stars