'American Idol' Recap: Pick and Miss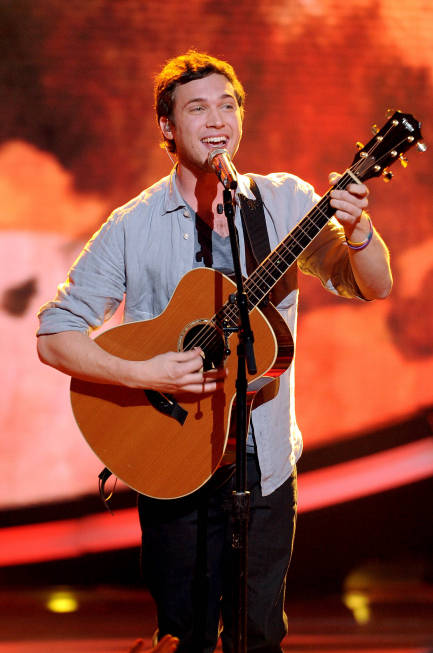 Oh, American Idol. You know exactly how to get me every year. Around this time every season, I find myself reaching for the Kleenex, hoping to stop my tears from overflowing into my oversized Coke cup. And just when I think I can't cry anymore, you give me something that makes me weep more than Ryan Seacrest peering at an out-of-business tanning salon. You force a stale performance of "I Don't Wanna Miss a Thing" on me.
Sure, the annual hometown visits are touching and all, but watching Wednesday night's penultimate performance episode, I found myself shedding more tears hearing our Top 3's disappointedly uncreative song choices. Really, Jessica? After already choosing overplayed Idol songs like "Turn the Beat Around" (Season 2's Carmen Rasmusen, Season 3's Diana DeGarmo, Season 6's Haley Scarnato), "Fallin'" (Season 1's Kristin Holt, Season 5's Mandisa, Season 9's Michelle Delamor, Season 10's Haley Reinhart), "Try a Little Tenderness" (Season 4's Nadia Turner, Season 5's Taylor Hicks), "Bohemian Rhapsody" (Season 4's Constantine Maroulis, Season 5's Kellie Pickler, Season 7's Michael Johns, Season 8's Adam Lambert), "Proud Mary" (Season 2's Trenyce, Season 4's Fantasia, Season 7's Syesha Mercado), "You Are So Beautiful" (Season 5's Taylor Hicks, Season 8's Danny Gokey), and "And I Am Telling You" (Season 1's Tamyra Gray and Melanie Sanders, Season 6's LaKisha Jones, Season 8's Nick Mitchell, Season 10's Ashthon Jones, and Oscar winner Jennifer Hudson), you decide to sing Aerosmith's "I Don't Want To Miss a Thing," already performed on Idol by Season 2's Josh Gracin, Season 4's Lindsey Cardinale, Season 6's Antonella Barba, Season 7's David Cook, Season 6's Allison Iraheta, Season 9's Aaron Kelly, and Season 10's Lauren Alaina? (For those of you keeping count, Jessica's version makes eight — none of whom have killed it like Steven Tyler.) And seriously, Joshua? Choosing John Lennon's "Imagine," a song so manipulative, even David Archuleta's dad is micromanaging it? (Imagine there's no "Imagine" on Idol!) And, Phillip? Picking a song you probably got high listening to in your friend's den while eating cheesesteaks? Well, at least you probably had more of a connection to Matchbox 20's "Disease" than Joshua did with "I heard it on the radio" tune "Imagine."
It's actually concerning — while, in years past, we were forced to suffer the judges' faulty judgment (you can blame David Cook and Allison Iraheta's aforementioned performances of the Aerosmith hit on the judges' choice), this is the first season of Idol in which I found myself questioning the singers' tastes. I'd love to give them the benefit of the doubt and simply blame fatigue (see: Joshua's dreary-eyed, Ambien-fueled responses to Ryan's questions), but you'd think the contestants would at least have a few magical beans in their back pockets. It's like Top Chef contestants showing up to the competition without at least one dessert recipe in their arsenal — it's hard to accept a delicious main course if it's followed by an underwhelming chocolate soufflé. So why not cart with you some extra recipes for success?
NEXT: Phillip: Music's Twin Sets and Butterfly Clips.
So as much as I want to eat up our singers' post-Idol careers, I'm finding myself wondering if they're even ready to dig in. Would we be satisfied with a Joshua Ledet album filled with tunes so saccharine, they could fill a candy store? A Jessica Sanchez album so predictable, you can call it Randy Jackson? A Phillip Phillips album so 1990s, you could slap a pair of Doc Martens on it?
Perhaps my 1990s nostalgic has hypnotized me with visions of Lisa Frank unicorns and gelly roll pens, but I'm totally buggin' thinking of that last option, Tai. Because while Joshua and Jessica's choices were roll-your-eyes predictable, Phillip has managed to carve out an audience for himself that enjoys his particular recipe. Take one tablespoon of growl and combine it with one cup quirk and 100,000 screaming 13-year-olds, and you have a combination as delectable as it is cannibalistic. So while "Disease" might have been just mildly infectious, it was easy to forgive the performance after antidote that was Madcon's "Beggin'." (Holy English class, so many metaphors!) I have to give Randy-esque mad props to Steven Tyler for his unconventional choice for Phillip — his foresight let the contestant to deliver his best performance of the season. The acoustic beginning, reminiscent of Kris Allen's "Heartless," his playfulness with the melody, the outdoor concert vibe — it's no wonder Steven called Phillip the "New Age Boss" after whipping out his poetry: "When you're facing the sun, the shadows stand behind you. My hands are small I know, but they're not yours, they are my own."
Though Phillip's chest hair was screaming for it, the judges failed to give him a deserved standing ovation for "Beggin'" — but he did finally score recognition for Jimmy Iovine's choice, Bob Seger's "We've Got Tonight," a lovely rendition that helped audiences remember that Phillip actually has a beautiful voice behind the guitar, growls, and dorm room move-in day wardrobe. (Even the insipid Swaybot clapping couldn't bring him down.) Randy may be wrong calling it Phillip's best performance yet — "Beggin'" and last week's "Volcano" exploded on the Idol stage much more — but performing the song more than sealed a spot in the final two, especially after Steven's praise: "Get used to it, because you never will. I still bleed and my lips still smile and my breasts won't always be firm."
But the pimp spot isn't the only thing guaranteeing Phillip a Top 2 finish — his hometown footage in Georgia was far more touching than his other contestants' visits. Watching Phillip go home, we laughed (the "Phillip, you still owe me $10" sign), we cried (the usually stoic Phillip breaking down, and subsequently breaking hearts, during the parade), and felt simultaneously touched, petrified, and eager to read up on gun laws seeing Phillip Phillips Sr., packing heat. Phillips spot in the final two is as sure as the future restraining order he will file against the rabid fan who pulled him out of his limo.
NEXT: Animal crackers in my Idol
Speaking of (pawn shop) turkeys, I have a feeling that Jessica will miss the final two, no matter how much she don't want to. It's too bad — the 16-year-old deserves a spot in the finals, if not a chance to soak in a confetti shower. And her approach Wednesday night was quite savvy for a girl from a generation that documents all their embarrassing teen crushes online. (The pen and paper won't seem so lame in 10 years, kids!) Why not become the next Mariah Carey in a world all too devoid of ridiculous photoshopped albums full of ridiculously amazing vocals? So I wanted to love Jennifer's choice, "My All," as much as I did when I jotted down the lyrics in my eighth grade notebook. And I wanted to see the rainbow at the end of Jimmy's "I'll Be There," a song Mariah herself covered dutifully and passionately. But it turns out Jessica and Mariah's songs are as bad a fit as TRL and ice cream carts . The songs lacked Jessica's patented pizzazz, her penchant for wowing audiences who underestimate her abilities because of her young age. Instead, her youth showed — as did the fact that she's simply not Mariah, no matter how much Tommy Mottola is interested in her. Add to that yet another unsettlingly mature, midriff-baring outfit and a song of her choosing as plain as Liv Tyler and unfrosted animal crackers, and Jessica seems poised to settle for a Top 3 finish. That's despite Steven's assessment that Jessica might end up Season 11's winner: Said Ryan, "Did you just predict a winner?" Said Steven, "Don't I always?"
And isn't that, ladies and gentlemen, the exact problem with our judges' panel? Because while Steven might have supported Jessica following her performance of "My All," he flip-flopped so quickly in Joshua's corner, he might as well sit on an IHOP griddle. Because, once again, our panel of three cannot seem to jump off the Joshua train. Just see the trio's standing ovation for Randy's choice, "I'd Rather Go Blind," a performance so tired, it just read a Nicholas Sparks chapter and turned in for the night. (I'll spare you the "I'd Rather Be Deaf" jokes.) Not to mention their love for the uninspired "Imagine" and Jimmy's choice, Mary J. Blige's "No More Drama." Look, I respect Joshua's talent and feel for him knowing he's been unable to score any constructive criticism, but an octave-spanning run at the end of Joshua's songs is as expected as Strawberry Alarm Clock at one of Nigel Lythgoe's parties. So as much as the lady who bedazzled Joshua and Jessica's jackets might tell her cats that she hearts the contestant, Joshua's performances are still anything but spontaneous, Jennifer. Still, the judges will continue to praise Joshua for schlocky stripping ("That's what being a great artist is about," says Jeff Timmons Randy?) until they're riding with Twinkies, cockroaches, and John Cusack into the End of Times.
But with Idol's end of Season 11 times fast approaching, can you imagine a final two with Jessica? Or do you agree that Phillip and Joshua are finals-bound? What made you cry more: Phillip's hometown visit, or the fact that you felt jealous watching him caress his own leg during "We've Got Tonight"? Does Ryan deserve a raise of coping with two out of three contestants who are virtually not interview-able? Does Joshua have a future in politics, what with his skill for killing babies? And wouldn't Stefon love West Lake, Louisiana? It. Has. Everything. Parades, crawfish, women who cry holding babies, women with pirate eye patches…
Follow Kate on Twitter @HWKateWard
[Image Credit: FOX]
More: