'American Idol' Recap: Playing Favorites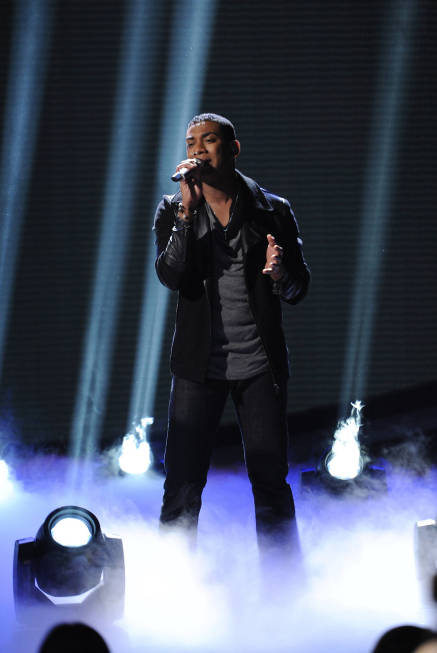 Over the course of its 11 seasons, American Idol has produced a healthy supply of classic Idols. I'm not talking about the Carrie Underwoods or Jennifer Hudsons, superstars who, during their tenure on the show, only teased their future abilities, making us unsure as to whether they actually did have a shot to become an A-lister after the glitz of reality TV wore off. I'm talking about the classic Idols who not only accumulated an overzealous fanbase, but also managed to make an already addictive Idol even more intriguing, no matter their success level following the show. I'm referring Kelly Clarkson, Clay Aiken, Ruben Studdard, Fantasia, Bo Bice, David Cook, Kris Allen, Adam Lambert, Haley Reinhart, and, yes, I'd even say Blake Lewis, who revolutionized the series in ways no one gave him credit for. (No one truly made any song, as Randy would say, his or her own until Blake beat-boxed his way into our hearts, and then into obscurity, during Season 6.)
These Idols might not have been the most successful to grace the stage (Kelly withstanding), but they certainly were the most entertaining. They blew us away with their passion and talent, and drew us in even further with intriguing personalities. If we brought this to a rank, they might very well make up my Top 10, if we're solely counting entertainment value on the Idol stage. So it's surprising to hear the judges' panel rank Joshua Ledet as one of the two best Idols of all time, when I'd be hard pressed to find him a spot in the Top 20.
Don't get me wrong: Dude is talented and he might transform into an industry superstar, which is good since his "Ain't Too Proud to Beg" suit made it clear he has no future as a botanist. But, unlike the judges, I can't see what's unique and exciting about the singer, who's failed to garner enough criticism to encourage him to show us anything unique and exciting. Instead, week in and week out, our judges give him standing ovations for churning out performances more fit for season 3 than a post-David Cook season 11. Not only that, but they named him one of the best singers to ever exist in 50 years. So, sorry, Aretha Franklin, Freddie Mercury, Michael Jackson, and Beyoncé. Joshua, a star of a reality show on a network that made a name for itself airing a show about bored police officers that bust drunk idiots, has got you had.
Look, I understand hyperbole. It's likely the judges don't actually feel Joshua could be stacked against those greats, no matter how many times the ejector button shoots them out of their seats. But Joshua's "Ain't Too Proud to Beg" was a faithful cover of The Temptations hit that was only slightly better than George Huff's rendition in Season 3. And, while Joshua ended "To Love Somebody" on many a high note, the performance was just as listenable as Clay Aiken's version in Season 2, but no more. But perhaps nothing shows the judges' unfair favoritism towards Joshua than their high praise of Joshua and Phillip's duet of "You've Lost That Lovin' Feeling," a performance not only horrendous because of its pitchiness, but also because of the fact that Joshua and Phillip failed to play sweaty shirtless volleyball after the performance. Steven, in fact, labeled it "perfect," despite the contestants' inability to keep a straight face during the entire performance — they broke so often during the song, all it was missing was Jimmy Fallon.
NEXT: Phillip's Self-Sabotage?
One could even say the judges also harbor favoritism for our favorite pawn shop worker, Phillip, who brought us self-sabotage of Jason Castro levels last night. There was the aforementioned "Lovin' Feeling," the worst duet to hit the Idol stage since James Durbin's and Jacob Lusk's "I'm Into Something Good." There was his take on The Zombies' "Time of the Season," which saw him struggling on high notes he should have never attempted to hit. (The judges might have been surprised with his straight-forward take, saying, "He can really sing the melody!" but they failed to take into account that he couldn't sing it well.) Then there was the biggest Idol no-no of all: The heartthrob brought his girlfriend to CBS Television City. Phillip had to have known that would send a flurry of his fans straight to their Lisa Frank diaries, where they bitterly write down Joshua's phone number, sniffling away the tears as they realized that maybe Phillip wasn't singing right at them every Wednesday night after all. Sniff.
But, as much as I adore Phillip and the gray, cringe-y way he makes Tommy Hilfiger cringe, self-sabotage is hardly as dumb as pairing with the cowboy during group week. In fact, Phillip would be much better off being sent home Thursday night, a scenario as plausible as the possibility that J. Lo will wear sequins and make me wonder who her very talented doctor is. As we've seen over the course of the past 11 seasons, a rock star winner on Idol is faced with a disadvantage. Forced into the music scene as a solo act showered in confetti on reality television, rock winners — see: David Cook, Kris Allen, Lee DeWyze — have found it difficult to build cred in the industry. On the other hand, an artist like Chris Daughtry — who was just as recording-ready as Phillip during his tenure on Idol in Season 4 — managed to accumulate a group of fans dedicated to making sure he built the acclaim and respect he so deserved on the reality show. Because, at this point, Phillip doesn't need Idol. He know who he is and what kind of album he needs to record — one that should include lovely and listenable performances like "The Letter." As guest mentor Steven Van Zandt said, "Leave him alone. He's good. Badabing, badaboom, parkway, other New Jersey stereotypical phrases."
It's hard to believe I'm imagining an Idol world in which Phillip goes home, and Hollie may stay. What is this, opposite night? Am I now supposed to compliment Brian Dunkleman on his hosting skills last night? Where am I? What year is it? How did I get here? Who does No. 2 work for? But not only do I believe Hollie will stay, but I believe she should stay. Granted, Idol set up her underdog storyline perfectly: After being at the receiving end of insults from judges and fans alike, Hollie began her Idol climb last week with, appropriately, "The Climb." And now, we hand the British lass a British Night theme. Cut to: A tepid performance of Tina Turner's "River Deep, Mountain High" that the judges conveniently failed to criticize as much as Jessica Sanchez's Tina Turner cover, and a version of "Bleeding Love" that allows audiences to compare her with another reality show winner, the U.K. X Factor's Leona Lewis. (Even though Steven couldn't, since he managed to avoid all radios and doctor's offices in 2007, having never heard the song before.) It's no surprise the show seems to be supporting the contestant: Idol would be better off with Hollie on the show — there's nothing the reality series' viewers love more than to bash a contestant that undeservingly outlasted their favorite. (See: Danny Gokey, Sanjaya Malakar, Syesha Mercado, Scott Savol, etc.) To rid Idol of Hollie rids the show of some of some desirable intrigue that could make The Voice-hating ratings fairies at Fox celebrate.
NEXT: Where does Skylar fit in?
So I wouldn't be surprised if Hollie's reality-friendly storyline picked up the young female vote. Which means Season 11's other young girls might also be in jeopardy come Thursday, especially if audiences failed to connect with Jessica's spirited-but-disturbingly-sexy cover of "Proud Mary," presumably performed against a backdrop of set items stolen from the set of Chicago. (I'll take "Potently Inappropriate Dresses For a Teenager" for $600, Alex!) And it doesn't help her cause that the judges criticized her for taking on the dragon that is Tina Turner, without having doled out the same criticism to supposed slayer Hollie. (Not to mention the fact that J. Lo wondered rhetorically, "How could you let this girl go home?" which pretty much introduces the possibility that Jessica could leave CBS Television City Thursday night.) But I'd find it impossible if anyone in the viewing was unable to connect with Jessica's fittingly beautiful version of "You Are So Beautiful," which was so alluring and perfectly executed, it's despicable to think the young singer has never been gifted Idol's pimp spot. (Predictably, Joshua scored the spot Wednesday night for the second time.) Come on, Nigel! She's sitting on the floor! In the name of Fantasia and Katharine McPhee, don't you know that floor-sitting leads to an automatic Idol moment?!
And then that leaves us with Skylar, the consummate professional who, week in and week out, offers up fun performances so contagious, I hope a trip with CBS Television City comes complete with a CDC vaccine shot. But that's precisely her problem: Skylar lacks not only the tearful histrionics that garners votes, but the intriguing storyline that sends fans racing to their cell phones. Joshua is the anointed one, Phillip is the rebel, Jessica is the victim, and Hollie is the dark horse. But how do you categorize Skylar? Sure, her "Fortunate Son," was a perfect song to show off her stage presence, and anyone who didn't fall for "You Don't Have to Say You Love Me" is as weird as that couple on the bench. But the CCR song's counter-culture theme might not gel with her fanbase, and Skylar's latter performance is far too perfect a swan song to quell my nerves surrounding her fate Thursday night. And after her bottom three visit last week, perhaps only luck will keep her from riding an ATV right out of CBS Television City. Perhaps she should have performed "Knock on Wood" after all.
Do you get the Joshua hype, readers? Who's headed home Thursday? Did Jessica, Skylar, and Hollie sing "Higher and Higher," or was the song performed by a series of American Girl Dolls? Why did Elise Testone get a goodbye montage in the opening credits, but Colton Dixon didn't last week? And did Steven Van Zandt learn his chair-sitting etiquette from Flashdance?
Follow Kate on Twitter @HWKateWard
More:
American Idol Recap: Order Restored
American Idol Recap: They Want to Break Free
Ryan Seacrest Re-Ups with American Idol: Why We're Thanking Our Lucky StarsAmerican Idol