'American Idol' Recap: Candice Glover — The Next Jordin Sparks?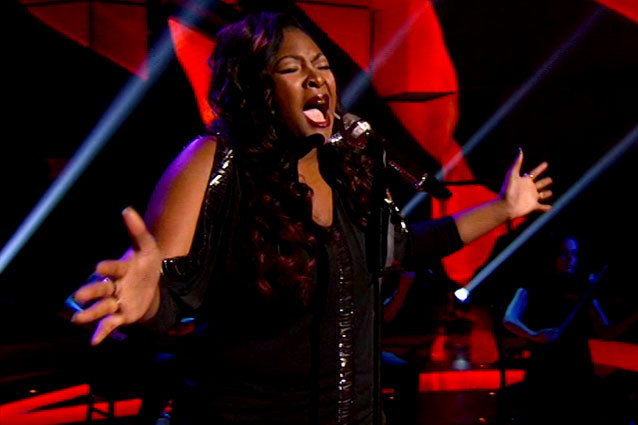 There's a line drawn in the sand for the top 10 contestants on American Idol. On one side, we have a set of singers so perfectly packaged, so talented, so ready for action that picking a favorite is about as easy picking your favorite Internet hedgehog (I've tried and it's impossible. Those suckers are universally adorable). Opposite these fantastic singers are a group of wannabes: people with decent pipes, but no spirit, no direction, and absolutely no ability to compete with the top contestants. The divide has never been more evident and unless a miracle takes place, that's not going to change. Lucky for the women on the show, they're all on the more promising side of the competition, especially Miss Candice Glover.
RELATED: Why Was Nicki Minaj Late to the Top 10 Performance?
For the incredibly loosely defined "Idol Songs" week, Candice chose "I (Who Have Nothing)" which was performed by Jordin Sparks on the show, but is actually by Ben E. King (and if we're splitting hairs, she did the Shirley Bassey version of the song). However, bending of the theme aside, Candice brings her usual brand of unbelievable vocals to the performance, finally finding the right emotional sweet spot for her voice. In a few minutes, she jumps right to the top of heap and brings the entire panel (except Mariah, who's trapped in a seated position by her impossibly restrictive skirt) to their feet.
Fortunately for us, she's not the only incredible presence on that stage. Here are my rankings of this week's Top 10:
1. Candice Glover with "I (Who Have Nothing)" as performed by Jordin Sparks (Duh)
2. Angie Miller with "Surrender" by Celine Dion and as Performed by Kelly Clarkson
While Jimmy Iovine may be concerned that Angie looks too much like a beauty pageant winner, this girl is not slowing down. Performing yet another song that feels like it's her own, Angie has complete control over the stage, over her vocals, over Dion's classic ballad. Here's hoping viewers are on board too.
3. Kree Harrison with "Crying" by Roy Orbison as performed by Carrie Underwood
Again, Kree turns in an incredible performance. It's so predictable that the lack of drama is almost annoying. Luckily, Nicki made up for the lack of surprise by comparing the happiness she hears while Kree's singing to her favorite weekend ritual of toasting waffles, melting the butter on top in the microwave, and then covering them with "buttermilk syrup." I'm not sure what possessed her to use that description, but am I nuts to think it's actually kind of accurate?
RELATED: Can a Girl Really Win 'Idol'?
4. Burnell Taylor with "Flying Without Wings" by Ruben Studdard
Once again, Burnell is adorable. Incredible. Capable. Wonderful. I do miss his glasses and his goofy little baseball cap, but I can see why the stylists have made him a little more slick. The fog machine, however was cheesy. Burnell is already magical, he doesn't need a misty lagoon to prove that. But visual annoyances aside, this performance is perfection, as usual. It's easy for him. I've said it once, I'll say it again: If a girl doesn't win this year, let the winner at least be Mr. Burnell Taylor (even if that means we'll have to watch Randy throw another parade for "the great city of Baton Rouge" — we get it, dawg, you're from Louisiana).
5. Amber Holcomb with "A Moment Like This" by Kelly Clarkson
I want to say I loved this performance, because once again, we can see Amber's incredible talent being put to inappropriate use. Jimmy suggested Amber do a more upbeat version of the Kelly Clarkson song, but I think perhaps what he really meant was less Mariah or Whitney Houston in the '90s (hey, even Mariah noticed that she stole that fan move from Miss Butterfly herself). Amber continually sings flawless ballads with so little effort it's infuriating, but she can't seem to make herself a contemporary artist. Rather than Clarkson's throwback hit or even Whitney's hits, Holcomb should try on some Beyonce or even (dare I say it) Adele. She's wildly talented, but if she doesn't figure out a way to update her sound, she may slip from voters' notice.
6. Janelle Arthur with "Gone" by Montgomery Gentry as performed by Scotty McCreery
Janelle tries to follow Jimmy's good advice and find a way to be unique and sort of succeeds, even if her vocals are slightly spotty. She tries to play a bit of the easy going bad girl, and it mostly works (Idol's own graphics certainly weren't helping her to lower the cheese factor though). When she's done and the judges are confused because the big notes in the song just weren't there, she explains that her mouth went dry while she was singing. It might be an excuse, but her vocal is a little out of whack this round.
RELATED: Keith Urban on Why 'Idol' Made Him Cry
7. Curtis Finch, Jr. with "I Believe" by Fantasia
Here's where I draw the line. Despite my overwhelming distaste for Curtis, I can acknowledge that the guy has a good instrument, it's what he does with it that's the problem. Jimmy warns him against going too old fashioned, but he can't seem to change it up too much. He steps onto the stage in a coat made out of a square of the Windsor Castle carpet, with a gospel choir in tow. It's the same ol' same ol' and everyone but Mariah is bored. When Randy comes right out and says it's boring, it's usually time to change it up, dawg.
8. Paul Jolley with "Amazed" by Lonestar as performed by Scotty McCreery
Paul tries to heed Jimmy's advice to ditch the theatrics and oversinging, but he only slightly gets it. He starts off his song a little quieter, sitting at the back of the stage and resisting the urge to get to his favorite spot at the front of the stage, but all he's really done is make his performance more bland. Again, he's got great parts of his voice, it's just not adding up to a potential star when he hits the stage.
9. Devin Velez with "Temporary Home" by Carrie Underwood
Jimmy tells Devin to stop aiming for old fashioned styles like those of Josh Groban and Michael Buble and unfortunately, that's exactly what he does with this Carrie Underwood song. The most exciting thing about this performance is the new special effect the Idol set department seems to have discovered this year (where are we? A bubble galaxy? Is Devin still singing?).
10. Lazaro Arbos singing "Breakaway" by Kelly Clarkson
Once again, Lazaro proves his biggest weakness is his inability to recognize the great parts of his voice. Since this competition began, he's never been able to pick a song that really highlights who he is. Jimmy warns him about this, but he still sings Clarkson's hit and to uncomfortable effect. He doesn't have the range or the connection to the song. It simply doesn't work. I want to like Lazaro because he's adorable and has a great backstory, but the vocals just haven't been cutting it.
Who do you think will go home?
Follow Kelsea on Twitter @KelseaStahler
[Photo Credit: Fox]
---
You Might Also Like:


14 Movies That Are, Surprisingly, Not Porn


Stars Who Have Lost Roles For Being Too Hot (Celebuzz)