'American Idol' Recap: Janelle Arthur and the One-Episode Comeback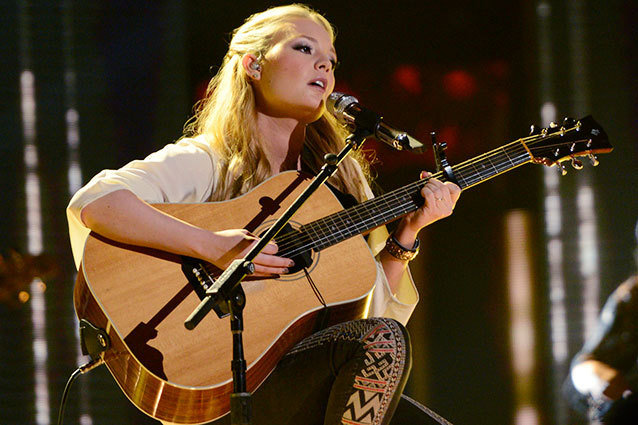 Janelle Arthur hasn't been in danger on American Idol, so don't panic just yet. Detroit music night didn't take down the country queen with a Motown challenge. She did, however, sink down low and come right back up to the top in an hour of television on Wednesday night. It was a perfect narrative, played out before the episode was even halfway over. And it brought her dark horse status up another peg.
Of course, adding to Janelle's rise was the fall of another girl or two. Both Angie Miller and Kree Harrison, while still fairly great, feel a wee bit from grace, Angie a little more than Kree because Angie dropped everything we love about her for a "fun" performance of "Shop Around."
RELATED: Did 'American Idol' Voters Get It Right?
Making things even more interesting were Amber Holcomb and Devin Velez, who both stepped up their game after being in the bottom two last week. And if we didn't have a hard enough time deciding on favorites, Burnell Taylor and Candice Glover were amazing as always.
Lazaro Arbos was also there, and not nearly as terrible as last week, though he seems a bit out of place in this tenacious group.
With the songs of Detroit (and people from Detroit), here are our top eight contestants in order from best to worst:
1. Janelle Arthur with "You Keep Me Hangin On"
Before Janelle got to her own solo performance, she was paired with competition darling Kree for a performance of "Like a Prayer." And while Keith Urban and Mariah Carey praised the girls for supporting each other when the lyrics got the better of them, Nicki Minaj and Randy Jackson pointed out the obvious: Kree outshined Janelle.
Luckily for Janelle, when she took to the stage for her countrified version of the Supremes song, she stole back the spotlight. She's almost cheating by rearranging this song so completely, but in the end it doesn't matter. This is her sweet spot. She sits there comfortably with a guitar at the center of the stage, plucking our heart strings by bringing out the true gravity and angst of the lyrics of the song, something Keith points out we've never seen before. And the rubies on the top of Janelle's tiara come when she ends her performance with adorable, genuine tears in her eyes and tells Keith, who she was afraid to play for, that her guitar was made by her uncle.
If anyone won the night, it's Janelle.
2. Burnell Taylor with "My Cherie Amour"
I'm going to go ahead and admit my bias: If you've been reading these recaps you know Burnell is one of my favorites, but you may not know that "My Cherie Amour" is one of my all-time favorite songs. And Burnell sang it to perfection as only he could.
I do, however, worry about Burnell, because as we saw this week, Burnell isn't exactly great as moving around the stage as your average pop star, but he is so much more. When Nicki called him "artsy" I realized why broad audiences might have trouble latching onto what Burnell does, but it is artistic. It is wonderful. And it is 100 percent Burnell. All I can do is hope that voters love him as much as I do.
RELATED: Can a Girl Win 'American Idol'?
3. Amber Holcomb with "Lately"
Finally, Amber gave us a connection to her performance. As always, her vocals are flawless and effortless, but we've come to expect that at this point and she still ended up on the chopping block last week. Guest mentor Smokey Robinson tells her the same thing I've been saying: you have to make people believe that you connect. And she does it. She doesn't need to try on the vocal, so it's clear that she's putting more effort into making that connection. It was great to finally see her join us in 2013 instead of getting stucking in the '80s and '90s, and while her performance wasn't the complete package, she did give the best vocals of the night, as Randy said.
4. Candice Glover with "Heard It Through the Grapevine"
Smokey Robinson was not wrong when he said "She is singing personified." And if Amber hadn't worked so hard to move up the ranks this week, Candice would be right back in the Top 3. Her rendition of "Heard It Through the Grapevine" is a little too '80s with the use of the sax and she had a few small imperfections in her voice, but when it comes down to it, Candice and the music are one. She's not learning someone else's song and singing it, she simply is the music. So while she may not be the tops for me this week, she is the number one singer on this show overall.
5. Kree Harrison with "Don't Play That Song"
Kree may have made Smokey Robinson swoon when she sang his best friend Aretha Franklin's song, but when she hit the stage, something didn't quite meet Smokey's praises. Don't get me wrong, our Kree is not capable of being awful, but she is capable of picking a song that stretches her to a few less-than-perfect places. There were parts that clearly strained her, where she looked up into the sky, searching for the note. But she is still one of the most talented people on this show and the judges are right: it is admirable to take on Aretha. So she may have had a few hiccups, but all in all, Kree pulled it off.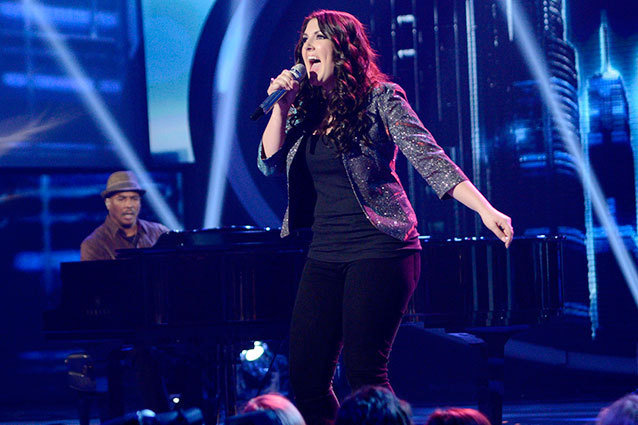 6. Devin Velez with "Tracks of My Tears"
Once again, Devin has come back into his sweet spot and he's even added a little something extra: a smile. The problem is, he's earning back our affection when we've already laid so much of it on the girls (Angie, Kree, Janelle, and Candice) and he still feels a little stiff. Still, Devin is clearly a talented singer. I'd like to say we'll see him open up even more as the competition continues, but if his bottom three trend continues, his inability to jump all the way to the front of the pack may be his undoing.
7. Angie Miller with "Shop Around"
What happened to our Angie? Sure, the girl was having fun, but this felt remarkably like Allison Williams' sad performance of "Stronger" on the Season Finale of Girls, except that when Angie got to the worst part (the moment she seemed to flub the lyrics) she knew it. She's still got a good voice, but the only thing that keeps Angie from veering off into boring territory is the fact that when she bonds with a song a chemical reaction takes place. In this performance, even when the vocal was good, that chemical reaction was missing and she simply sounded like some well-dressed young lady on Star Search, and we know this girl can do better.
RELATED: Is Lazaro Arbos Losing His Grip on the Competition?
8. Lazaro Arbos with "For Once in My Life"
With a great song choice, Lazaro's confidence is back, he's doing his Lazaro thing. But for me, it's still not enough to surpass the other singers in the competition. It constantly feels like he's chasing the song everytime he sings, even when he's as excited about a song as he is about this one. Even in the group number, when his imperfections should be nice and comfy, masked by the other singers, it's Lazaro's voice that brings the performance down. His pitch is still off. His voice still lacks the strength and pleasant quality he needs to keep up with the other contestants, and the judges seem to know that, but all they can do is call out his strengths and tell him he's got courage. This is why the poor kid is stuck in a competition that constantly points out how behind he is compared to his peers.
Who do you think will go home? But who really should go home?
Follow Kelsea on Twitter @KelseaStahler
[Photo Credit: Michael Becker/Fox (2)]
---
You Might Also Like:


Topanga's Revealing Lingerie Shoot: Hello '90s!


13 Most WTF Fan Tributes