'American Idol' Results: Which Little Lady Sang For the Save?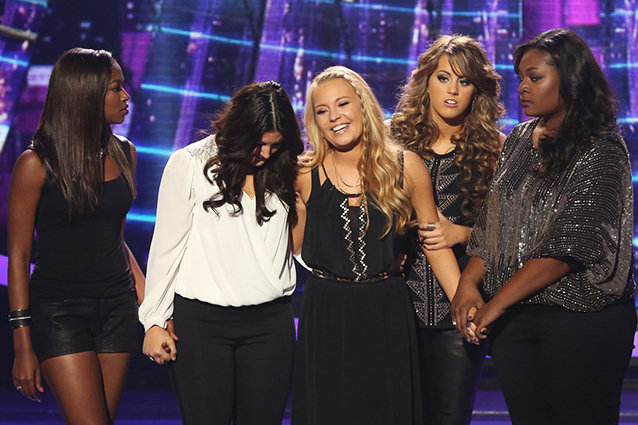 American Idol saw its toughest cut yet on Thursday night when the bottom two came down to the country gals: Kree Harrison and Janelle Arthur. Ryan Seacrest revealed that Janelle received the least votes, making her the singer set to fight for the Save. She reprised what might have been her best performance ever on the show, "Keep Me Hanging On" as an accoustic ballad, but in the end it wasn't enough and Keith, Mariah, Nicki, and Randy elected to send the sweet little marshmallow right on home. 
Of course, it shouldn't come as all that much of a surprise. Kree hit the bottom two because her performances weren't very Kree and Janelle was clearly in danger because of the sheer fact that she's not as dynamic as her competitors.
Despite the fact that Miss Dolly Parton herself sent Janelle a (slightly insane) note about her performance, Janelle was the obvious candidate for elimination. She delivered a bit of a snooze with her Vince Gill ballad (albeit a very likeable, very sweet snooze!) and her Diva number was cheesier than Ryan's attempts at joking with the judges. Still, in normal Idol rules, they'd need to use the save or lose it by now. However, the judges elected to save it for another day. While I agree that Janelle didn't deserve the save (sorry, pretty girl!), that means that the Idol save gets to live a life longer than originally intended.
The point at which eliminations get really painful, the top four, is supposed to be free of the save. It's supposed to be scary for our favorites when we reach each elimination round. We're supposed to be biting our nails and losing our minds. Now, because the Save hasn't been used and the Idol finale is scheduled for May 16, Idol faces a week of zero programming between the revealing of the top three and the finale without the save.
This means that they've got to  simply adjust the rules and allow the judges to use the save at a later date than ever before. Unfortunately, that also means that we have to endure what will almost certainly be two weeks of of the top four wowing us equally, rendering us completely indifferent as to what happens for three straight episodes. Kree or Amber Holcomb will hit the bottom two next week and the judges will save them, then we'll watch what's basically a repeat of the same top four performances all over again. And we will be B-O-R-E-D. 
For most fans, the decision has already been made. We've each picked our favorite contestant and until we find out whether she's made it or not, we're going to be twiddling our thumbs. What joy that we'll get to drag that process out for as long as possible. 
It's wonderful watching Candice Glover do her thing (even Paula Abdul returned to Idol to tell Candice just how much fun it is watching her sing). Kree is always a treat and when Angie and Amber hit the right spots, they're fun too. But it's not about the girls not being good performers, it's about the competition hitting its predictable moment. It's about just wanting to know who wins already and having to wait almost a month to find out. And we're about to have to deal with it whether we like it or not. 
Follow Kelsea on Twitter @KelseaStahler
More:
'American Idol' Recap: One Of These Girls Is Not Like The Others
'American Idol' Recap: Candice Glover Wins, Everyone Else Go Home
How 'American Idol' Forced Me To Crush on Keith Urban
 
---
From Our Partners


Stars Pose Naked for 'Allure' (Celebuzz)


Which Game of Thrones Actor Looks Least Like His Character? (Vulture)