'American Idol' Season 12: The Cold War Begins With Nicki Minaj and Mariah Carey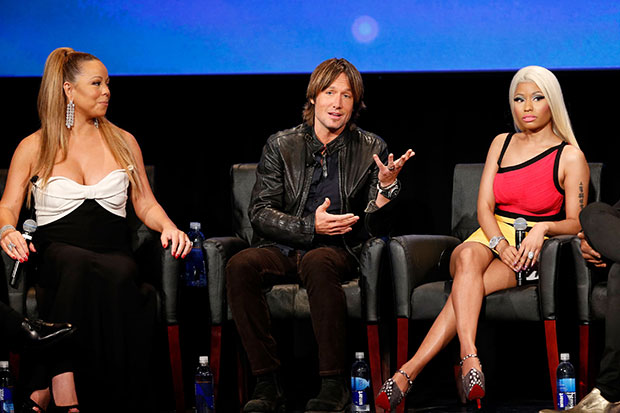 After weeks of the much buzzed-about Nicki Minaj vs. Mariah Carey feud — and a week away from the season premiere — the women of the new American Idol judging panel couldn't pretend to hide their animosity, even in front of the cameras, during a Q&A held at UCLA's Royce Hall on Wednesday night.
Ryan Seacrest was the host of the 45-minute live panel, introducing Carey — who was wearing a replica of the off-the-shoulder dress worn by 90210's Brenda (Shannen Doherty) and Kelly (Jennie Garth) to their Spring Dance circa 1993 — first, then country crooner Keith Urban.
As soon as Seacrest mentioned Minaj's name, Carey didn't waste time and immediately looked in the opposite direction, not even acknowledging Minaj's presence on stage. The Young Money MC reciprocated, also avoiding even glances toward the Grammy-winner's way. (Can someone say, "Meow!?")
Once the Q&A was underway, it didn't take a psychologist to analyze 29-year-old Minaj's body language — it very clearly spoke for itself, because she couldn't have crossed her right leg crossed any further from Carey. Even though the panel was technically feud-free, it was full of subtle signs that displayed their clear animosity.
Exhibit A: When Minaj was asked what inspired her the most, the music star responded if they wanted a "corny or cookie" response. Carey didn't even disguise her eye-roll.
That wasn't the only time Carey reacted poorly to Minaj's scene-stealing, unpredictable behavior. When she was asked how a contestant could make a good first impression, Minaj said, "Flash me!"— and was then reminded by Randy Jackson that she signed someone's breast. (Carey looked the other way and played with her hair during their exchange.)
The biggest sign of their Cold War on stage happened when the judges were asked what kind of talent they are looking for this season. Carey and Minaj provided a very passive-aggressive response. (Paging Dr. Phil!)
"If you name the ten biggest stars right now — who has a Whitney Houston voice?" Minaj said about the current music industry. "We want someone who is going to engage people."
Carey subtly responded: "It's difficult to compare legends that may not be with us anymore to a new artist. For me, it was about who was unique."
Nobody really knows what's fully going on with the silent battle that seems to be raging between these two judges, but going off audience enthusiasm and the ladies' fellow judge Keith Urban, there's a clear winner in the public's heart.
"What has been the most fun part about this entire Idol experience so far for you, Keith?" Seacrest asked the quiet judge.
"Nicki!" Urban responded, followed by some laughs that did not include Mariah's.
[PHOTO CREDIT: Imeh Akpanudosen/Getty Images]
MORE:
American Idol' Drama Live: Tune Into a Judges Q&A with Ryan Seacrest Here! — VIDEO
T'American Idol' Judges Don't Do a Very Good Job of Dispelling Feud Rumors
'American Idol' Champ and Father-To-Be Kris Allen Injured In Head-On Car Crash

Megan Fox's 12 Hottest Moments (Moviefone)

Ryan Gosling's 'Airbrushed' Abs: Plus 19 More Reasons We Love the Actor (Moviefone)