'American Idol' Top 2 Results: The Most Unthinkable, Shocking Elimination in Years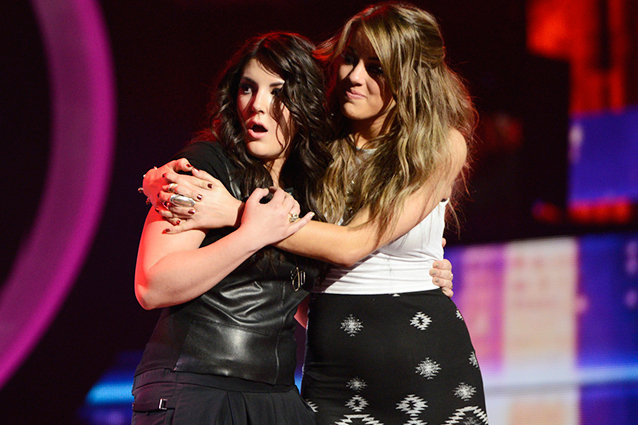 What just happened? Against all odds, the clear favorite to win the whole shebang on American Idol, Angie Miller, was sent home in the most shocking Idol elimination in years. 
But how? Obviously Candice Glover nabbed a spot in the Top 2 thanks to her insurmountable talent. It was Kree Harrison, who's struggled in past weeks to regain her footing, that was most likely to face the chopping block. Still, when Ryan Seacrest opened the cruel, cruel envelope the news fell like a boulder on a greenhouse. Angie's visions of her glitter shower were dashed right before her eyes, and we watched her deflate like a shiny, red ballon. We all thought she'd win, and it was clear she thought so too. 
Still, it seems more than a little strange that Angie is the eliminated party this week. She was a clear favorite throughout the competition and every time she even slightly slipped, she'd step back behind that piano of hers and the magic would happen. So how did the Disney princess (or Miley Cyrus-look-a-like depending on how Nicki Minaj is feeling) fall to the bottom? 
The best guess is a combination of her video package during the Hometown visits portion of Wednesday night's show and the always overwhelming power of country music. Despite Kree's spot in the bottom two last week, she's a country girl and watching Keith Urban swoon over her vocal stylings has to do something for her voters. 
Then there are the Hometown visits. Both Kree and Candice's visits were full of heart and growth. Each visit showed how far they've come and the hardships they'd overcome, resulting in  the their final performances in front of their friends and neighbors. Angie's, while sweet, lacked the gravity of her competitors. It was as if she'd already skipped ahead to the successful pop star phase of life. Everywhere she went, crowds followed, treating her like Beverly, Massachusetts' own personal Miley.
This is a show whose message is all about plucking singers from hardship, small towns, and other forms of extreme obscurity, and it's a little hard to buy into that when one contestant is already slipping right into the role of star. Watching Kree and Candice sweetly react in genuine awe to their improbable circumstances is the push voters needed (on top of their incredible ballads Wednesday night) to send them right to the top. 
The competition is too tight for those elements to not matter. All three girls are incredibly talented. All three girls represent different genres. The real difference at this point is personality. Who do we like best? Who do we want, with our heart of hearts, to reach that shining stage at the finale? Do we want the girl whose body image held her back for so much of her life, but who rose up to be an incredible, confident performer? Do we want the young woman who perservered after life ripped her family from her to become a sweet, caring, motherly person with the voice of an angel? Or do we want a gifted, bubbly, easy-going girl who doesn't seem to have a care in the world?
Answers to that question may vary, but voters' reponses seems clear. Angie just wasn't doing it for them the way powerhouse Candice and the inhumanly kind Kree were. But that doesn't make it any easier to watch the chipper songstress receive her fate and tear up through her swan song. Much like Amber Holcomb before her, Angie could barely muster a complete lyric after her elimination, but powered through until Ryan brought her family onstage to comfort her. 
It's always hard to watch someone go, especially when witnessing the cut from Top 3 to Top 2, but seeing Angie's sparkling tears was especially tough, because it seemed almost impossible that Angie wouldn't be standing in the final duo and only slightly impossible that she wasn't going to win the whole thing. No one was expecting this. 
But it's done now. Angie is out and Kree and Candice are in. Will Idol fans continue their country streak and crown Kree? Or will they reward Candice's brain-melting voice and give her her moment like this?
Follow Kelsea on Twitter @KelseaStahler
More:
Randy Jackson is Leaving 'American Idol'
'American Idol' Hometown Visits Recap: Who's Going Home?
The Ratings Are Low, But Don't Blame the 'Idol' Judges 
---
From Our Partners:


Watch Justin Bieber Attacked in Dubai (Celebuzz)


33 Child Stars: Where Are They Now? (Celebuzz)