'American Idol' Recap: Angie Miller Rises To The Top of the Heap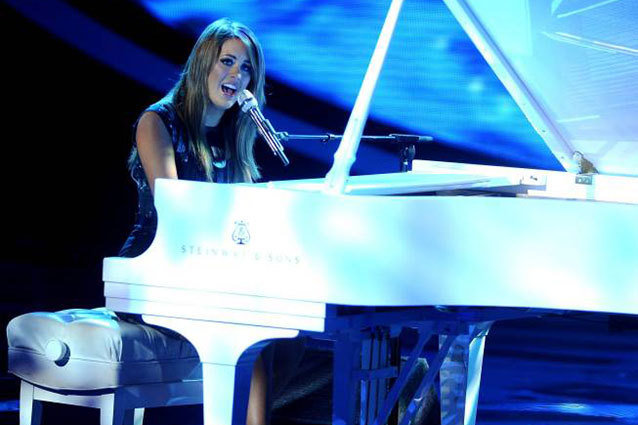 So we're here. The part of Season 12 of American Idol where we're no longer paying attention to runs and vocal flourishes, big notes and clarity of tone. We know that Angie Miller, Amber Holcomb, Candice Glover, and Kree Harrison are all powerhouse singers with incredible talent. That's no longer up for debate. So what the hell do we do now?
Well, we start focusing with incredible intensity on the song choices, the arrangements, the way each singers' eyes behave while they sing, and of course, their resemblance to such confectionery delights as New York's famous Black and White cookie. You know, the really important stuff.
The problem is, these ladies are on their own. They're not being carefully managed by a team whose job it is to make these girls relevant and valuable in mainstream music. These are young girls, picking songs from a list that's been given to them and they're making it work. They've got assistants in their process, but these assistants, from the band to their stylists, aren't there to make each person the best performer. They're like rented softball gear at the rec center: if you use it right, you'll hit the ball out of the park. If not, you're swinging around a dingy old bat and putting your hand in a leather flap full of God knows how many forms of bacteria. They are professional tools, but they're not there to make the right decisions for these ladies.
And now that we've got past the point of being able to tell who's crashing and burning and who's flying high, the show is getting very detailed, very subtle, and so boring they had to bring Jimmy Iovine onstage so he could get in a fight with Nicki Minaj over some incredible correct comments he made backstage. Who needs a real singing competition when you can have Nicki faux-strangling Jimmy while Randy plays lame dad, joining in with no idea of what's actually going on? Really. Why would you want to be entertained by the point of the show at this point? Perhaps because there seems to be so little game left in the series that dragging on until May 16 feels about as appealing as being made to watch the same Storage Wars episode 15 times in a row. Yet, here we are. Let's make the best of it.
For the first round, there may have been a theme, but I couldn't care less at this point. It was likely something like "Songs That Make Your Ears Listen Hardest" or "Tunes That You Like Hearing on the Radio When You're Driving and It's Nighttime" and we'd probably end up with the same lineup.
Amber opened it up with, you guessed it, yet another dated ballad, that she can sing each note to absolute perfection, but we. already. know. that. So when she sings "The Power of Love" by Celine Dion at the top of the stairs with an outfit and hair straight out of Whitney Houston's I'm Your Baby Tonight playbook while psychedelic henna tattoos swirl on the screens in the background, we're inclined to think what we've been saying all season: incredible voice (now with added personality and confidence), but what exactly about this screams contemporary? Well, nothing unless you're one of the judges, who apparently have no issue with this becoming an old episode of Star Search. She has grown significantly in the past few weeks, but doesn't anyone else seem to think it's a problem that putting a finger on who she is is still proving to be almost impossible?
Candice took a bit of a chance with "Find Your Love" by Drake, and while her crush on the singer/rapper is completely charming, this may not have been a totally sound choice for her. She deconstructs Drizzy's song and makes it a jazz club version of the original. It works better for her voice and range than the original, but it does come across as a little unremarkable. It's a fun rendition for a Drake fan, but it's not something that showcases her talent or her ability to crush her audience's souls. It's simply nice. Keith points out that she's still very much herself, which isn't really a problem for anyone on this show right now, so thanks, cap'n.
And the mediocrity continues with Kree, who's also a victim of her own song choice. This week is not the time to pick songs because they were something you listened to as a kid. This is the time to bring out the claws, big guns, best songs to potentially make you more popular and most likely to win. It's not the time for a last ditch effort or a wild hair. Save that for the Idols tour, or did you all forget you're contractually obligated to do that? Anyway, Kree sings "It Hurts So Bad" and it showed off her voice, per usual, but felt more like that episode of Dawson's Creek where Andy and Dawson get drunk and sing the blues on stage. Kree's playing the part of a blues singer, and unlike James Van Der Beek, she can really sing, but it's still a performance better served with a third glass of whiskey than as a Top 4 performance on Idol.
Finally, we get a tiny bit of relief in the form of a girl I've been rather harsh on: Angie. She reprises her rendition of "Who You Are" by Jessie J, which she sang during the audition rounds, and if we're going to do a mini half-time report after the episode's first hour mark, Angie was the one moving the majority of the chains. The song doesn't overtake her the way last week's tribute to Boston did. She's able to be more herself: Her facials are less canned, she's not singing like Mary Poppins, and she's not thinking about making cute or attractive faces. She's just singing the hell out of the song and doing her thing on the piano.
But we need to fill two hours, folks. It's time for everyone's favorite Idol moment: duets. (Not.) First up are Kree and Amber with "Rumor Has It," and while this Adele song is something that either one of them could have performed on her own to sheer perfection (I'm looking wholeheartedly at Amber here, who needs some contemporary flavor more than Kree), together they fumble it. The vocals (as we've been saying all night) are wonderful, but it's the performance that suffers. They were clearly tired and unwilling to put forth the extra effort for this third song that was forced upon them in addition to their two solo performances. Kree was distant and Amber relied on her newfound power stance. There was no fire for a song as incendiary as "Rumor Has It."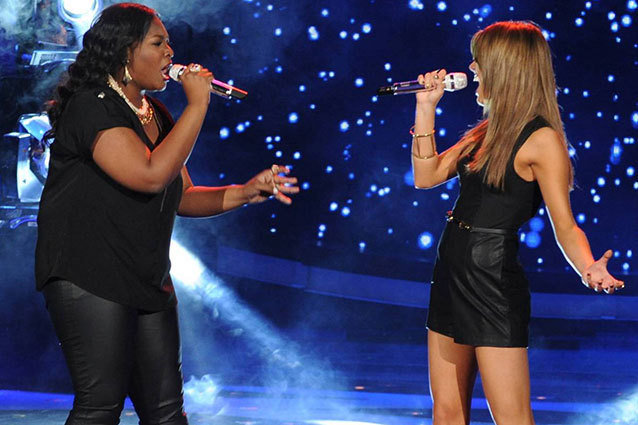 And as convenient as the exhaustion excuse was, it didn't hold water once Candice and Angie took the stage for their duet of "Stay" by Rihanna. This simple duet is far more engaging even with the first few moments in which Angie looks like a young girl getting the shot to sing with her Idol. By the time they reach the end of the song, they're so in sync. Their tones wouldn't normally seem to fit, but emotionally, they're on the same playing field, adding depth and emotion to their final back and forth, a friendly tete-a-tete of vocal skill. The result is pure emotion, a known form of musical magic. It makes the judges lose their minds and it shows that Angie and Candice are the two most dynamic performers in the set. It's something Candice needed, because her song choices for the rest of the night weren't as on point as they needed to be.
Part of that was Candice's (or the other ladies') faults. They were given the second category of "One Hit Wonders" (a.k.a. songs people heard so many times they never wanted to hear more from the original artist). Great category, voters.
Amber starts of this stellar category of 20-40 year old songs with "MacArthur Park" (that's the one about leaving cake out in the rain, or about the dinosaurs running wild in Jurassic Park if you're more of a Weird Al person). And not only did she pick one of the cheesiest songs possible, she chose to perform the Donna Summers disco version. It's as if she doesn't even want to win. That glorious, beautiful voice is going to waste on songs that no modern music fan would want to buy. Still, Randy continues to call her current, hoping that if he keeps saying it, it will become true, when what he should be saying is that she can be current, if she makes the right calls. She possesses that ability, she's just not exercising it.
Candice makes a similar mistake, though not to the extent that Amber did. She tries "Emotion" by the Bee Gees (and Destiny's Child if you need a Beyonce connection here). Candice is still able to bring her own genuine brand of singing to the classic song as usual, but she's fighting something she shouldn't have to. She's struggling against the song, not vocally, but with her own personality to make herself the takeaway, and not the fact that everyone remembers that song from the Gibb brothers' rendition. What's worse, is that while they were supposed to be judging Candice, the judges veered off into more discussion about Amber and eventually the aforementioned playfight with Jimmy steals every last ounce of Candice's thunder.
Kree goes a step above Candice and picks a slighter better song: "A Whiter Shade of Pale." It's still an old as dirt song, but at least it's organic-feeling enough to let Kree be bigger than the song. It's clear that after the judges called her out for needing to loosen up, that she's making a conscious effort during the song, which detracts a little from what could be a typical Kree smash. But when Nicki points out that something about Kree is dimming, it's a bit puzzling. While it definitely seems that way, nothing about the way Kree performs has really changed. She's always been that effortless, laid back, less excitable girl, who can sing absolutely anything with total vocal clarity. Perhaps her light's not dimming, but she's been the most consistent all season, so while the other ladies have more triumphant journeys, Kree is static and therefore her luster loses its effect on us, rather than losing its place in her eyes altogether.
Finally, Angie continued to reign supreme over the Top 4. She sang "Cry Me a River" (not the Justin Timberlake one because he's not a one hit wonder, unless you're choosing to forget screaming women all over the world and one very sexy Bud Light commercial) and while it's not typical Angie, it really works. Someone needs to teach her that bobbing your head like a bobble head doll while singing is the new Christina Aguilera emphatically-moving-hand-scale-o-meter (see: annoying), but other than that the performance is on point. She's elegant, but not too stiff: she's simply living in the song and making it all her own. I'd say she won the night, but unfortunately my opinion was not unique on that point because all four judges said the same thing.
Angie is making it a lot harder to decide who's winning this competition. At this point each year, it seems like fans have picked their favorites and their sticking with them. But it's not that easy with these girls switching pole position each and every week.
Follow Kelsea on Twitter @KelseaStahler
More:
New 'Idol' Judges? Ratings May Be Low But Don't Blame Mariah 
'Idol' Results: Which Little Lady Sang For the Save?
'American Idol' Made Me Love Keith Urban
---
From Our Partners


50 Worst Celeb Mugshot Fails (vh1)


33 Child Stars: Where Are They Now? (Celebuzz)