'Apt. 23' Recap: Dawson Leery Is Sexiest Man Alive?!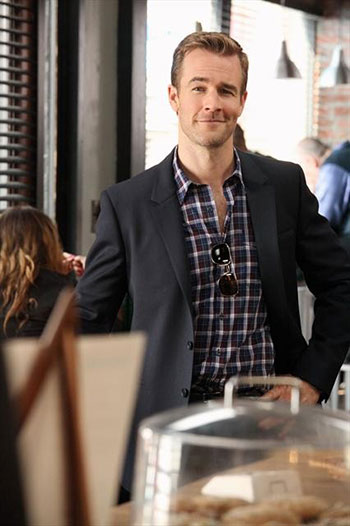 Okay, that doesn't sound right. Right? Right. If you've been been paying attention to the important news of the world, People magazine already revealed the real sexiest man alive, but on Tuesday night's 'Don't Trust the B—-' Chloe (Krysten Ritter) had another agenda. Now, let's just forget for a moment that this was one of most blatant and egregious forms of product placement to date, okay? Okay. So, Chloe had hopes of granting James Van Der Beek's wish of nabbing the coveted title. The title that makes all the people of the world fawn all over him, he thinks. That would get Katie Holmes back in his arms, begging for a reunion and one last kiss. All the while, Chloe would still be able to f*** with June (Dreama Walker), since the small-town girl can't quite shake her creepy obsession with winners from past years. It's a win all around for our dear bitch, and she's about to get started.
See, June's been getting her hands on People magazine's sexiest man alive issue since she was young enough to know Barbie's Ken doesn't really have a penis. She's been dragging her mom around, drooling over such hotties as Denzel Washington and Jean-Claude Van Damme. She hangs on People's final word before embarking on another year of new obsessions. This is her life, we find out. But she doesn't think Dawson is sexy. Nope. His hair and nose and flannel and the way he skips over with their morning drinks gives her the opposite of throbbies. And she can't accept that Chloe has devised this plan. A plan that would save his life and ruin hers. But can it be done?
Of course it can! It's Chloe for crying out loud. If there's anything we know about a cool bitch it's that she always gets her way. Cruella storms into People's offices and immediately fires the first person to ask her a question. And then the next. She proclaims that she's in from their London office and is stepping in as managing editor. She swishes and screams and draws peens on the white board until the rest of the team decides she is in fact their new boss. What kind of crazy person would do otherwise?!?! So Cruella tells them to think outside the box. Think way outside the box. To a creek, perhaps. To a far away land where rope-choker necklaces are the shit and crying in public is freakin' hot. Her minions start scribbling. They know.
Cue Dawson on a horse, naked, feeling confused and tingly at the same time. He's having a ball. He will soon be the new "It" man and June can't get enough of it. She is literally shaking off an impending orgasm and consequently suffering from a severe case of blue tubes. She can't control the heat when she sees that dirty blonde scruff and those dopey eyes. Now that Dawson could potentially be in the same sex bucket as George Clooney, Matt Damon and Sean Connery she physically can't handle it. And he loves it. He loves it so much, he's having a blast f****** with her. The heartthrob comes into her room and starts pouring a smoothie on his clothes. "Oops." June convulses. "Better take that shirt off," he says as he unbuttons, revealing his surprisingly chiseled abs. She starts sweating. Next thing you know he's pouring more of his drink on his bare chest and then drops down to do some pushups (four. five. sex. seven) until hopping in the shower holding nothing but a hand towel. Dead.
Meanwhile, back in People's conference room, Chloe is whipping things in shape. She's choosing layouts, shrieking in her office, banging on her phone pad, and singling out an insecure editor. (Actually, not the least accurate portrayal of the magazine industry…) June walks in and admits that she is a sheep. She only loves the men People tells her to love and she just can't help it. But that isn't the problem. The problem is that she really does want to take Dawson, rip his clothes off, and make him her boy adventure. And that is exactly what she intends to do.
June finds Dawson in the early morning pacing in front of a newsstand, waiting for it to open for business. He can't wait to see his boyish grin on the cover of People magazine. And neither can June. She tells him right there she wants to have sex with him. She wants it now. Dawson grabs her face, bringing her close and pulling her hair, and lands his aggressive lips right on hers. They back away, in shock of what's just happened, but not lusting for more. "Nothing," she says. "I felt nothing." There was no spark. June felt nothing there or there. It was all such a shame, until the stand opens and magazines fly out, only Dawson isn't to be found. He is not on the cover. He is not the sexiest man alive.
[Image Credit: Richard Cartwright/ABC]
Follow Anna on Twitter @thebrandedgirl
More:
'Apt. 23' Recap: Dawson Leery's Funeral
This 'Bitch' Is Gonna Be Your New Best Friend
People's Sexiest Man Alive Revealed
From Our Partners:

Giuliana and Bill Rancic Planning for Baby No. 2: 'I Would Love a Girl,' Says E Host
(Celebuzz)

Kate Upton Flaunts Major Cleavage in Vogue's November Issue — PHOTOS
(Celebuzz)